Hanover Park Gyms and Fitness
---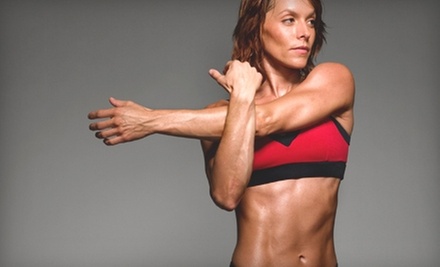 ---
Gym, Exercise, Weightloss Deals
---
Recommended Gym, Exercise, Weightloss by Groupon Customers
---
Hristo Hristov—an ACE and NASM certified trainer—believes that there are three pillars to a well-rounded fitness regimen: complexity conditioning, premium nutritional fuel, and a mental edge. Drawing from this three-tiered philosophy, he aims to help women achieve their fitness goals and adopt healthy lifestyles during highly orchestrated boot camps. His trademarked complexity conditioning utilizes nuanced movements to engage muscle structures both large and small, squeezing fuel from every cell in the body. Then, using his own meal and supplements guide, he helps clients recharge and continue to lose weight with premium nutritional fuel. Finally, the coach reveals the pregame thinking strategies high-level athletes use to coax wins out of themselves. Outside of the gym, he encourages students to use these psychological rev-ups before facing any of life's challenges, from interviewing for a job to penetrating an NFL defensive line in order to reach the restroom.
761 N 17th St., Unit 10
St. Charles
Illinois
815-757-4876
The medically supervised life coaches at Naperville Weight Loss Center help clients slim down with nutritional counseling, energy-boosting vitamin injections, and prescription appetite suppressants. They lay a behavioral groundwork for these strategies with private and group counseling sessions. The center offers its programs on a month-to-month basis for those who dislike contracts or who plan on fleeing the country within the year.
4S100 Route 59
Naperville
Illinois
630-355-1533
With eight indoor tennis courts, an indoor pool, and a 20,000-square-foot fitness center brimming with workout equipment, Oak Brook Racquet & Fitness Club sets the stage for athletic accomplishment. The event calendar overflows with adult classes ranging from low-impact yoga or aqua Pilates to high-intensity circuits filled with muscle toning TRX, strength training, and cardio workouts. Kids and teens are welcome at the club, with junior tennis and aquatics classes as well as a workout room where kids get strong enough to bench-press a Power Wheels car. The 85-degree indoor pool hosts swim lessons for all ages, as well as personal training and rehabilitation exercises. Post-workout, members can take advantage of the club's amenities, which include a kids' playroom, onsite pub, and massage room for kneading out aches.
650 Westmont Dr.
Westmont
Illinois
630-654-2442
Combining his combat training with his takedown expertise earned during a stint on the U.S. Navy wrestling team, pro MMA fighter Nick Janowitz opened his own mixed-martial-arts gym to help others hone their battle skills. Patriot Boxing hosts several results-oriented programs that lead patrons of all fitness levels in ring-ready punches, strength drills, and grappling holds. The gym is divided into specialized arenas built to host a multitude of fighting styles and conditioning. A brigade of 20 heavy hanging bags absorbs kickboxing pummels, and competition-size wrestling mats and a fight cage cushion combat. Conditioning classes are furnished with battling ropes and oversize tires, which when combined can become tire swings for rhinos. Patrons can seek personalized guidance with private training seminars, and occupy their youngsters during workouts with kids' classes and activities in the onsite playroom.
645 S Rte. 83
Elmhurst
Illinois
US
630-279-7206
With an indoor lap pool, full basketball court, strength equipment, and 90 cardio stations filling its 40,000-square-foot facility, LifeStart at Central Park aims to be a one-stop fitness haven for the community. Cardio Theater equipment entertains brains as members run on treadmills, scale stair steppers, and tone legs on elliptical machines. Lifters can supplement their reps on the facility's arsenal of strength-training equipment with more than two-tons worth of free weights. After workouts, they can wipe away sweat with the complimentary towel service before relaxing in the whirlpool or deciphering the original US Constitution on Jefferson's antique mirror in the sauna and steam room.
When they're not leading personal-training sessions, instructors cartwheel over to LifeStart at Central Park's two spacious group exercise studios to helm fitness classes. In addition to leading cycling sessions, instructors demonstrate Zumba's easy-to-follow moves to the backdrop of global music and fortify core muscles in Pilates.
4225 Naperville Rd.
Lisle
Illinois
US
630-505-7799
Underground Core Fitness owner Jeremy Glasgow measures his club's success in inches, pounds, and repetitions. The ACE-certified personal trainer grants individual attention during small group classes or one-on-one sessions, helping clients meet goals ranging from dropping 10 pounds to accurately sketching a dumbbell. New milestones are achieved in high-intensity boot-camp sessions or during Infusion Training and Weekend Warrior classes, which combine boxing and running drills with kettlebell exercises. In addition to workouts, the gym supplies nutritional coaching to support guests' overall health.
29W140 Butterfield Rd., Suite 105
Warrenville
Illinois
US
---