Happy Valley, OR Drs and Health Practioners
---
Drs & Health Practitioners Deals
---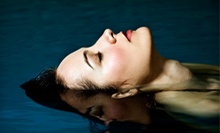 Use Saturday 10:00am - 8:00pm
---
Recommended Drs & Health Practitioners by Groupon Customers
---
Though multiple physical heads would perhaps cause concern in most chiropractors, the pair behind Shephard Clinic of the Chiropractic Arts work to prove that two individual heads are better than one. The two Doctors of Chiropractic here each have a separate focus, leading to a broader and more in-depth base of knowledge and skills. Dr. Tomaino works extensively with the nervous system, using controlled-force adjustment methods to maximize its function, and Dr. Gerhart's understanding of soft-tissue injuries and exercise mechanics make him particularly well-suited to assisting cyclists and pedestrians injured by out-of-control cars or rogue Segways.
2323 NW Flanders St.
Portland
Oregon
US
Dr. Inna Shimanovsky and her professional staff have the experience and credentials to intimidate plaque and oral antagonists from the crevices of canines and incisors. Every patient's exam and x-rays provide a thorough investigation into the state of their mouth and illuminate what basic steps can be taken to keep their chewers and gums in a fit state of opulent well-being. AAdvanced Dental uses top-of-the-line digital x-ray technology that exposes patients to less radiation than a normal x-ray device, greatly decreasing the likelihood of patients obtaining unsettling superpowers during their visit.
16640 McLoughlin Boulevard
Oak Grove
Oregon
503-659-3003
The staff members at The Qi Spot share a philosophy centered around creating a gentle environment to help patients to forget everyday stressors and focus on bringing their bodies into balance. The practitioners specialize in traditional Chinese medicine therapies, including acupuncture, herbal remedies, and naturopathic counseling, to relieve pain and aid in healing after auto accidents. Cupping, cosmetic acupuncture, and moxa also help to inspire a healthy flow of chi. Improving energy circulation, like rotating the skeleton's tires, helps to prevent pain and illness by encouraging the body to function smoothly.
The Oregonian has written about the holistic hub, and co-owner Wade McCulloch performed facial acupuncture on television in front of a live studio audience for AM Northwest. The practice also shows a commitment to helping others by providing community acupuncture to clients without health insurance and by contributing to the Harambee Center, a Portland-based organization that supports Kenyan communities.
478 2nd St.
Lake Oswego
Oregon
Post-consultation, the personalized acupuncture treatment will relieve ailments by pinpointing specific bodily points called meridians, where life forces known as qi reside. By balancing the body's energy properly, acupuncture can alleviate back pain, headaches, sports injuries, asthma, and post-space-travel depression. A complimentary bodywork treatment is also included, such as cupping, tui na, or moxibustion. Call ahead to schedule an appointment.
2627 NE Broadway
Portland
Oregon
Dr. Clark Pitcairn might have a hard time remembering the first time he ever heard about chiropractic. It was the medicine of choice for his family when he was growing up, and he has been a patient of the drug-free techniques since he was seven. At that time, he suffered from a chronic cough that went away only after completing a series of chiropractic adjustments.
Today, he and his two sisters are all chiropractors, providing the same holistic, hands-on treatments that they received as children. Dr. Pitcairn draws upon the body's natural ability to heal itself by first examining the spine with x-rays and steady hands, locating the sources of headaches, chronic pain, and poor TV reception. Then, he un-pinches nerves by gently guiding discs and vertebra into their proper spots.
3737 N Mississippi Ave.
Portland
Oregon
503-467-4511
For more than 10 years, the staff of Bodyfirm has sharpened its skills with advanced equipment to banish cellulite and create even, healthy complexions. LPG Endermologie and Lipomassage units employ mechanized rollers to iron out fat deposits, and Dermosonic equipment follows a similar noninvasive approach enhanced by ultrasound waves. Facial Endermologie treatments stimulate collagen production to even out complexions plagued by fine lines, sagging skin, and cheeks filled with marbles.
Bodyfirm also works hand in hand with Mind, Body, and Spirit Holistic Center's skilled massage therapists, who help ease tight spines and restless minds with custom massages. Therapists normally attack muscles with Swedish, deep-tissue, sports, and myofascial modalities. Specialized spa massages incorporate accessories such as hot stones or, in the Lava Bambū modality, authentic bamboo stalks harvested in China for their combination of strength and flexibility.:m]]
2705 E Burnside St., Suite 104
Portland
Oregon
503-239-5780
---