Golf in Harper Woods
---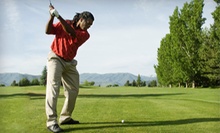 Golf pros use video analysis to teach the Ferris-wheel technique, fostering dependable swings in private lessons
---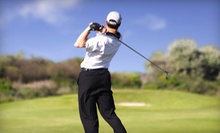 Designed by Michigan Golf Hall of Famer Wilfred Reid, 83-year-old course rolls over 6,624 yards of open terrain and kempt greens
---
Recommended Golf by Groupon Customers
---
Open year round, Hydeaway Golf Club's 18-hole, par 71 course unfurls across 130 acres of kempt fairways framed by trees and tranquil ponds. Water hazards come into play on more than half of the holes, creating strategic quandaries such as when to attempt to carry a distant pond and how to tell if provocative messages in a bottle were intended for you. Tall tree lines further complicate golfers' passage, stretching out their twiggy arms in a quenchless desire to scuff up dimpled orbs. Golfers can choose to loop the emerald links on their own bipedal steam or enlist a GasCar golf cart to help hunt down errant balls or misplaced playing partners.
496 Elmstead Rd.
Tecumseh
Ontario
519-727-5444
The Polo Fields Golf Course & Country Club encompasses two locations—one in Ann Arbor and one in Ypsilanti—each with its own 18-hole course and refined clubhouse. Designed by renowned architect William Newcomb, the par 72 Ann Arbor course channels the blustery hillocks and grass-eating bagpipes of courses in the United Kingdom with a 6,828-yard layout featuring broad, links-inspired fairways and deviously slick greens. A community fixture for nearly a century, the Washtenaw course takes clubbers on a verdant voyage among native oaks and cedars, burbling streams, and tranquil ponds. Both sites house fully stocked pro shops, where guests can peruse the latest in on-course duds, clubs, hats, and remote-controlled golf balls from brands such as TaylorMade, Adidas, FootJoy, and Titleist.
Guests can bask in views of the splendid links while enjoying regionally inspired American fare and frothy drinks at the clubs' two dining facilities, both of which feature settings for a variety of occasions. Swimmers can stroke through the outdoor lap pool at the Washtenaw location, and sunbathers can lounge by the colossal, resort-style pool in Ann Arbor. Within the Ann Arbor fitness center, hearts race on elliptical machines, muscles pump free weights, and calories melt during group fitness classes, before muscles soak in the warm, golf-ball-free waters of the hot tub.
Ann Arbor Course at a Glance:
18-hole, par 72 course
Length of 6,828 yards from the farthest tees
Course rating of 73.3 from the farthest tees
Slope rating of 141 from the farthest tees
Four tee options
Link to scorecard
Washtenaw Course at a Glance:
18-hole, par 72 course
Length of 6,524 yards from the farthest tees
Course rating of 71.7 from the farthest tees
Slope rating of 135 from the farthest tees
Four tee options
Link to scorecard
2955 Packard Rd.
Ypsilanti
Michigan
734-434-2150
Tucked into a curve of the Huron River, Wesburn Golf & Country Club traces its roots back to 1910 and its layout to course architect Wesson Seyburn. Extensive renovations have launched the bluegrass fairways into the modern age, enabling contemporary golfers to putt on sculpted greens that have existed for over a century. Before teeing off, players can warm up at one of the driving range's 20 hitting stations, and after penciling in their final score, they can head toward the stately brick clubhouse. Here, plaid carpeting and a fireplace paint a comforting atmosphere, and the dining room's overhead beams provide a place for athletes to do pull-ups until they can bend their clubs into pretzels.
Course at a Glance:
18-hole, par-72 course
Length of 5,981 yards
Course rating of 68.8
Slope rating of 129
5617 S Huron River Dr.
South Rockwood
Michigan
734-379-3510
The Bogey Golf Tour grants golfers a chance to take to the links and compete against fellow amateurs in tournaments scheduled at some of the finest courses in the London, Windsor, Detroit, and Kitchener/Waterloo areas. At each event, scratch golfers compete in the Birdie division, 0–15 handicaps square off in the Par division, and 16+ handicappers trade pinpoint approaches and sequined divot tools in the Bogey division. The top five finishers in each division receive prize money—which can be paid out in gift certificates or cash—and the Tour also holds prize competitions for longest drive, closest to the pin, and 3-iron jousting. The Tour publishes the results from each tournament in local newspapers, and players can chart the peaks and valleys of their careers on the Tour Members list, which compiles all of their tournament results. Along with providing an outlet for amateur golfers to exercise their long-suppressed competitive side, the Tour and its sponsors have raised $74,000 for various area charities since 2003.
553 Estate Park
Tecumseh
Ontario
800-683-0285
Designed in 1989 by architect Harley Hodges, Pine View Golf Course sends golfers weaving through forests of towering Michigan pines, attempting a variety of shots using most of the clubs in their bags. Players choose from five sets of tees, varying the Championship course from as short as 4,101 yards from the green tees up to 6,490 from the blues. Golfers first traverse wide fairways that forgive slight errors in the front nine, then take on the back nine—known as "Rolling Pines" because of the large tree trunks that regularly roll across the course at incredible speed. Difficulty intensifies noticeably after the turn, as players must flex their par 5 prowess on the 10th and 18th holes.
Though only one body of water rests on the front nine of the Championship course, Pine View's third nine, known as "Little Pines," features water much more prominently. This relatively short par 30 test makes for a great introduction to the game, as players lob shots over ponds and streams or fit golf balls with goggles and send them to explore the depths.
Course at a Glance:
18-hole, par 72 course
Total length of 6,490 yards from the back tees
Course rating of 71.6 from the back tees
Course slope of 126 from the back tees
Five sets of tees per hole
Scorecard
5820 Stony Creek Rd.
Ypsilanti
Michigan
734-481-0500
Mark McCucumber's keen architectural mind gave birth to the 18 championship holes that nestle amid Devil's Ridge Golf Club's 400 acres of woods, wetlands, and hills. Trees line the emerald fairways, which challenge golfers with rolling terrain that reaches elevation changes of up to 80 feet, inspiring some players to conscript mountain goats as caddies. Four sets of tees invite golfers of all stripes to aim their orbs away from the rippling surface of water hazards and more than a dozen mischievously placed sand bunkers. Sixty tee stations await golfers at the driving range to help them warm up before hitting the course. Then, after working up an appetite sawing down aim-blocking trees, they can relax with a bite to eat at The Devil's Grille.
3700 Metamora Rd.
Oxford
Michigan
248-969-0100
---