Hartford Indoor Activities
---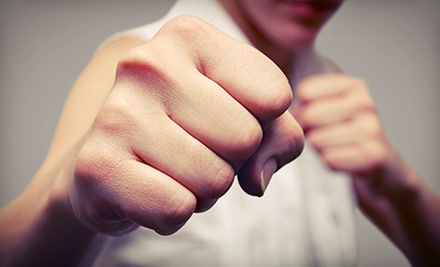 ---
Recommended Indoor Activities by Groupon Customers
---
Children scale to great heights in a safe, colorful, and climate-controlled environment at Bounce Town. The 7,500-square-foot play space features five commercial-sized inflatables, with the Coral Bay Splash inflatable reaching higher than 18 feet and the 16.6-foot Batman standing watch over the action. Visitors also explore their vertical limits with a run up the 16-foot indoor climbing wall. Children and parents can both strap into harnesses to ascend the colored handholds and footholds, striving towards the top where the wisdom of the wise and reclusive light fixtures reside.
97 Commerce Way
South Windsor
Connecticut
860-757-3950
At Art & Soul Gallery Studio, Lis-el and Alexis Crowley lead casual art classes in a space brimming with creations by local artists. In the studio, the artists demonstrate steps in crafting items such as fused-glass pieces and painted scarves. Students follow along during class sessions, eventually bringing pieces into existence with their own individual flair and burgeoning telekinetic powers. After class, students can decamp to the gallery for a glimpse of other's work or pop into a comfortable lounge for sips of coffee or tea.
645 Poquonock Ave., Suite BB
Windsor
Connecticut
860-688-4333
At City Steam Brewery Cafe, the owners concoct some of the area's finest beers, scoring "best of" awards from Hartford magazine and Connecticut Magazine. They also brew potent batches of laughter inside their 200-seat comedy show-room theater. Ensconced in the historic Brown Thomson and Co. building, which was the state's largest department store in 1877, Brew Ha Ha once was known as the Last Laugh Comedy Club, where fledgling unknowns such as Ray Romano and Kevin James vied for laughs in the smoky rathskeller of a restaurant.
Reborn in 1997 under a new moniker, the standup speakeasy keeps its calendar packed with nationally touring comics and local joke slingers. During shows, guests can toast with mugs of handcrafted beer and make edible sculptures of their favorite comedian using menu's custom burgers, pizzas, and omelets.
942 Main St.
Hartford
Connecticut
860-525-1600
With three floors of interactive exhibits, Imagine Nation keeps tykes aged 2–10 and their parents engaged for hours of synapse-firing fun. Tunnels filled with natural decor await youngsters in the museum's indoor jungle-themed playscape, where they can shake excess energy out of their bounding legs in preparation for naptime or hibernation season. In the ESPN center, kids can pretend to be sportscasters as they sit behind the desk of a model TV set, replete with real equipment from the Worldwide Leader in Sports.
The museum also boasts a health exhibit in which children can don hospital attire and explore a model newborn nursery and an operation table, ideal for parents trying to nudge their child toward a career as a hypochondriac. After whippersnapper's minds have been blown learning about the cosmos at the space exhibit, they can unwind with drinks and snacks at the old-fashioned soda fountain, which winds the clock back to the 1940s with the help of a player piano.
1 Pleasant St.
Bristol
Connecticut
Hoyts Simsbury Cinemas enthralls cinephiles and periodic moviegoers alike with the latest Hollywood fare screened in Dolby Digital surround sound. A concessions stand nourishes viewers with delectable noshes, and the theater's stadium seating comfortably harbors audience members waiting their turn to give an acceptance speech for Best Movie Viewer. In addition to its usual cinematic offerings, Hoyts Simsbury Cinemas screens biweekly sensory-friendly showings––for families with youngsters affected by autism and sensory disorders––during which theater lights remain on, the volume is turned down, and patrons may opt to dance, sing, and hop throughout the film. Private showings for mothers and babies invite parents to enjoy movies without worrying that their child's clamor is bothering other audience members. Birthday-party packages treat celebrants to a movie-themed birthday area with a snack pack and helium balloon for each child, and private presentations or VHS support groups welcome up to 50 attendees.
530 Bushy Hill Rd.
Simsbury
Connecticut
860-658-0303
Many cultures and belief systems converge at Sacred Movement Yoga, drawn together by a diverse teaching team. Aaron Weston contributes expertise in Native American teachings, Brittany Azar adds mastery of Tibetan singing bowls, and Maggie Kortchmar brings intimate knowledge of Buddhist tradition. Though Weston, Azar, and Kortchmar represent only three of more than twenty teachers, they embody the studio's mission to help students realize their potential. Instructors offer restorative and rigorous yoga classes in both ancient and modern styles, and also host guided meditation and third-eye exams in the studio's ZenRoom.
10 Sims Rd.
West Hartford
Connecticut
860-990-2555
---