Massage in Harvey
---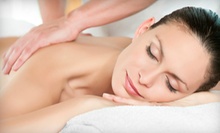 A full-body Swedish massage by a LMT and fitness instructor precedes an optional consultation with a chiropractic physician
---
Recommended Massage by Groupon Customers
---
Zoe A. Tritsis has been interested in healing others for as long as she can remember, but she discovered the therapeutic benefits of massage only after suffering a serious injury of her own. This injury would end up changing her life in unexpected ways. It inspired her to earn her license in massage therapy nearly two decades ago, and ever since then she has worked to soothe muscles with modalities that range from Swedish to neuromuscular therapy.
Throughout the years, Zoe's base of clients has grown to encompass a number of musicians and staff members from the nearby House of Blues. She honors their patronage—as well as her studio's location in historic uptown New Orleans—by giving her massages playful, blues-inspired names such as Blues Express and Bluesapallooza. Therapeutic oils, lotions, and mud from the banks of the Ole Mississippi accompany each of her treatments, which take place in a private room equipped with a bathroom and changing area.
5202 Annunciation St.
New Orleans
Louisiana
504-919-1683
Michael Tillman and the Nu Era Massage staff tend to clients' limbs and torsos in a comfortable and relaxing spa-like space. Using Swedish, deep-tissue, and neuromuscular modalities, Tillman helps to relieve pain, promote circulation, and usher clients toward a state of relaxation that's typically only felt by napping pet rocks.
3348 W Esplanade Ave., Suite 306
Metairie
Louisiana
504-296-2257
For the massage therapists at The Bailey Institute Of Muscular Therapy, touch equals medicine for the body and soul. Strokes, friction, and taps are the tools of their trade, useful for dislodging painful knots and giving customers an opportunity to share knock-knock jokes. The team tailors sessions to each client's needs, fusing techniques such as deep-tissue therapy with medical massage to relax muscles and promote healing. Marathoners, triathletes, and New Orleans Saints team members flock to the facility for sports massages, which can boost flexibility, enhance performance, and help prevent injuries.
817 Rosedale Dr.
New Orleans
Louisiana
504-488-7554
"No two bodies are exactly the same, therefore, no two massages will be exactly the same," explains Melissa Brocato when she describes her practice's approach to bodywork. Thus, Brocato, who graduated with honors from the school of massage therapy at Delgado Community College, draws on a variety of traditions—including deep-tissue, sports, and prenatal massage—to address each client's particular needs and trouble spots, such as strains, tight areas, or feuding vertebrae. Along with this breadth of expertise, Brocato is certified through the National Certification Board for Therapeutic Massage and Bodywork and holds the position of Louisiana membership chairperson for the American Massage Therapy Association, which she has been a member of since 2009.
8725 Oak St.
New Orleans
Louisiana
504-388-1468
The highly trained hands of Inner Peace's licensed massage therapist, who is nationally trained and state certified, rejuvenate bodies using massage modalities ranging from Swedish to neuromuscular to prenatal. Before or after a session in one of the massage rooms, clients may relax outside by the courtyard's fishpond or use Inner Peace Therapeutic Massage's inversion table to stare into their own souls.
8674 Quarters Lake Rd.
Baton Rouge
Louisiana
225-892-8176
---