Things to Do in Harvey
---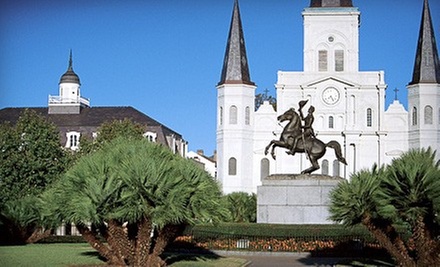 Central Business District
---
Recommended Things to Do by Groupon Customers
---
New Orleans Harley-Davidson outfits first-time and seasoned riders with the hardware, services, and skills to dominate the road. Bikers can scour a chromed-out collection of new and used bikes, including Sportsters, Dynas, and Touring Harley-Davidsons, as well as trike bikes, Yamahas, and Suzuki cycles. Factory-trained and certified technicians tackle standard services and upkeep, or soup up bikes with performance modifications and accessories such as leather training wheels. New Orleans Harley-Davidson also equips part-time riders with rentals and hosts educational boot camps that impart riding skills.
6015 Airline Dr.
Metairie
Louisiana
504-736-9600
As dusk descends on an isolated bayou, a horde of zombies emerges from fetid swamp waters—their low moans drifting through the humid night air. They smell flesh. Five hopelessly lost travelers have wandered off-road into their domain, and now they must scramble to escape the approaching onslaught.
This spine-tingling scene hails from one of three harrowing vignettes set against the backdrop of Louisiana's shadowy swamplands and fog-laced backwoods that make up the titular The Dark Tales of El Diablo—the half-eaten brainchild of independent filmmaker Spencer Lee. Throughout the film, failed horror writer Charlie—played by Dr. Quinn, Medicine Woman alum Chad Allen—turns to an unholy muse to revive his middling career, summoning the demon Diablo and forcing him to share the three demented fables. But as Charlie listens to the tales intertwine, he soon discovers Diablo's true intention—to escape into the outside world.
2105 Chartres St.
New Orleans
Louisiana
504-756-6104
Long celebrated by musicians, artists, and writers, the uniquely magnetic and spooky New Orleans comes to life as New Orleans Spirit Tours' guides introduce guests to the city's ghosts, voodoo, and sordid history. The knowledgeable guides—who all boast encounters with the paranormal—usher small groups through locales such as St. Louis #1 cemetery and the French Quarter as they share tales of religion, murder, slavery, piracy, and corruption. Each story is researched to ensure its truthfulness, with guides cutting to the heart of fabled figures such as voodoo queen Marie Laveau while dismissing myths such as the Legend of Curly's Gold.
601 Royal St.
New Orleans
Louisiana
504-314-0806
"Today was a little weird," begins one of New Orleans Jogging Tours' guides in a recent blog entry. "Every time we stopped to talk about the houses in the Garden District, a lizard jumped out!" This rare bahama anole isn't the only outlandish sight jogging tourists have encountered on the 10-kilometer jaunts. The bouncing periphery of tour routes is frequently peppered with unexpected encounters, such as late-night Bourbon Street revelers or trees costumed with Mardi Gras beads well after Fat Tuesday. All New Orleans natives, the guides are primed to run the routes but keep pace with their charges, even if that means leisurely strolling or cartwheeling through historic areas such as the French Quarter, cemetery, and Garden District. Each section houses morsels of historical and cultural significance, from the St. Louis Cathedral and Civil War Museum to the homes of Sandra Bullock and a former Real World cast. Guides can stow smaller items in a backpack they bring along, but suggest that joggers tow personal backpacks for larger cargo.
Decatur St. and Barracks St.
New Orleans
Louisiana
504-858-9988
You're probably thinking, "That sounds great, but I've never bought a car or a computer without first reading the Wikipedia definitions for car and computer—I'm not about to buy a Groupon either without a briefing." Well, neither would we, and since this is everyone's first Groupon, allow us to briefly explain how it works.
Toulouse St. & Mississippi River
New Orleans
Louisiana
Whether your tire-turning extremities are located at home, at a hotel, or in a docked zeppelin cabin over the river, Big Easy Bike Tours will deliver the bicycle(s) to you and up to four of your cycling teammates almost anywhere in the city. All tours begin back in 1718 with sightseeing and narrated soundseeing throughout the French Quarter. From there, there is a spork in the road where you can choose between three touring fates. The first, Neighborhoods and Lower 9th Ward, takes a path past green homes built by Global Green after Hurricane Katrina, visits the levee and explains what led to its failure, and passes through St. Roch and Treme. The second journey lands you on the Esplanade Avenue of the Creoles, exploring Bayou St. John and the history of New Orleans cemeteries, European settlers, and early New Orleanians' struggles to colonize the undomesticated flavors of crawfish étouffée within its wild habitat. After pedaling through City Park and observing the Museum of Art and Botanical Gardens, you finish cruising through Mid-City. The final option, a tour of the American Sector and the Garden District, details some of the architecture, universities, and finest fine arts found in New Orleans.
3017 Chartres St.
New Orleans
Louisiana
---