Harwich, MA Outdoor Activities
---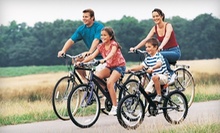 Lubed & trued two-wheelers roll along Sandwich Boardwalk planks as riders absorb sites of museums & unique village shops
Use Today 8:00am - 6:00pm
---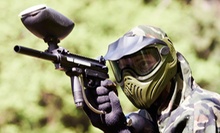 Fully equipped players compete across 14 wooded fields littered with obstacles
Use Saturday 10:00am - 3:00pm
---
Recommended Outdoor Activities by Groupon Customers
---
Trumpets blare over the fairgrounds. As the king and queen ride through town, peasants and shopkeepers all kneel immediately, verbalizing praise and respects to their liege lord. Meanwhile, a man in shorts stands amid the crouching peasants eating a turkey leg the size of his arm as his kids tumble off the Jacob's ladder across the dirt road. This is but a snapshot of the special moments at King Richard's Faire, a renaissance festival that gathers period artisans, performers, and food merchants to celebrate the Age of Enlightenment along with visitors.
After a bit of practice throwing axes, visitors can stroll in optional costume to see fortunetellers, cobblers, and blacksmiths who have mastered ancient crafts. Knights ride to battle on the tourney field to win the king's and crowd's favor, and eight stages, a tournament field, and a mud pit bring in acts ranging from minstrels and jugglers to fire eaters and exotic animals.
235 Main St.
Carver
Massachusetts
A climber slowly ascends a steep rockface, supporting all his weight on the smallest of footholds. Ignoring the heights, he searches for another place to grasp, finding purchase on an oval stone. His final step to the top rewards him with the thrilling satisfaction of beating the beastly incline and views of children running across the floor.
Carabiner's Indoor Climbing rock gym, one of the tallest in New England, brings the sport of rock scaling to urban residents. Walls that range from 15- to 65-feet tall grant visitors of all skill levels climbing routes that strengthen muscles, improve body awareness, and serve as a training ground for the NYPD's Spider-Man division.
Certified climbers start visitors on their paths to climbing autonomy with personal belay classes that cover basics and safety tips. The gyms also offer grounded fitness with weekly yoga classes.
328 Parker St.
New Bedford
Massachusetts
508-984-0808
Click above to buy tickets for Jonny Lang, August 9, 7:30 p.m. Click on the links below for tickets to other performances.
130 Sohier St.
Cohasset
Massachusetts
US
Jenks Productions has been handling the nuts and bolts of consumer trade shows for 33 years. Partnering with local and national businesses, Jenks specializes in home, bridal, and pet shows, which fill sprawling spaces with vendors eager to share their wares and visitors looking for inspiration. The services that Jenks Productions provides are extensive, as the team can do everything from onsite event management and budget planning to marketing efforts such as developing newsletters, logos, and jingles that rhyme the words "impending nuptials."
8 Natalie Way
Plymouth
Massachusetts
Along an Australian riverbank, a baby calf is being born, opening its eyes to the world for the first time. Carolyn "Chick" Dowd floats just 6 feet away and watches silently as the events unfold. At this moment, she discovers for the first time the powerful experiences kayaking can opportune, and plunges headfirst into the sport. Since this moment, Ms. Dowd has worked as an instructor in Thailand, Nova Scotia, and California, where she is also a member of San Francisco's national kayak polo team.
It wasn't just a love for kayaking that led Ms. Dowd to overcome a human's natural tendency to melt in water. When younger, she dreamed of being Julie, the cruise director from Love Boat. To that end, Island Spirit Kayak is the junction of Ms. Dowd's passions; a place that mixes fun activities with the natural surroundings of her hometown, Martha's Vineyard. Here, Ms. Dowd and her team of ACA-certified instructors can lead tours into tranquil waters or more advanced excursions toward the Aquinnah Cliffs, where sunrises paint warm colors across the exposed clay.
From beginners to experts, Ms. Dowd and her crew cater tours to everyone. Before each trip, they help people belly flop out of their comfort zones with a game of kayak ultimate frisbee, during which many feel compelled to jump out of the boat. The staff—which includes a school teacher—also has a soft spot in their hearts for children, welcoming little ones as young as 5 into kayaks.
Edgartown Oak Bluffs Rd.
Oak Bluffs
Massachusetts
508-693-9727
The Cape Cod Country Club has been in operation under various names since 1928; today, it continues to offer challenging greens and formidable fairways to all levels of golfers. During their 18 holes of golf (up to a $57 value on summer weekends and holidays), iron-wielders will swing and slice their way down sprawling slopes and beguiling bends as they quest toward Horton Smith–esque levels of links luster. Golfers can get a dogleg up on the competition, including the ghosts of past putters whose spirits will not be at ease until they conquer the tricky eighth green, with the club's course strategy or try to outdrive their drive in an electric-golf-cart rental, included in this deal (a $17 value).
48 Theatre Dr.
East Falmouth
Massachusetts
---