Tours in Harwich
---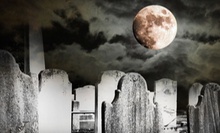 Paranormal investigators lead guests through spooky sites around Salem, Boston, and Plymouth with tales of hauntings
---
Recommended Tours by Groupon Customers
---
Headless Indian chiefs. Vengeful witches. Treacherous generals. Though they may seem like figures in a horror novel or modern newspaper, they are all characters featured in Colonial Lantern Tours of Plymouth's intriguing and true-life historical tours. For more than 25 years, the staff of enthusiastic history buffs has traversed the scenic pathways of Plymouth and neighboring Boston, pointing out sites of interest while regaling guests with tales of the region's diverse history—from legendary ghosts to ghoul-inhabited tunnels to educational tales of pilgrim settlers and Native Americans. Tours meander through town squares, down hidden alleyways, and past historic harbors, guided by the light of 17th-century lantern replicas. Docents also offer seasonal Halloween-, Thanksgiving-, and Christmas-themed trips that detail colonial holiday customs, such as topping every tree with a bust of Benedict Arnold. To date, Colonial Lantern's yarns—at once macabre and enlightening—have enthralled numerous reporters from a variety of publications, such as the Los Angeles Times.
22 Summer St.
Plymouth
Massachusetts
774-454-8126
While navigating segways around the Alamo during a spring vacation, Brad Biscornet and his brother-in-law, Jeff Langone, realized that their hometown of Salem, with its rich history and picturesque views, was ripe for just this sort of experience. And thus, Witch City Segway was born—allowing visitors and locals alike to explore the historic town on a thoroughly modern mode of transportation.
After briefly training up to six helmeted guests in segway piloting at the company's 2,000-square-foot indoor facility, two guides—one up front, one bringing up the rear—lead their flock onto the streets for one-hour jaunts. As the guides casually relay notable anecdotes about jail sites and cemeteries without the aid of megaphones or earpieces, guests obtain a deeper understanding of the 17th-century witch trials and the lesser-known black-cat mistrials.
283R Derby St.
Salem
Massachusetts
781-626-4000
In 1949, the USS Salem began its 10-year career patrolling the Atlantic Ocean and Mediterranean Sea. A flagship of the 6th Fleet during the Cold War era, it served as a "Lady of Diplomacy," using its massive canons to impress ambassadors, not to fire on enemies. The ship also made headlines in 1953 when it harbored refugees from Greece following a massive earthquake.
Today permanently docked in Quincy Fore River Shipyard, the Salem is one of the last preserved naval heavy cruisers in the world. Three quarters of the ship is used to honor the history of those who served, with features including a Navy SEALs exhibit, the USS Newport News Memorial Room, and a US Navy Cruiser Sailor Memorial. In addition to memories, the Salem also hosts birthday parties and overnight adventures filled with simulated battles and real-life survival instruction. If they listen closely, visitors might even hear some of the spooky sounds that earned the ship a feature on the SyFy channel's Ghost Hunters in 2009.
739 Washington St.
Quincy
Massachusetts
617-479-7900
The line to the men's room at Nimrod Restaurant is peculiar because it usually contains both men and women. Near the restroom's doorway, gatherers careen and crane their necks to see a 200-year-old hole and the projectile that created it: a cannonball from the War of 1812. This hands-on history lesson is one of many elucidated by the guides at Phat Tire Bike Tours. They backdrop their classroom against the scenic sights of crashing waves, lush gardens, and bustling downtown shops. Seated on personal bikes or rental bikes that correctly answer the question, "What's my favorite color?", groups can set out on tours of places such as Falmouth, Plymouth, Martha's Vineyard, or Nantucket.
14 Palmer Ave.
Falmouth
Massachusetts
774-454-8122
Kim and Corey were working for a ghost-story tour company in Salem when they noticed something. Well, it wasn't really something, so much as the absence of something that caught their attention. Tourists walked away from their ghost-story tours disappointed, seeking a more intimate encounter with the famous bumps in the Salem night. So the duo decided to start their own tour company, putting their private practice to good use. They founded Paranormal Salem and armed their guests with ghost-detecting equipment before taking them to some of Salem's most notoriously haunted sites.
Their ghost tour's hands-on style has earned them accolades such as Best New England Attraction of 2012 from About.com, and a featured spot on the Biography Channel's My Ghost Story. Their late night tour begins at the Witch Trials Memorial before embarking on a two-hour exploration of indoor and outdoor sites that are rife with stories of ethereal sightings, strange noises, and eerie stomach growls.
30 Church St., Suite 203
Salem
Massachusetts
US
978-494-4868
---