Things to Do in Hastings
---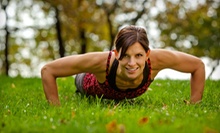 An Air Force and Army veteran leads varied workouts that couple military-style calisthenics with disciplines such as yoga and kickboxing
Use Friday 3:00am - 6:00am
---
Recommended Things to Do by Groupon Customers
---
Discover your inner Davy Crockett with today's Groupon. For $5, you get admission to the 40th Annual Minnesota Sportsmen's Show any day from Wednesday, January 13, through Friday, January 15, at the Saint Paul River Centre. Gawk at great outdoorsy goods (RVs, motor homes, travel trailers, fishing boats), attend free fishing and hunting seminars, plan your next excursion, and witness a water-skiing squirrel purchasing a motor home.
175 W Kellogg Blvd
St Paul
Minnesota
US
While memberships must be activated by May 16, membership benefits last for one full year from activation.
345 Kellogg Blvd. W
St. Paul
Minnesota
Held aloft by 35 years of family tradition, Stillwater Balloon sends intrepid explorers skyward from a port just off the scenic St. Croix River. Friendly FAA-certified pilots operate each craft and readily answer any questions that passengers may have as they float through gorgeous views of the surrounding valley. The billowy, multicolored behemoths cruise at treetop level, allowing travelers to shake hands with monkeys. Private and semiprivate flights are the business's forte, but Stillwater Balloon also accommodates custom flights for backyard surprises or ultimate school pickups.
135 Saint Croix Trl. N
Lakeland
Minnesota
651-439-1800
Located in the Dayton's Bluff area, historic Mounds Theatre is a great spot to experience live theatre, movies, and occasional paranormal encounters. Knotareel Getaway Cruise is an interactive dinner-theater production written by Greg Eiden that features musical comedy and a gaggle of mimicking pirate parrots all named Polly. You'll ward off scurvy thanks to the show's dinner menu, which offers roasted chicken with herb vinaigrette, fettuccine or linguine (tossed with olive oil, fresh basil, and garlic), vegetable medley, field green salad, and chef's choice dessert. You'll also be supporting a good cause since the theater is home to the Portage for Youth, a nonprofit organization serving disadvantaged youth that collaborates with arts and cultural groups.
1029 Hudson Road
St. Paul
Minnesota
Mississippi Dunes Golf Links' sophisticated, 18-hole layout blankets 3,000 feet of rolling Mississippi River shoreline with manicured, bent-grass fairways and an inventive, tree-lined design. As golfers cruise over the course atop a cart or a caddy training to be an Olympic power squatter, majestic views of the river appear through groves of trees that shelter native prairie creatures. On their odyssey from tee boxes to speedy, contoured greens, golf balls must split fairways to avoid sidelines riddled with mounds, pot bunkers, and knee-high grasses—a trinity of hazards that imbue the course with a Scottish, links-style vibe. A memorable tee shot awaits at the 399-yard, par-4 fifth hole—the course's most difficult, nicknamed "Humpback" for the large mound in the middle of the fairway as well as its voracious appetite for krill—where golfers must draw or fade drives around a dogleg left.
After hacking their way across the breeze-swept links, guests can unwind at Doc's Landing Pub, where a menu of traditional grill fare, fish, and pizza sates tour-worthy appetites. Patrons can look out on the river on the Pub's patio, catch up on the day's sporting events in the glow of a flat-panel TV, or discuss how greenskeepers maintain the immaculate felt that covers the billiards table.
10351 Grey Cloud Trl. S
Cottage Grove
Minnesota
651-768-7611
Bowling balls have been barreling down the lanes of Drkula's 32 Bowl for nearly half a century. Perhaps by osmosis—or maybe unintentional design—the brick and wood building roughly resembles a bowling pin turned on its side, with the roof veering outward above the bowling alley and veering inward above the adjoining Drac's Pub. There, the kitchen staff refuels bowlers with a surfeit of 1/3-pound burgers, pub sandwiches, and beer. Outside the pub, Drac's Sand Bar hums with chatter from the patio and cheers from its four sand volleyball courts.
6710 Cahill Ave. E
Inver Grove Heights
Minnesota
651-451-1717
---