Massage in Hawaiian Gardens
---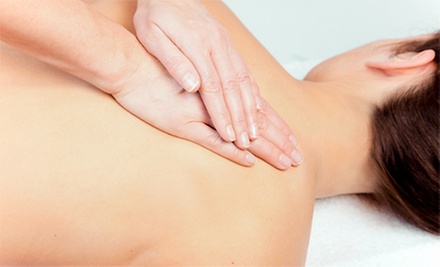 ---
Recommended Massage by Groupon Customers
---
Put your body in the hands of a holistic healing expert. For $54, today's Groupon gets you an hour-long massage or reflexology session with Rachel Avalon (normally $90). Take away your aches and pains with any one of Avalon's massages, including Swedish, deep tissue, and massage specifically targeted for infants, teenager, or pregnant women. This Groupon is also good for a 60-minute session of reflexology. Commonly referred to as "acupuncture without needles," reflexology relieves stress through foot squeezing and, optionally, lobe tugging.
1040 S La Jolla Ave.
Los Angeles
California
US
Holden Zalma knows the toll that exertion can take on muscles. Before he received his massage license, he helped to train USC's football, basketball, and swimming teams while he studied to be a physical therapist. After graduation, Holden founded MetaTouch, where he shares his burgeoning 16 years of massage-therapy experience with others. His philosophy is simple: scout out symptoms, hunt down their root causes, and treat the body as a whole by ignoring its unsightly seams. He and his staff of trained practitioners accomplish this task by blending techniques—such as massage, stretching, exercise, and acupuncture—to relieve pain, improve performance, and reduce the risk of future injuries.
4441 Sepulveda Blvd.
Culver City
California
US
310-397-3422
Roller derbying is such a rough-and-tumble sport that just reading the words "roller derby" is enough to make anyone need a deep massage. For $45, today's Groupon will knead the phantom roller-skate tracks out of your back with a one-of-a-kind, 60-minute Cariño massage ($85 value) from Cariño Massage, now in West Hollywood, named Top Five Best Massage in LA for the past three years.
8350 Melrose Ave., Suite 9
West Hollywood
California
Laguna Beach Massage is a peaceful ocean-view parlor that's been a licensed massagery since 2003. The company philosophy is that the body, mind, and soul must be balanced in order to achieve well-being, and a massage can harmonize the three. Through the use of organic oils and the skilled hands of LBM's expert staff, you'll be treated to one of three restorative treatments:
1999 South Coast Hwy. , Suite 6
Laguna Beach
California
In 2008, Los Angeles CityVoter's Hot List ranked Massage Revolution one of the city's best places for massage therapy. Owners Michael and Melissa Greenspan specialize in neuromuscular-massage treatments, which pinpoint the location of pain and root it out through specific techniques. Most often, they discover that poor circulation, nerve compression, or metal-joint oxidization is the source of pain. From here, they manipulate key trigger points within the muscles. The owners work alongside a group of licensed massage therapists who also perform neuromuscular massage, as well as traditional massage modalities such as Swedish, shiatsu, deep tissue, reflexology, and reiki.
500 S Sepulveda Blvd., Suite 202
Manhattan Beach
California
310-798-4263
The licensed massage therapists at OM use the warmth of their hands, organic massage oils, and the skills of their training to soften up crumbled you-clay and work it back together into one soft, whole, happy lump. OM's 60-minute signature massage blends the techniques of Swedish, deep-tissue, and energy massages, and can be applied to the whole body or targeted toward a specific sore area. Heated towels and aromatherapy pillows for the back, neck, and eyes are provided to complement the intensely focused muscle-melting strokes. Also included is an aromatherapy add-on, which integrates your choice of a fragrant, natural plant oil into the massage for a pleasant, aromatic experience––unlike doing mathematics in a horse stable.
2418 Honolulu Ave., Suite D
Montrose
California
---