Hayden, ID Outdoor Activities
---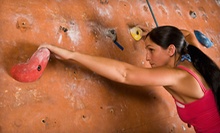 Learn some rock-climbing basics or take your skill to the next level at a gym with seven climbing and bouldering areas
---
Recommended Outdoor Activities by Groupon Customers
---
Inspired by The Amazing Race, CityScape Adventures—held across the United States—entangle race participants in webs of 12 puzzles and challenges in citywide races to the finish line. Participants compete in teams of two, using their wits, teamwork, and underground network of mutant-turtle spies to complete the tasks given at the start of the race. The 12 challenges take the form of puzzles, riddles, and clues that guide treasure hunters to a specific location within the city, where each team must complete a special task using only their cleverness and muscles. Players can also use the Internet, and the winning team is usually the one that best leverages its resources. The first team to successfully complete all tasks and vault over the finish line will receive a prize and assembly line of high-fives.
825 W Riverside Ave.
Spokane
Washington
A member of the United States Archery Association, Spokane Valley Archery grants bowmen plenty of room⎯10 acres' worth⎯to safely sling their arrows at a host of targets. Visitors can knock their arrows and take aim on a 100-yard practice range with targets placed every 5 yards, a broad-head range, or an 18-target, 3-D range that mimics shooting at live game or vogueing woodland creatures. Beginners can learn the sport through the Introduction to Archery class led by Level II USAA–certified coaches, who demonstrate safe use of equipment, proper technique, and standard range setup.
3809 S Linke Rd.
Greenacres
Washington
509-924-3364
Arizona Outdoor Fun lets riders whip around winding lakes, trails, and tight canyons the way nature intended—atop landscape-chewing wheels. When not busy peddling a cache of extreme all-terrain Honda vehicles and dirt bikes, Rhino UTVs, and agile sport quads, their expert guides lead fun, scenic ATV tours around the Verde River and Bradshaw Mountains, sharing tidbits about local Native American culture, plants, fossilized cowboy hats, and wildlife. They also deal in aquatic sports with boat rentals including wakeboard boats, pontoon boats, and fishing boats, small vessels such as jet skis, and kayaks and canoes that run on man power. Master mechanics at the shop's garage keep all vehicles ready for adventure, drawing on more than 25 years of experience to repair personal ATVs and other recreational crafts, including scooters and go-karts.
1401 E Best Ave.
Coeur d'Alene
Idaho
US
Cool breezes gain steam over the waters of Hayden Lake before moving through the pine trees that line the fairways of Avondale Golf Course, adding to the bucolic splendor of the 18-hole, 6,600-yard layout. The course's short-grass corridors switchback through a combination of tree-lined and open terrain, with water hazards complicating passage on five holes, placing precise shots and webbed golf shoes at a premium.
A stint at the natural-turf driving range helps golfers to warm up for the round, a necessary measure for slow-starting swings that may struggle to reach the lengthy par 4 second hole—rated the course's hardest from the men's tees—in regulation. After hunting birdies and inflating the egos of smug putters across the landscape, players can recess to the Water Hazard Bar & Grill to recap memorable shots over dinner and drinks.
Course at a Glance:
18-hole, par 72 course
Length of 6,600 yards from the farthest tees
Course rating of 72.0 from the farthest tees
Slope rating of 130 from the farthest tees
Five tee options
10745 Avondale Loop Rd.
Hayden Lake
Idaho
208-772-5963
Paddles dip into the water of Coeur d'Alene lake, boards glide across its surface, and a moose nibbles plants near its edge as groups of paddleboarders see North Idaho through new eyes. Moments like these spring from the dedication and passion of Coeur d'Alene Paddle Board Company's staff. With a mission to share their love for stand-up paddleboarding, they teach classes on fundamental techniques and lead group sessions into the area's scenic waters. Under guides' watchful eyes, groups float out into the open lake or along more narrow waterways flanked by trees and rubber duckies squeaking in their natural habitats.
512 Sherman Ave.
Coeur d'Alene
Idaho
208-292-4156
When a fire destroyed the skating rink owned by Evelyn Pattison's father, she and her husband tenaciously forged ahead and opened a new facility, Pattison's North Family Skating Center. This happened more than 60 years ago, and since then the Skating Center has become a reliable destination for families in search of a little fun and a lot of really shiny floors.
The center has acquired a venerable inventory of brand-name skates and inline speed skates, and staffers at the pro shop outfit patrons before teaching roller or inline basics at group and private lessons. Throughout the week, guests can also skate at after-school sessions, private parties, or Sunday retro nights, where they must weave their way through the rink's Civil War reenactments.
11309 N Mayfair Rd.
Spokane
Washington
509-466-2832
---