Hayden, ID Outdoor Activities
---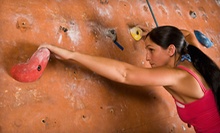 Learn some rock-climbing basics or take your skill to the next level at a gym with seven climbing and bouldering areas
---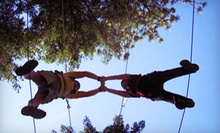 Couples rely on teamwork to conquer ground-level games and aerial adventures up to 50 ft. high before settling down to a catered dinner
---
Recommended Outdoor Activities by Groupon Customers
---
Flow Adventures' intrepid explorers introduce adventurers of all ages and skill levels to the thrill of navigating Washington's backcountry. Tours take place on the Spokane River, with idle inner tubing on the TJ Meenach stretch and whitewater rafting on the lower Riverside State Park section. Before groups set out, staff conducts briefings to ensure safe expeditions. Though they stress safety, they still take a lighthearted approach to trips.
2807 W Euclid Ave.
Spokane
Washington
Sprawling across 100 acres in the verdant, picturesque Spokane Falls, Riverfront Park beckons with awe-inspiring visual and auditory wonders. The newly constructed SkyRide invites visitors to survey the land from above, swooping across the Spokane River and past city hall, where they can wave to their favorite comptroller. Back on the ground, the historic Looff Carousel, built in 1909, whirls riders around on 54 horses, two Chinese-dragon chairs, one giraffe, and one tiger, and a tour train chugs through the park on a 30-minute narrated jaunt. Among other attractions, such as the Sculpture Walk and pony rides, Riverfront Park houses an enormous IMAX theater with one of the largest indoor screens in the Pacific Northwest. Standing 53 feet high and stretching 69 feet wide, the screen is slightly taller than the average human and displays crystal-clear two-dimensional images, which are complemented by the sounds of a booming, wraparound surround-sound system.
507 N Howard St.
Spokane
Washington
509-625-6601
As an Outward Bound instructor, Will Parks has taught mountaineering and rock climbing to tough, brawny sorts. But he's found that it's not physical agility, but mindset, that empowers people to triumph over difficult situations. Will Parks strives to impart that lesson via Adventure Dynamics's courses. Though it's exhilarating to race down the 400-foot zipline overlooking the Spokane River and skitter across a five-story balance beam, the challenges are all, ultimately, a means to an end.
Will Parks has welcomed a variety of groups and has watched as people learn to communicate in high-stress situations, be it while in the middle of the ropes course or while grappling with the reality of Morgan Freeman's mortality. "One day of work here is equal to one month in the office," says Will Parks, pointing to the intensity of interactions that take place and the bonds that form thereafter. "People don't remember what they learn by lecture or presentation. They remember what they do.
P.O. Box 213
Nine Mile Falls
Washington
509-467-0800
Inspired by The Amazing Race, CityScape Adventures—held across the United States—entangle race participants in webs of 12 puzzles and challenges in citywide races to the finish line. Participants compete in teams of two, using their wits, teamwork, and underground network of mutant-turtle spies to complete the tasks given at the start of the race. The 12 challenges take the form of puzzles, riddles, and clues that guide treasure hunters to a specific location within the city, where each team must complete a special task using only their cleverness and muscles. Players can also use the Internet, and the winning team is usually the one that best leverages its resources. The first team to successfully complete all tasks and vault over the finish line will receive a prize and assembly line of high-fives.
825 W Riverside Ave.
Spokane
Washington
Awarded one of the "Top 10 Golf Experiences Within Idaho" by Golf Digest, The Highlands Golf Course beckons golf enthusiasts with forests of towering pine trees and rolling terrain of verdant beauty. The course was originally designed by Jim Krause and opened for play in 1991, though anyone who hasn't played it since 2006 will appreciate the additional tee boxes and marked improvements in bunker playability resulting from course renovations. Six lakes come into play, demanding deft club selection around the greens and impeccable swan dives to retrieve errant golf balls. Narrow fairways and several doglegs also place a premium on flawless drives off of your playing partner's belly button.
As a warm-up or a cool-down, practice at the driving encourages skill development with grass tees and nearly 400 yards of open expanse. A short-game practice area recreates most on-course situations a golfer can conjure up, with sand bunkers and two regulation flagpoles that double as golf cart jousting lances.
Course at a Glance:
Par 72

Four sets of tees

6,385 yards from back tees

Rating of 69.7 and slope of 120 from back tees

1991 Jim Krause design

Renovated in 2006
5600 E Mullan Ave.
Post Falls
Idaho
208-773-3673
A member of the United States Archery Association, Spokane Valley Archery grants bowmen plenty of room⎯10 acres' worth⎯to safely sling their arrows at a host of targets. Visitors can knock their arrows and take aim on a 100-yard practice range with targets placed every 5 yards, a broad-head range, or an 18-target, 3-D range that mimics shooting at live game or vogueing woodland creatures. Beginners can learn the sport through the Introduction to Archery class led by Level II USAA–certified coaches, who demonstrate safe use of equipment, proper technique, and standard range setup.
3809 S Linke Rd.
Greenacres
Washington
509-924-3364
---