Dance Lessons in Hayesville
---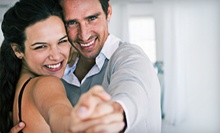 Introductory, group, and private dance lessons cover styles including ballroom, country, swing, and Latin
---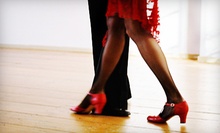 Use Sunday 4:00pm - 7:00pm
---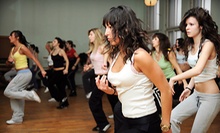 Upbeat latin tunes galvanize bodies into motion as instructors guide pupils through a regimen of rhythmic, heart-racing exercises
Use Saturday 7:00am - 10:00am
---
Recommended Dance Lessons by Groupon Customers
---
After several years of suffering through classes filled with tweens, or missing sessions because of rigid scheduling, Evie Graham started her own dance studio. At Vega Dance Lab, everyone from people who have never strapped on groove shoes to seasoned students aged 16 and older can school their left feet or untalented dancing bears in nine dances on a drop-in basis. Shuffle-savvy instructors school pupils in proper ballet technique, burlesque-inspired choreography, and hip-hop cabaret, where dancers perform hip-hop moves with a cabaret-inspired flair.
Teachers also integrate dance into intensive workouts such as Cardio Funk, an exercise regimen set to hip-hop music, or Tease & Tone, a session divided between 30 minutes of cardio and 30 minutes of dance. Lessons kick off six days a week in Vega Dance Lab's spacious, graffiti-decorated warehouse where students can test their latest moves by dancing out of the way of oncoming forklifts.
1322 SE Water Ave.
Portland
Oregon
503-753-9976
Bollywood Dreams' DJ and dance instructor Prashant expresses himself in the international language of dance with undeniable exuberance and contagious energy. Prashant teaches a variety of styles at local colleges and demonstrates his performance prowess with two Portland-area Bollywood bands. Prashant's monthly dance parties at The Crystal Ballroom give students an opportunity to strut new choreographies while he spins Bollywood and Bhangra tunes.
918 W Yamhill St.
Portland
Oregon
Dance with Joy Studios owner Rachel Lidskog strives to imbue her classes with the happiness she feels when dancing. Rachel has competed or taught in Argentina, Cuba, Holland, and Spain, among other countries, and her philosophy of uplifting people through dance is supported by the values of teamwork, creativity, and responsibility.
Along with a crew of professional instructors, she whisks fledgling hoofers around two hardwood-floor ballrooms, infusing their feet with the basics of Latin, country, and ballroom dance. She and her team identify private lessons, group classes or special workshops, and weekly dance parties as the best ways to learn to dance, superior even to dropping a family of ants into your overalls. They also organize wedding-dance lessons to ensure nuptial celebrations progress smoothly and cheerfully.
7981 SE 17th Ave.
Portland
Oregon
503-704-5617
---