Things to Do in Haysville
---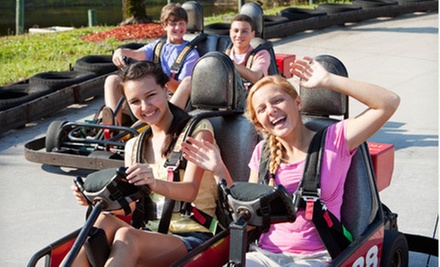 ---
Recommended Things to Do by Groupon Customers
---
When autumn's crisp breezes carry October into Kansas, Mr. Gourdman's Pumpkin Patch swings open its gates to help families celebrate the season with pumpkin picking, horseback rides, and an assortment of other fall-related activities. Visitors can simply soak in the scenery or take on some of the property's challenges, including a hay maze and an unofficial grass-eating contest against Mr. Gourdman's donkey, Leroy. During breaks, a picnic area lets groups gather around snacks from their own cooler, and an arts-and-crafts stand doles out keepsakes with which to remember the day.
3750 Dusty Rd.
Derby
Kansas
316-733-1887
Stationed inside a vaudeville venue first designed by the Boller brothers in 1928, the Crown Uptown Theatre has continued to nourish creative appetites with delectable dinners and Broadway-style productions since 1977. Concocted by an expert culinary team led by Kevin Gillenwater, formerly of Chester's Chophouse and Wine Bar, plated entrees are served alongside helpings of soup, salad, and rolls. An enthusiastic waitstaff delivers each meal directly to customers' tables. Crown Uptown Theatre can accommodate up to 400 theatergoers or scarecrows stuffed with recycled playbills during evening performances each Thursday–Sunday, and matinee plays for children every Friday and Saturday.
3207 E Douglas Ave.
Wichita
Kansas
316-612-7696
Registered yoga instructor Tonya Henning's inviting studio helps students from all walks of life expand their yoga practice through alignment-based yoga and heart-centered meditation. Her background in special education and support of her fellow certified yoga teachers make it possible for students of all abilities to participate in the classes together, as medical concerns and particularly stiff muscles can be accommodated with modified poses. For more focused instruction, students may take semi- or completely private yoga lessons before joining the rest of the downward-facing dog pack.
402 N Hillcrest St.
Wichita
Kansas
316-706-9642
At The Strike Zone, batters of any age can practice their baseball or softball swings against the pitches of fast- and slow-speed machines. Machines' pitching height can also be adjusted to accommodate guests' varying heights or a child's minute-to-minute growth spurts. When the batting cages aren't being used, kids can practice their form with the help of a T-ball stand. Shaved ice in 60 flavors keeps batters cool and refreshed throughout the day.
340 E Silknitter St.
Rose Hill
Kansas
316-214-0140
Human beings, like plants, derive their life force from the sun. Unless they live in the great outdoors 24/7 or own a timeshare on the planet Mercury, however, most people probably don't soak up nearly enough rays. Fortunately, infrared saunas do an effective job of replicating those rays in a comfortable indoor environment. There isn't much of a difference between a traditional sauna and an infrared one regarding the desired outcome: to help the body expunge toxins. What makes infrared heat unique, though, is that infrared is much more efficient at purging those impurities while decreasing the amount of water the body loses. And while all that's occurring, the heat also increases circulation, which helps ease joint and muscle pain.
Zeni's Inner Radiance lodges comfortably within Core Strength Wichita. Known for group and personal Pilates and Gyrotonic fitness programs, the Core Strength staff teach students how to strengthen their cores and improve their flexibility to aid their fight against the corrosive sands of time.
515 E Douglas Ave.
Wichita
Kansas
US
316-201-1909
Don't worry if, while attending a movie night at Twist, you begin to hear a steady clicking sound—nothing is wrong with the craft shop's projector. The movie owes its inadvertent soundtrack to the needles that click together as guests busily knit and crochet scarves, mittens, and blankets. At social events such as Saturday's Movie Night, as well as at introductory classes held throughout the week, Twist's staff members foster an informal environment in which they help guests hone their clothes-making skills. They stock their cubbies with polychromatic yarns and other supplies and keep the shop open for crafters in need of a nonjudgmental place to knit tube socks for their kitchen table's legs.
607 W Douglas Ave.
Wichita
Kansas
US
316-262-9276
---