Beauty & Spas in Hazel Park
---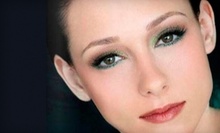 Team of makeup artists shape brows into customized arches based on eye shape & using precise tweezing performed by hand
Use Tuesday 10:00am - 4:00pm
---
Recommended Beauty & Spas by Groupon Customers
---
Jen draws on more than 15 years in the permanent-makeup industry to fill in sparse eyebrows, augment lash lines with permanent eyeliner, and strategically trace on lip liner to counterbalance lip asymmetries. The tattoo-like makeup applications streamline morning beauty routines, cutting out minutes spent distinguishing eyeliner from off-brand fountain pens. Jen offers free pretreatment consultations, as well as touchups for a modest fee.
27815 Woodward Ave.
Berkley
Michigan
248-930-5989
By its appearance, Bliss Nail Spa seems like something out of a classic sci-fi film. Set under soft, comforting lighting, dramatic curves and arches ensconce the nail stations and massage chairs, as if echoing the vision of a shining future in which individuals can simply step into a sleek chamber, close their eyes, and be instantly transported to a peaceful getaway. Although it remains tethered to the present, Bliss Nail Spa is no less tranquil, pairing its manicures with lotion massages and Japanese-style hot-stone treatments. For a quick respite, clients can sit back for a pedicure-accompanying chair massage lasting 10–25 minutes, letting them get back to the everyday stresses of today's world, such as fleeing from flying cyber-sharks.
1126 South Rochester Road
Rochester Hills
Michigan
US
248-652-2636
With six manicures and seven pedicures in their arsenal, the skilled staffers at FRESH Nail Lounge and Spa lavish hands and feet with treatments that rely on products from Creative Nail Design, Essie, and OPI, and prioritize safety and hygienic practices. But they don't stop at nail treatments—they call upon botanical ingredients to soothe and beautify faces and bodies. Saint john's wort aids green and white teas to soothe mugs during the classic European express facial, and seaweed detoxifies bodies and boosts circulation during a wrap, which doubles as means to disguise oneself as a spicy tuna roll.
1126 South Rochester Road
Rochester Hills
Michigan
US
248-652-2636
The beauty technicians at Serenity Spa customize each facial to individual skin type, carefully analyzing recipients to determine the best course of action. Over the course of a 50-minute treatment, skin will be steamed, cleansed, toned and exfoliated until it's softly cooing baby lullabies. A mask built specifically for you in lock-and-key fashion will adorn your façade to facilitate hydration and nurture a healthy glow. After the dramatic reveal, a relaxing facial massage will transform sternly articulate muscles into a playfully bumbling network of contentment. If deemed necessary, a deep pore cleansing will unblock stubborn pores and extract dark magic with wizardly precision. The gentle skin in the peeper-zone gets special care with the included Puffy Eyes Be Gone treatment. A light cleansing and exfoliation followed by deliberate but careful massage softens dark circles and owl eyes.
47210 Hayes Rd
Macomb Twp
Michigan
US
586-532-0141
---