Hazel Park, MI Indoor Activities
---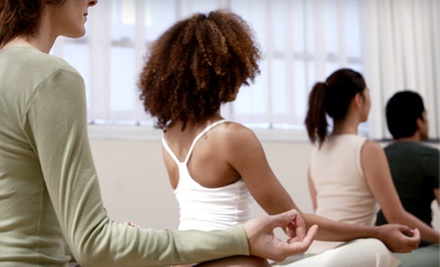 ---
Recommended Indoor Activities by Groupon Customers
---
On November 19, 1928, the Detroit Historical Society opened the Detroit Historical Museum in a one-room suite on the 23rd floor of the Barlum Tower, earning it the nickname of highest museum in the world. These days, Detroit's Cultural Center accommodates the museum in an 80,000-square-foot space, where interactive exhibits preserve more than 300 years of city history. Frontiers to Factories traces Detroit's transformation from French-frontier outpost to industrial city, while America's Motor City celebrates its automotive dominance with a changing display of classic vehicles and a 1903 Model T that guests can sit in. Streets of Old Detroit brings the 19th century to life with recreated cobblestone streets that wind past stores of the era such as a five-and-dime, a soda shop, and a barbershop for powdered wigs.
Thanks to recent renovations, the society has expanded its chronicle of Detroit with three new permanent exhibitions. Detroit: The Arsenal of Democracy covers the ways the city's industrial infrastructure adapted to demands of World War II, and The Gallery of Innovation includes videos about renown innovators and hands-on activities of trial-and-error. As The Allesee Gallery of Culture examines the city's cultural history, its Kid Rock Music Lab lets visitors create and share their own music using interactive displays. Outside, the Detroit Legends Plaza honors the city's sports, entertainment, and media legends with cemented handprints and signatures from stars such as Lily Tomlin and Martha Reeves.
5401 Woodward Ave.
Detroit
Michigan
The Detroit Symphony Orchestra's gifted tunesmiths squeeze euphonious notes through their woodwind, brass, string, and percussion instruments, building upon a 125-year history of symphonic sounds in the Motor City. The orchestra's performance of Franck's Symphony in D Minor pollinates the air with soaring French classics, swaying back and forth to the baton semaphoring of guest conductor Hélène Bouchez and the piano mastery of 17-year old prodigy Conrad Tao. A pair of Debussy compositions inaugurates the evening with ear-swooning melodies that bounce of the antique theater's ornate, golden structure, which was built in 1919. During the evening's main and final piece, Franck's Symphony in D Minor, Chinese-American Conrad Tao showcases his full repertoire, which has earned him ASCAP's Morton Gould Young Composer award for eight consecutive years, just two notches shy of earning him a free carrying case for a grand piano.
3711 Woodward Ave.
Detroit
Michigan
313-576-5111
Through public science forums and more than 200 interactive exhibits, Canada South Science City hopes to foster an excitement for science that helps families understand their relationship to the universe and inspire children to work towards Science-based careers. The 30,000-square-foot facility houses attractions such as Dinosaur Alley, where a model T-Rex skeleton looms as kids dig for prehistoric bones and fossilized cassette tapes. Live snakes, turtles, and tree frogs send a symphony of hisses and warbles from the Big Lagoon, an exhibit that offers up fun facts about biodiversity. Elsewhere, models of Jupiter and Saturn overhang an open-gym area that demonstrates the properties of sound and space.
Canada South Science City also hosts special events including science panel discussions and educational programs for students. These include workshops that challenge kids to solve problems, such as keeping a dropped egg from breaking or a black hole from opening in their lunchbox.
930 Marion Ave.
Windsor
Ontario
Sifu Owen Matson trains students on the ving tsun kung fu techniques taught to him by a line of Moy Tung sifu and grandmasters. Matson's classes cultivate students' balance of body and mind through the practice of two forms: siu nim tao, a basic stance emphasizing hand techniques, and chum kiu, a shifting stance that bolsters stability in motion by focusing on footwork and encouraging students to pick fights with mailbox posts.
A well-weathered teacher, Matson began his training in 1999 under the expert tutelage of Robert "Moy Yat Tung" Squatrito, who helped him master the swift movements and powerful strikes of the kung fu discipline. After becoming a member of the Moy Tung's MY4 and ICC inner training circles, Sifu Owen traveled to Detroit to open his ving tsun studio.
1353 Fisher Fwy.
Detroit
Michigan
313-282-3915
The 17th-annual festival boasts an impressive lineup of esteemed musicians and emerging artists performing work from the classical chamber repertoire as well as contemporary compositions. The festival's theme this year is "The Poet Speaks," and the June 12 performance features the music and poetry of Lera Auerbach in a piano, cello, and soprano trio, as well as the Haydn Piano Trio in C Major and Schumann's Piano Quartet in E-flat Major. Forty-five minutes prior to the concert, which begins at 8 p.m., Auerbach will present an educational prelude about her music and writing.
22305 W 13 Mile Rd.
Beverly Hills
Michigan
The Detroit Institute of Arts (DIA), one of the premier art museums in the United States, is home to more than 60,000 works that comprise a multicultural survey of human creativity from ancient times through the 21st century.
5200 Woodward Avenue
Detroit
Michigan
313-833-7900
---