Things to Do in Hazelwood
---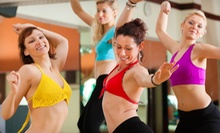 Zumba classes use motivational music and Latin beats to get hips swaying and bodies moving in order to burn calories with dance combinations
---
Recommended Things to Do by Groupon Customers
---
When Mr. and Mrs. Kemoll opened Kemoll's in 1927, Mrs. Kemoll served her mother's authentic Italian recipes in a casual dining room adjacent to their living quarters. Today, the dining room fills the 40th floor of Metropolitan Square, the tallest building in downtown St. Louis. Two floors above, Kemoll's Top of the Met banquet facility caters to weddings and private parties. Spectacular views of the city and riverfront helped Kemoll's earn third place for Best Romantic Restaurant from CityVoter in 2010, and prompted Gayot to note that "the three-direction views only heighten what was already a lovely dining experience." Lunch and dinner menus include Italian delicacies like cannelloni, manicotti, and Kemoll's signature fried artichokes. In the spacious dining room, elegant place settings perch upon white tablecloths as diners attempt to spot celebrity clientele or undercover espionage agents from Chef Boyardee. Complimentary parking is available in an enclosed garage.
1 Metropolitan Sq., Floor 40
St. Louis
Missouri
314-421-0555
A kid ricochets down a spiral waterslide, hugging each curve as a smile stretches across his face when he hits the water with a splash. Already having made a safe landing, his sister raises her fists in victory, having proven the speed slide is faster. Elsewhere in the sprawling waterpark, toddlers splash safely on a padded playground, away from their nosy older siblings. After recovering from swimming laps in the six-lane pool or sunning on the deck, parents meet up with their kids to refuel at the full-service Cannonball Café with burgers, chicken strips, and snow cones.
501 N Florissant Rd.
Ferguson
Missouri
314-521-4661
In 1981, a group of North St. Louis residents gathered together to solve a problem: the decline of their historic neighborhood. Together, they formed the Old North St. Louis Restoration Group, a nonprofit organization committed to preserving the history and culture of North St. Louis, which dates back to 1816. Today, the group focuses its time and manpower on maintaining and restoring historically significant buildings. In addition to construction and demolition projects, the group's staffers hold annual festivals and events to raise money for surrounding businesses, support local artists, and fund a grocery co-op aimed at bringing locally sourced produce to North St. Louis.
2700 N 14th St.
St. Louis
Missouri
The astronauts deftly dodge the oncoming trickle of rocks and debris from the meteor shower, and as the rubble clears they see the Moon up ahead. It is at this site that they'll soon establish the first permanent human base. Though it sounds like science fiction, novice astronauts attempt this feat daily at Challenger Learning Center-St. Louis. Part of the Challenger Center for Space Science Education—a nonprofit founded by the families of the astronauts who died in the 1986 Challenger space-shuttle mission—the center educates visitors in science and teamwork with its space simulators. Whether navigating a spacecraft or abetting astronauts at a Mission Control modeled after NASA's Johnson Space Center, student, community, and corporate groups must maintain a cooperative spirit while rocketing to Mars, assembling a probe, or stealing one of Saturn's rings.
205 Brotherton Ln.
Ferguson
Missouri
US
314-521-6205
---