Hazleton, PA Outdoor Activities
---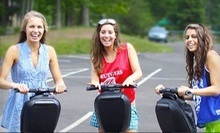 Groups guide segways along 3- and 7-mile tours through scenic Pocono Mountain landscapes
---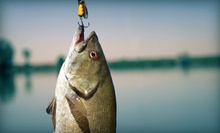 Local guides share fish-finding techniques while groups seek out panfish, crappie, bass, walleye, and muskie
---
Recommended Outdoor Activities by Groupon Customers
---
Whitewater Challengers' certified guides steer paddlers as young as 5 across the skipping surf of the Poconos' Lehigh River Gorge, the Black River Canyon, and the Adirondacks' Hudson, Moose, and Salmon rivers. In the rafting industry since 1975, the guides have collectively traveled more than 16 million miles of rapids. They chart courses that satisfy a range of experience levels, from beginning jaunts down gentle rapids to advanced battles through coursing foam and wicked currents.
The crew's ultimate goal is to make rafting a fun adventure, which means that they take care of the business end, providing all safety equipment, transportation to launch points, and lessons for novices. When not on the water, the outdoors-loving crew also organizes mountain-biking and camping trips in New York, Pennsylvania, and New Jersey.
288 N Stagecoach Rd.
Weatherly
Pennsylvania
800-443-7238
All big things start small, but few major farms start as small as family-owned Kreider Farms did, with 103 acres of land and only 12 cows. Today, the farm spans more than 2,500 acres and includes approximately 5 million egg-laying chickens, 2,000 cows, and 225 employees. The farm distributes its eggs, milk, and premium ice cream throughout the Mid-Atlantic region, and reports that it has become one of the largest egg producers in the state of Pennsylvania. Kreider Farms' wares have been endorsed by multiple chefs, a more meaningful accolade than the cardboard crowns of excellence distributed by fast-food eateries. The farm takes its environmental mission seriously, treating the land with respect and adopting ethical and environmentally responsible practices. Workers happily share their knowledge and story with others during 90-minute farm tours or virtual tours on the website.
1461 Lancaster Rd.
Manheim
Pennsylvania
717-665-5039
As travelers steer one of Strasburg Scooters' 50cc Honda Metropolitans or Yamaha Zumas over the winding back roads of Lancaster County, they encounter a less hurried world, populated by horse-drawn buggies and schoolhouses used by the county's Amish constituents. On the covered-bridge tour, for example, they visit bridges built prior to 1884—the date when the helicopter was invented, which rendered bridges obsolete. The tour covers more than 40 miles in three hours and pauses for photo opportunities at several historic covered bridges. Strasburg Scooters adds a brewery stop to one of its other tours and also leads expeditions through the countryside to locate some of the tastiest jellies, jams, and treats.
242 Gap Rd.
Ronks
Pennsylvania
US
717-344-2488
---