Pet Services in Healdsburg
---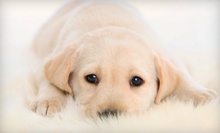 Owners bathe their pooches in private HydroSurge power-wash rooms designed for long-haired or extramessy dogs; all supplies are provided
Use Tuesday 8:30am - 3:00pm
---
Recommended Pet Services by Groupon Customers
---
As founder of Four Star Farm, Natalie Rooney Pitts instills proper horsemanship techniques in each rider, whether they're saddling up for simple enjoyment or dreaming of one day prancing onto the Olympic podium. Natalie and her team of trainers introduce new equestrians to the sport via lessons that allow students of all ages and experience levels to take the reins without having to own their own enchanted rocking horse. Atop one of the farm's fully trained mounts, pupils learn the techniques of English-style riding—including eventing, dressage, and show jumping—while building self-confidence and a mutual respect among man, animal, and belt buckle. The ranch also offers boarding and training services, and youngsters can take part in camps and club events offered throughout the year.
525 Salmon Creek Rd.
Bodega
California
707-312-1119
While Spot Pet Care's canine clientele may not appreciate the shop's attractive displays of goodies, they'll enjoy their contents as well as the affections from Spot's head groomer, Catherine. Styling sessions begin in the facility's stainless-steel, eco-friendly bathtubs with ergonomic contours that help keep dogs comfortable and organic shampoo mixed with just enough water. A window allows full views of the separate grooming room, letting owners watch as groomers make wild manes more manageable. Pups who are especially good or especially spoiled can sniff out a reward in Spot Pet Care's fully stocked canine general store filled with hormone-free treats, fetching collars, interactive toys, and books containing the home addresses of every mailman in town. Lovers of all four-legged friends, Spot Pet Care groomers reserve every second Sunday for cat grooming appointments.
9 E Blithedale Ave.
Mill Valley
California
415-389-1064
Groomer Katie Mirabelli first picked up her grooming shears at the age of 10 as a junior handler at dog shows. After completing her grooming certification as an adult, Katie began preening the coats of canines at The Velvet Dog Spa, located within Dogfather K9 Connections' doggie-daycare facility. She specializes in hand stripping terriers, prepping dogs for shows, and caring for less common breeds. In addition to baths and haircuts, Katie also handles walk-in services including nail trims, ear cleaning, anal-gland expression, and brush-outs.
416 Horn Ave.
Santa Rosa
California
707-595-3280
Founded in 2006, the Vincent family's 3-acre ranch makes pups feel right at home when their families can't be there to care for them. "There are no cages here," Andrea Vincent explains on her website. "There are no kennels." Unlike even the best boarding facilities, where dogs are isolated in private suites, the Vincents' maximum of four furry guests roam their house at will. An enclosed outdoor play area stretches 1.5 acres, providing plenty of room for canines to play fetch, investigate odors, or negotiate a peace agreement between themselves and their own tail.
282 W Railroad Ave.
Cotati
California
707-792-9252
For more than 30 years, the caring professionals at Pampered Paws Pet Salon have been sprucing up cats and dogs with baths, haircuts, and general grooming services. Staff members customize each cut according to the animal's breed, hair type, and lifestyle—whether that means de-kinking a toy poodle's curls, restoring luster to an irish setter's coat, or sculpting a hairstyle to complement a saint bernard's Sherlock Holmes's costume.
544 College Ave.
Santa Rosa
California
707-583-9405
From the age of 10, Jenny Alphin has spent her life around horses. After gathering grand-champion trophies as a junior competitor, she went on to earn a degree in therapeutic recreation, combining her expert horsemanship with her talent for working with children. As head instructor at Hoofbeats Riding School, she imbues each of her one-on-one lessons with this lifetime of expertise, tailoring her directives to the student's particular needs and interests.
To build confident, well-rounded riders, she starts youngsters out with the basics, rather than jumping right to galloping through mountain creeks in full John Wayne costume. Riders must first learn how to handle, lead, and care for their horse before getting into the saddle, which helps facilitate a healthy relationship between horse and rider. They also start off riding bareback so they can use their body language to communicate with the horse directly, without the aid of saddles, reins, or bridle-mounted walkie-talkies.
468 Corona Rd.
Petaluma
California
US
707-292-7289
---