Things to Do in Heath
---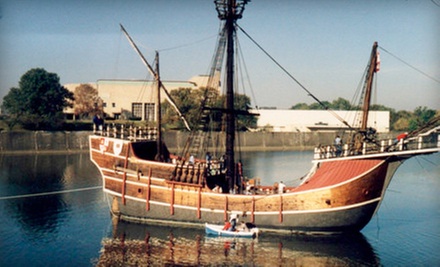 ---
Recommended Things to Do by Groupon Customers
---
Originally invented by bored henchmen looking to pass the time at Doctor Berserko's secret Antarctic lair, hockey has since overtaken polo and unicycle jousting as America's pastime. Hop on the bandwagon with today's Groupon. For $20 to $35, you get one upper 200-level or one lower 100-level ticket to see the NHL's Columbus Blue Jackets take part in one of two slap-shooting matchups: Saturday, March 27, at 7 p.m. vs. the New York Islanders or Tuesday, March 30, at 7 p.m. vs. the Tampa Bay Lightning. Depending on seating, these tickets are usually $44 or $75. The Saturday, March 27, game is also designated as Huntington Hat Night, and fans will receive a free Blue Jackets hat.
200 W Nationwide Blvd.
Columbus
Ohio
Though it's been open since 1963, Sequoia Pro Bowl recently became a Columbus hot spot when owners Tim and Liz Voss turned the ordinary alley into a full-service facility that frequently hosts PBA tournaments. Seven days a week, patrons heave heavy spheres down 32 brand-new lanes, refueling between frames with Sequoia's hearty menu of filling pub-style fare. Guests can also visit the 7-10 Club, packed with arcade games, ping-pong, and karaoke singers reciting the Bowling National Anthem. During the summer months, an outdoor sports bar and 5 sand volleyball courts provide a new arena for friendly competition.
5501 Sandalwood Blvd.
Columbus
Ohio
The 4,000 square feet of climbing space at Vertical Adventures encompasses terrain for top roping, bouldering, and lead climbing under the watchful supervision of a trained staff. The gym challenges wall scramblers to test both their physical endurance and problem-solving skills as they take on the top-rope courses, which represent the majority of the routes and tower as high as 25 feet. Rather than let new patrons become overwhelmed by the variety of courses or get stranded at the top without reading material, the gym's instructors also conduct lessons for all climbing levels to help climbers improve technique and conquer fears.
6295 Busch Blvd.
Columbus
Ohio
During the Renaissance, mischievously stealing the blacksmith's capon and escaping through a field full of onrushing Viking invaders became such a popular pastime that it became known simply as "rugby." Witness the latest evolution in this honorable sport: today's deal gets you tickets to the Rugby Collegiate Championship Invitational played at Crew Stadium from Friday, June 4, through Sunday, June 6. Groupon holders can obtain general-admission seating for Saturday, Sunday, or all three days of intense Division I collegiate rivalries during the 38-game tournament. There is no limit on Groupon purchases for this deal.
1 Black & Gold Blvd.
Columbus
Ohio
The Columbus Museum of Art dazzles eyes and tickles imaginations with a broad collection of 19th- and early-20th-century American and European artwork, as well as a cavalcade of traveling exhibits. Wear a realistic beast-man costume to the current exhibition Fur, Fins, and Feathers, which spotlights animal motifs within the museum's collections, from Inuit carvings to live armadillos posing as statues (runs through June 5). The permanent exhibit Old Masters captures subtleties of shadow, 19th-century American works encompass vast landscapes, and the extensive Late Modernism and Contemporary assemblage implodes luminous colors in twisting, spiraling transformations. Meanwhile, the museum's 18,000-square-foot Center for Creativity includes a technology lab and hands-on, kid-centered artistic projects to get children interested in fine art at an impressionable age, keeping them from becoming work-a-day doctors and lawyers.
480 E Broad St.
Columbus
Ohio
Even though the crimson neon sign recalls that of a classic movie theater, the stadium seating and digital-projection system of Gateway Film Center point toward a modern polish. The same can be said of the cinema's choice of films, a mix of classic pictures, arthouse darlings, Hollywood blockbusters, and home videos of David Cronenberg's horrifying family reunions. For refreshments, the Martini Shot Bistro pairs standard concessions of popcorn, candy, and soda with unique options such as sushi, freshly baked pizzas, and a full bar with 20 draft beers.
1550 N High St.
Columbus
Ohio
---