Restaurants in Henderson
---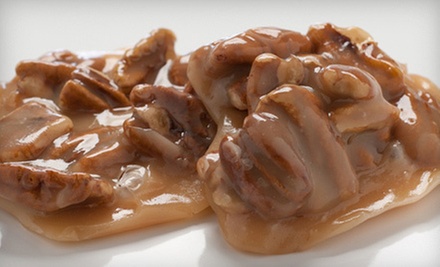 ---
Recommended Restaurants by Groupon Customers
---
While flipping through television channels, you might spot Chuck Hayworth slicing up spaghetti squash or sculpting a vegan meatball on his own cooking show, Thankfully Local. The skilled chef is a passionate proponent of eating locally sourced foods, having overcome stomach cancer on a diet of farm-fresh produce and fruits. In the kitchen of Worth It Café, Chef Chuck works with a colorful array of fresh ingredients—95% of which originated from local North Carolina purveyors. To craft his signature "stuffwiches", Chuck packs hollowed-out farmhouse bread with barbeque pulled pork, crispy chicken, and house-roasted beef.
Diners gather around tabletops in the cafe's airy seating area, sipping freshly brewed iced tea and lingering over last bites of freshly baked brownies. Some opt to grab one of Chuck's takeaway dinners—such as chicken pot pie or spinach lasagna—to bring home and enjoy with their family or the pack of wild dogs they've come to love like a family.
2945 South Miami Boulevard
Durham
North Carolina
919-381-6493
Baba Ghannouj Mediterranean Bistro blends Greek and Lebanese flavors for an exotic medley of pita wraps, platters, and salads. The chefs intertwine the flavors of grape leaves, Moroccan eggplant, and hummus to complement lamb and beef entrees. The culinary artisans also accommodate all diets by dishing up a regular and vegetarian buffet for lunch and dinner.
As diners nosh, they can gaze at the restaurant's wall-mounted flat-screen television or listen to the lilt of Mediterranean music. And before departing, they can fortify their stomachs with a piece of baklava that's crispy yet hearty, like a valentine card sewn from an onion's skin.
2105 E NC Hwy. 54
Durham
North Carolina
919-233-0307
Judging by his daring attitude toward fusion cuisine, head chef Michael Schiffer probably tried to fry the rule book before throwing it out the window. He founded Maximillian's Grill in 1991 with humble aspirations: it would be a 32-seat pizza restaurant where guests could enjoy quiet meals. In four months, however, he had amassed magazine awards and a clientele that would line up outside the restaurant for an hour before he opened the doors. They were there, waiting patiently, to see what delicious fusion food would sail out of the kitchen that night—Michael hand wrote a new menu every day and often invented new dishes on the spot, fusing Italian flavors with creole and Asian influences.
Unfortunately, in 1998, a fire closed Max's for good. Though he and his wife Gayle later opened a gourmet deli, it wasn't until 2001 that they opened Max's once again, this time in a roomier location with high ceilings, soft light, and tinted windows. The new joint even has a wine bar in the back separated from the dining room by a partition.
In the kitchen, Michael devises fresh takes on fusion cuisine while holding onto many of the dishes that made Max's famous, classics as the grilled caesar salad—prepped by grilling the actual lettuce—and the peppercorn-encrusted Voodoo tuna. Michael has also archived his old menus on the restaurant's webpage, viewing them as a timeline for his culinary evolution and a way to remember how to spell "bouillabaisse."
8314 Chapel Hill Rd.
Cary
North Carolina
919-465-2455
When The Broad Street Cafe's owners opened shop in Durham, they envisioned their spot as a community hub where patrons could meet up with friends to enjoy made-from-scratch eats and live music. And they've succeeded, according to The Independent's readers, who voted The Broad Street Cafe the best place to see music before 10 p.m. in 2011. Five nights a week, live acts fill the room from floor to exposed metal rafters with styles that range from indie and folk to reggae and backwards yodeling.
Chef James Autry and his culinary team load pizzas with house-smoked chicken, roasted butternut squash, and other premium ingredients, kissing them with heat in their wood-burning oven. The kitchen takes a creative approach to traditional burgers by building them around Angus beef, lamb patties, portobello mushroom caps, ahi tuna, and even marinated pork loin. In addition to wine and mixed drinks, bartenders maintain 10 beers on tap and more than 20 types of bottled beer.
1116 Broad St.
Durham
North Carolina
919-416-9707
Havana Grill dishes out authentic Cuban food such as crispy yuca fritas, roasted-pork sandwiches, and creamy tres leches cake as well as sangria and mojitos, which are made from scratch. Priding themselves on their family-friendly vibe, they host events on their heated outdoor patio that are good for all ages, including karaoke and Zumba fitness classes. They also host salsa-dancing sessions and were voted one of the Triangle's best places to salsa dance by Independent Weekly readers.
404 W Chatham St.
Cary
North Carolina
919-460-8662
Since the inception of its flagship location in 1973, Golden Corral has continued to load plates with an ever-expanding menu of homestyle fare served in a family-oriented atmosphere. Among the never-ending dinner buffet's offerings, 15 types of protein, including sirloin steaks cut and aged on the premises, pair with comfort-fare staples such as mac 'n' cheese and banana pudding. At lunch, pot roast simmered for 12 hours and made-from-scratch meatloaf fill the buffet's ranks, and breakfast promises made-to-order omelets, hearty slices of ham and sausage, and sizzling hash browns. Each of Golden Corral's locations opens its doors to group events, seating parties of 25 or more, or one house of Congress in recess.
1420 East Broad Street
Fuquay-Varina
North Carolina
919-552-7604
---