Beauty & Spas in Henderson
---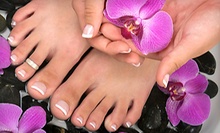 Aestheticians crown fingers with a full set of acrylic nails or banish toxins and tensions from feet with a pedicure
Use Saturday 9:00am - 11:00pm
---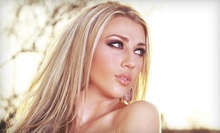 A certified Redken specialist, Christy Vicuna weaves vivid highlights into freshly trimmed locks
Use Tuesday 9:00am - 12:00pm
---
Recommended Beauty & Spas by Groupon Customers
---
With Posare Salons built upon three essential r's of salon and spa service—relax, revive, and replenish—experienced staffers wield a bounty of professional products as they seek to treat clientele like royalty. Those fundamentals emerge most clearly in Posare Salons' Pink Room, where patients undergoing cancer treatment enjoy complimentary salon services and can audition affordable wigs from Las Vegas Wigs. Throughout the rest of the salon, stylists and aestheticians perform an abundance of pampering treatments from spa pedicures to permanent eyelash extensions. The med-spa branch additionally clears epidermises of acne and wrinkles, dispenses flu shots to shield patients from severe sniffles, and supplies melancholic music suggestions for visitors with crippling disco fever.
5803 W Craig Rd., Suite 104
Las Vegas
Nevada
702-395-2414
Composed of an MD, registered nurse, and licensed aesthetician, the team at DermaBella Medical Spa provides complete visage revitalization inside their elegantly appointed facility. Facials and chemical peels share an array of treatments, ranging from age-defying elixirs and acne solutions to specialized formulas for sensitive skin. The staff also smoothes out wrinkles with Botox and Juvéderm treatments, and turns the volume on lashes' boom boxes up to 11 with Latisse. A consultation precedes each treatment, allowing skin techs to evaluate specific trouble areas and make informed recommendations.
7170 Smoke Ranch Rd., Suite 110
Las Vegas
Nevada
US
J.A.K.K.'s Salon's staff could not come from more different professional backgrounds. One technician spent years crunching numbers in the accounting field, while another thrilled crowds as a Madonna impersonator. Ultimately they were all drawn toward the beauty industry, and now fill J.A.K.K.'s stylist stations and treatment rooms with their superlative skill and enthusiasm for hair and aesthetic services. The staff recently begin utilizing Chromatics color by Redken, busily delivering the ammonia-free line to clients to help strengthen weakened hair with infusions of protein. Colors can be blended for a custom shade, and like hiring someone to follow you around with a fan, each hue's multidimensional finish keeps hair from looking flat.
7260 W Lake Mead Blvd., Suite 2
Las Vegas
Nevada
US
702-806-1200
A mirror framed in gilded leaves hangs on a pale pink wall, reflecting the faces of clients as a team of stylists perform beauty services. Nail technicians dip hands and feet in paraffin wax for added softness before covering tips in a choice of eye-popping hue, and stylists dip their scissors into manes, removing unwanted length and creating chic layers. After accenting facial features with permanent makeup, clients can toss their stash of lipstick tubes and eyeliner pencils or use them to add even more personality to pet rocks.:
10271 S Eastern Ave., Suite 107
Henderson
Nevada
US
702-478-8700
Dr. Stephen Dubin of Spring Valley Medical has practiced medicine for more than three decades. With previous experience in Ob-Gyn, internal, geriatric, and family medicine, Dr. Dubin has taken an interest in weight loss, utilizing ultrasounds and echocardiograms to best diagnose patients. He welcomes patients for various weight-loss programs, such as those assisted by appetite suppression, hormones, or bees.
5380 S Rainbow Blvd., Suite 306
Las Vegas
Nevada
702-362-9930
With more than 25 years experience under their belt, the staff at Classylash & Spa Services is showing no signs of slowing down. The staff still performs lash and skin services seven days a week, and the processes are as intricate as ever. Using a medical-grade adhesive, technicians adhere synthetic mink to each individual lash, creating longer, fuller lashes that make it easier to flirt or deflect pennies falling from skyscrapers. Other services also benefit from small touches: Staffers can add a pumpkin-based peel rich in glycolic and lactic acids to make the radiant facial more effective or hot stones to a massage, causing aches to melt. The spa even features practitioners of ashiatsu oriental bar therapy, in which massage therapists use their bare feet to knead out tension and open cranberry-sauce containers without a can opener.
8751 West Charleston Boulevard
Las Vegas
Nevada
US
702-612-9041
---