Pet Services in Henderson
---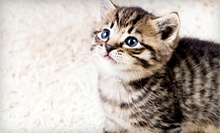 Duo of seasoned groomers pampers felines with baths, brush-outs, and haircuts in a calming spa lined with wood floors and earth-toned walls
---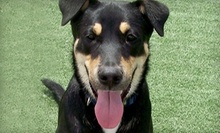 Canines romp across a 10,000-square-foot outdoor play area during daycare; overnight guests cuddle up in specially designed suites
---
Recommended Pet Services by Groupon Customers
---
After canceling a vacation because no one could care for their beloved Saint Bernards, the owners of Just Like Home Doggie Hotel and Grooming decided to help fellow pet owners by creating a friendly, open environment for dogs to stay while their people are away. Upon entering the 2,800-square-foot facility, one may have to step over a sleeping mutt or two, as the cage-free space lets dogs come and go as they please. Couches nestled under sunny windows provide comfy places to nap, and a half-acre grassy play yard provides a space for games of Red Rover. During especially hot days, dogs can cool off in the bone-shaped splash park that features waterspouts, waterfalls, purposefully leaky fire hydrants, and shallow pools perfect for canine cannonballs. After tangling their fur during rambunctious romps outside, the facility's groomers can make over manes with various grooming services performed in a cage-free environment.
4872 W Lake Mead Blvd.
Las Vegas
Nevada
702-558-5689
The pet enthusiasts at Paws 'N Claws Pet Resort and Grooming pamper dogs and cats with luxurious boarding accommodations and grooming services. Canine boarders each receive their own temperature-controlled indoor area, sized to fit their stature and equipped with a comfy bed. Throughout their stay, pups dine on all-natural, nutritious food, and exercise in shaded outdoor areas any time of the day or night. Pooches in need of grooming receive makeovers from on-site stylists, who capably outfit dogs of all breeds with mohawks, lion-style haircuts, and high-top fades.
In the cattery, feline boarders occupy individual suites, each measuring 3'x'3'x5'. A three-tier climbing tree rises in the shared space, which undergoes cleaning on a daily basis. During this time, staff members meet cats at eye level for one-on-one playtime. Like their canine brethren, cats enjoy premium food and accessories.
640 Eastgate Rd.
Henderson
Nevada
702-565-7297
Heather Brooks plays with dogs for a living. The results of these puppy-fests can be seen in her portfolio of candid portraits that capture each pooch's unique personality. After honing her photographic craft on human families, Heather decided to launch Pupparazzi, carting her equipment to canines' natural habitats to snap up-close and personal puppy pics in black and white and full color. Heather knows all the tricks of the trade, like eschewing flash for natural light and shooting under a tree for the kind of soft light that brings out a pup's true eye color. Her telephoto lenses and fast shutter settings are able to capture the quick flick of a puppy's tail or the moment before a dog realizes that the Frisbee he's about to catch is actually a miniature UFO. Heather snaps her shutter for cats and other animals, too, and when the flashbulb frenzy comes to a close, pet owners can decorate their homes and bodies with fine-art prints and custom jewelry featuring their furry friend's face.
1200 N Town Center Dr.
Las Vegas
Nevada
702-587-0030
At Sagebrush Ranch, experienced equestrians and instructors pair guests with patient, well-trained horses for lessons or scenic rides through the rustic expanse just west of Las Vegas. In group lessons or day-long clinics, students practice horsemanship and proper riding techniques on one of the stables' 45 red-ribbon-clad steeds. Before visitors embark on trail rides, the Sagebrush Ranch staff pairs them with specific horses based on riding experience and personality, after which the star-crossed duos set out for the desert paths surrounded by mountains and lizards riding bareback atop armadillos.
7103 Rebecca Rd.
Las Vegas
Nevada
702-645-9422
At A-Round of A-Paws Pet Boarding Resort & Spa, pooches sprawl in the lap of luxury, lounging on hypoallergenic lambskin bedding during resort stays and enjoying mud facials and Swedish massages at the spa. Vacationing owners can rest easy knowing that their canine and feline companions are in safe hands. The resort provides amenities that include K9-themed movies for pups and condos that accommodate pet families with connecting doors. An agility track, doggy day care, and group play sessions keep canines alert, whereas lessons with trainers help get pooches closer to the day when they can fetch Chinese takeout.
The spa, meanwhile, goes above and beyond standard grooming with hair dyeing and styling, as well as pawdicures that pamper canine appendages with paw soaks. The spa's aroma therapist and massage therapist kneads arthritic and tense muscles in a variety of modalities, employing warm-oil massages and stone massages to banish the stress of dreaming of a world run by squirrels. Over in the bakery, chefs turn out organic treats perfect for rewarding obedient pets, while cakes with low-fat cream-cheese-honey frosting accompany puppy birthday parties hosted at the resort.
3255 St. Rose Parkway
Henderson
Nevada
702-462-9700
At The Dog Wash, scruffy pups are turned into well-groomed canines by professional groomers or dog owners who use the self-serve facilities to do it themselves. Equipped with the HydroSurge therapeutic bathing system, dog washers spray down dogs in elevated washbasins that prevent back strain. The HydroSurge system mixes warm water with shampoos designed specifically for pups and works like a liquid comb to ferret away dead skin, fleas, and "kick me" signs left by the family cat. To help customers feed their pets a healthy diet, the shop's team shelves dog food from the likes of Innova and California Natural, as well as canine cologne, toys, and doggy accessories.
9220 S Eastern Ave.
Las Vegas
Nevada
US
702-364-9274
---