Shopping in Henderson
---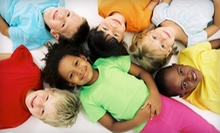 Gently used clothing and gifts dress kids of any age in name-brand threads, or equip nurseries with playsets, furniture, and strollers
---
Recommended Shopping by Groupon Customers
---
The family-owned 1-800-Flowers Shoppe, a local subsidiary of 1-800-Flowers, crafts distinctive arrangements with fresh-cut buds placed within delicate keepsake vases. Arrangements run the aromatic and aesthetic gamut, including contemporary, traditional, and high-style arrangements ideal for anniversaries, holidays, or chain-gang reunion parties. The store also carries an extensive gift line, including gourmet and fruit baskets as well as silk arrangements and greeting cards.
3385 S Durango Dr.
Las Vegas
Nevada
702-233-6410
Gift the gifts you've got to gift, want to gift, forgot to gift, or accidentally gifted to a gift gorge with this Groupon: $25 for $50 worth of gifts from The Obsession Box, a local business located locally in San Jose. Browse Obsession Box's vast inventory and buy online (Groupon is good for online orders only); Obsession Box's thoughtful and well-crafted gifts ship anywhere in the United States. Room with a View: Mild-mannered lawyer Otis McLaren still lives at home with his domineering mother, though he longs for a big apartment with a view of the ocean. A chance encounter with the Obsession Box makes his dream come true, but at a terrible price—the apartment may be a ghost. Don Rickles guest stars as an insurance adjuster with a secret.
4750 West Sahara, #28
Las Vegas
Nevada
US
Don Pablo Cigars brings Cuban traditions inland as master wrappers with more than 30 years of experience hand-roll fine tobacco on site. The cigarsmiths' continuous research into new leaves and techniques leads to exclusive creations such as the cognac cigar, made by soaking wrappers in oak-aged French spirits. After pressing and fine-tuning, cigars bask in the dewy warmth of a walk-in humidor to soothe away tension from close-fitting labels. Don Pablo's artisans can also craft their stogies at private events to imbue any soiree with a club-like atmosphere of aromatic smoke.
3049 S Las Vegas Blvd.
Las Vegas
Nevada
702-369-1818
In his 12 years as a podiatrist specializing in reconstructive rear foot and ankle surgery, Dr. Lee Wittenberg kept hearing the same questions from his patients. They wanted to know what shoes they should be wearing, why one brand of shoe is better than another, and where they could find such footwear. Realizing he kept giving the same five-minute lesson over and over again, Dr. Wittenberg decided he could pick out the shoes himself and give his patients a one-stop location where they could find footwear that meets his rigorous standards. Shortly thereafter, he opened Dr. Footsie's.
Dr. Wittenberg applies his knowledge of pedal extremities to hand-select footwear and insoles proven to provide biomechanical support and comfort. Work-related shoes include clogs for nurses, dress shoes for businessmen, and slip-resistant shoes for slip 'n' slide operators.
5165 S. Ft. Apache, Suite 175
Las Vegas
Nevada
US
702-778-6300
When 2008's economic crisis hit the nation hard, the founders of GlamSquadShop vowed to keep wardrobes from receding as well, assembling an inventory of fashionable dresses, tops, and accessories at affordable prices. The items bridge the gap between styles, blending classic staples such as a black dress with lace accents and trendy apparel such as a coral romper, ideal for pairing with sandals or a live starfish brooch. Flashy, funky jewelry—such as a rhinestone-encrusted turtle ring—spice up flowy tops and cropped jackets, and for a finishing touch, the shop stocks Nyx cosmetics and sunglasses in styles ranging from retro to futuristic to existing in an alternate dimension where looks literally kill.
5165 S Fort Apache Rd.
Las Vegas
Nevada
US
702-456-4526
At Belle Handbags, Shoes and Accessories, chic women's adornments from brands such as Rioni and LYDC London pack the shelves, earning praise from City's Best in 2011. Patrons root through jewelry, hair accessories, and wallets, finding treasures such as shimmering necklaces that accentuate elegantly poised formal heels or their more casual flat brethren. Alternatively, awe-invoking handbags comfortably hide makeup and spare red noses for spontaneous circus performances.
4040 W Craig Rd., Suite 103
North Las Vegas
Nevada
US
702-834-7241
---