Henderson Spa and Massage
---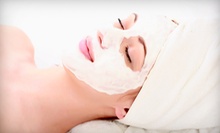 50-minute session includes cleansing and any needed extractions; microdermabrasion wand sloughs off dead cells to reveal brighter skin
---
Recommended Spa & Massage by Groupon Customers
---
At Elements Therapeutic Massage, studio manager Susan Comer's team of massage therapists draws upon a wealth of knowledge amassed through international training experience and massage-therapy-school stints. Stationed inside earth-toned massage rooms with dim lighting, soft music, and the calming presence of a dozen cooing doves, therapists prod knots and release tension using four pressure levels, exercising massage techniques such as deep tissue, prenatal, and Swedish. Post massage, the staff eases clients out of their relaxation reveries and as bodies rehydrate and develop a feeling of overall restoration.
2970 Saint Rose Pkwy., Suite 130
Henderson
Nevada
702-243-3386
Flawlace Beauty Boutique's black-and-white paisley wallpaper and electric-pink walls leave clients assured of the salon's flair for feminine beautification. Sheer white curtains envelop visitors ensconced in hairstyling nooks or seated, like flamingo royalty, on plush pedicure chairs, and cursive marquees mark the spot for private facials and spa treatments. Inside the boutique's blushing confines, customers also find staff trained in expertly applying eyelash extensions, including brightly colored and crystal-adorned varieties.
1236 S Rainbow Blvd.
Las Vegas
Nevada
US
702-243-5223
The staff members of Organelle Spa & Salon believe the answers to all beauty quandaries can be found in one place: nature. They work almost exclusively with organic and all-natural products, even using botanically based solutions during traditionally chemical processes such as hair coloring. Besides keeping unnatural materials out of the body, Organelle's aestheticians also want to remove the toxins that are already there. The spa's detoxifying treatments boost weight loss and dissipate cellulite, and its herbal tonics, teas, and systemic cleansers flush whatever synthetic residue the body accumulated by sleep-eating an alarm clock.
4266 S Durango Dr., Suite C
Las Vegas
Nevada
US
702-871-0010
Reflexology specialists at Pure Foot and Spa tap into the body's energy pathways to help boost immunity and overall health through pressure on key points of the foot. Clients can also elect for herbal baths to soften skin on the feet, detoxify the body, and add flavor to bland chicken cutlets.
5700 Spring Mountain Road, Unit Q
Las Vegas
Nevada
702-882-3998
The team at Caribbean Day Spa rejuvenates sore bodies, tones dulled skin, and relaxes minds with a range of holistic spa services often complemented by a glass of bubbling champagne. Massages target tense muscles through gentle Swedish effleurage strokes, deep-tissue techniques, hot stones, or a combination of the three—often incorporating aromatherapy oils to further relaxation by recalling fond childhood memories of eating whole flower beds. Aestheticians revitalize complexions with everything from standard European facials to acid-based peels, or envelop clients in Formostar infrared body wraps, which melt away cellulite with detoxifying heat augmented by crickets chirping New Age music.
5081 North Rainbow Boulevard
Las Vegas
Nevada
US
702-395-8826
A seasoned team of aestheticians, cosmetologists, and massage therapists bands together at Amnesia Salon and Spa to guide visitors along the path of aesthetic excellence with a suite of relaxing services. Over the last 12 years, staff members have honed their knack for transporting visitors away from worldly cares with full-body wraps, pre-packed parachutes, and custom facials. Treatments unfurl amid sleek, modern décor, with large geometric armchairs scattering comfort everywhere from the waiting area to the pedicure stations and clusters of pendant lights adding bursts of cobalt to an otherwise black-and-white environment.
6462 Losee Rd, Ste 135
North Las Vegas
Nevada
US
702-227-3322
---