Things to Do in Henderson
---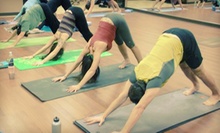 Students remain on their feet throughout the session, performing poses that strengthen ankles, knees, quads, glutes, and cores
Use Wednesday 2:45pm - 5:45pm
---
Recommended Things to Do by Groupon Customers
---
When Rev. Ted McIlvenna and photographer Harry Mohney joined forces to create the Erotic Heritage Museum, they wanted a space that celebrated sexual pleasure and individual sexuality—two vital, natural aspects of the human experience. From galleries of vintage adult-film posters and Playboy covers to rare books of erotic art, the artifacts amassed in the more than 24,000-square-foot museum explore human sexuality's impacts on the arts. As the Las Vegas Review-Journal observed, approximately 50 monitors screen vintage films from the turn of the 20th century through the revolutionary film Deep Throat, and mannequins re-create the behind-the-scenes production sets of erotic works. Among the other exhibits, antique adult toys trace the history of pleasure, records of first-amendment disputes illustrate the ongoing fight for sexual expression, and Larry Flynt's gold-plated wheelchair memorializes the day Flynt accidentally bumped into King Midas in an elevator. Throughout the year, special events further explore and examine sensuality through erotic poetry, naked yoga, and lectures.
3275 Industrial Rd.
Las Vegas
Nevada
702-369-6442
Founded in 1950, Variety has worked for more than half a century to improve the lives of children in Nevada and around the world, with a focus on kids with special needs. Programs such as Kids on the Go! and Kids at Play! aim to improve children's access to community resources, providing adaptive medical equipment and funding playgrounds with padded fencing and wheelchair swings. Events throughout the year allow the organization to fund new programs and makes guests' hearts swell like a crowd around a talking beagle.
4321 W Flamingo Rd.
Las Vegas
Nevada
A long silver limousine pulls up and releases a flurry of energetic moppets, who make their way down a red carpet to the front doors. Though this may seem like a scene from Nickelodeon's Teen Choice Awards, it's an everyday occurrence at Make Me a Star Studios, where aspiring superstars' dreams of the famous life can be realized.
At the studio, beauty experts sculpt coifs and gloss guises to get them ready for the camera. Then, against a green-screen backdrop, celebrities-in-progress strike poses as flashbulbs pop or perform choreography for music videos. Though activities are geared toward kids aged 7–14, grown folk often find themselves headbanging or electric sliding during sessions and can join in if they wish.
Party packages guarantee exclusive access to Make Me a Star Studios' enclave. The Reality Party gives kids glimpses into the true lives of superstars by bouncing them between scheduled interviews, performances, and photo shoots. Unexpected bumps in the road—which may include a limousine breakdown or publication of recent spelling tests in the Enquirer—challenge youngsters to make it to appearances on time and without losing their cool.
4260 W Craig Rd., Suite 150
Las Vegas
Nevada
702-252-7827
Las Vegas's bountiful nightlife scene serves as the backdrop for VIP UNLTD's lively club crawls and meticulously organized party packages. The company's philosophy is predicated on valuing people's needs over meeting bottom lines. This belief is held by all VIP UNLTD's knowledgeable event-planning aces, who arrange club tours that meander across the vibrant cityscape. Before the tours, they make sure each tour-goer will be greeted with free entry and drink specials at some of the city's swankiest venues, many located inside famed hotels, casinos, and corn mazes. They can also tailor custom party packages, working with a wide web of resources throughout Las Vegas to help merrymakers gallivant with ease.
3950 Las Vegas Boulevard South
South Las Vegas
Nevada
702-608-6494
A nonprofit organization that helps people with disabilities, New Vista Community hosts festive fundraisers throughout the year. Savvy to the pulse of the community, event organizers throw raucous events, such as wine walks, which regale guests with the foolproof combination of fine-food samples, wine and cocktails, and live music. Guests at the Brew's Best handcrafted beer festival sip free samples of regional brews, and at the lighthearted Adam & Eve's Charity Love Fling, love-happy attendees and confused mannequin collectors bid on bachelors and bachelorettes.
Though many in the community may know New Vista Community primarily for these events, the organization dedicates its best energies to helping those with disabilities. Founded in 1984 by three sets of parents with intellectually challenged kids, the charity provides group homes, assisted living, job training, and field trips to kids and adults.
6605 LAS VEGAS BLVD S
LAS VEGAS
Nevada
The DJ's hypnotic beats thrum through the air as friendly servers check in with their guests and top off drinks. Revelers sip their cocktails and laugh under the glow of 42-inch HDTVs. And every last one of them is wearing a bathing suit. Inside the 15 cabanas that border The Pleasure Pools at Planet Hollywood Resort & Casino, ceiling fans disperse the cooling spray from misters decadently filled with Evian to keep patrons cool between dips in the pool. Guests can take a dip or swim up to the two in-pool bars to whet their whistles. When they emerge, visitors can sunbathe on the royal-blue cushions of day beds or lounge chairs found around the pool's edge. A full menu of snacks and drinks refuels patrons who've lost all their energy from swimming, sunning, or a breakdown of the space-time continuum.
3667 Las Vegas Blvd. S
Las Vegas
Nevada
702-785-9106
---