Hendersonville, NC Health and Fitness
---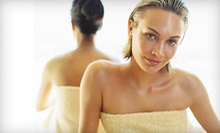 Therapeutic far-infrared rays stimulate weight loss and may help improve conditions such as arthritis and hormonal imbalances
---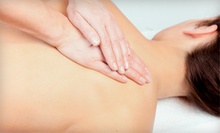 Licensed massage therapists knead away aches and stress with an integrated massage approach in a holistic healing center
---
Recommended Health & Fitness by Groupon Customers
---
At O3 Health and Fitness, Keith Wimsett leads a team of certified trainers while his wife Marlena rubs down recovering muscles with therapeutic massage. Keith and his team advocate a four-tiered philosophy built around increasing strength and cardiovascular endurance while monitoring food intake and hydration. Personal trainers work with individuals or small groups to forge customized fitness plans while also eliciting sweaty smiles through group boot camps.
554 Riverside Dr. , Suite C
Asheville
North Carolina
Under the supervision of licensed physician's assistant Lisa Edwards and local surgeon Chris Edwards, the medical staff at Belle Mia helps patients reach their cosmetic and fitness goals with medical-grade aesthetic services and weight-loss solutions. Drawing on experience in dermatology, dermatologic surgery, and bariatrics, the highly trained staff can smooth years off of patrons' faces with prescription injectables or reduce the appearance of spider veins with sclerotherapy and rain to wash the spider out. Facials, body scrubs, and wraps cosset skin in nutrition, and a team of nutritionists, exercise specialists, and physicians help clients lose weight.
1000 Brevard Rd., Suite 175
Asheville
North Carolina
828-633-0443
Dr. Chris Port of Asheville Smile Center isn't satisfied with merely keeping teeth and gums healthy—he also goes to great lengths to make them look good. Aside from comprehensive cleanings and exams, his office delivers cosmetic treatments ranging from thin porcelain veneers to three different types of teeth whitening. Dr. Port understands that the condition of a mouth, like the condition of a bobsled's brakes, can affect the well-being of the whole body, which is why he customizes dental treatments to each patient's specific needs and goals.
600 Julian Ln., Suite 610
Arden
North Carolina
828-483-4150
In 1976, educator, musician, and kinesiologist Robin Wes longed for a children's gym that prioritized personal growth over competition. Unveiled at a time when physical-education classes pushed students to focus almost exclusively on winning, Robin's program was swiftly adopted and is now used in more than 300 Little Gyms worldwide. Robin still pens original music to accompany lessons, which engage whippersnappers 4 months old–12 years old with gymnastics, dance, karate, and parent and child activities.
Each of The Little Gym's classes introduces simple movements that sharpen motor skills and set brains whirring, allowing kids to progress at their own pace until they can finally build a computer out of macaroni and glitter. Staff members strive to build a base for lifelong social skills and self-assurance with each exercise, including activities rooted purely in fun, such as summer classes or birthday parties, which helped The Little Gym to earn title of #1 Birthday Chain in Parents Magazine.
1000 Brevard Rd., Suite 168
Asheville
North Carolina
828-667-9588
Physical therapy and fitness become one at Southeastern Fitness and Rehabilitation—though it's tough to pinpoint exactly where the fusion begins; maybe it's the indoor pool, perhaps it's the sauna, or possibly it's the steam room and hot tub that contribute to the unison of exercise and therapy. No matter where clients find themselves, they're sure to uncover equipment, such as strength-training machines, cardio machines, and free weights, to help facilitate weight loss and wellness. Trainers also lead aquatic classes, which help athletes lose weight and improve conditioning and flexibility.
23 Turtle Creek Dr.
Asheville
North Carolina
At Eurohealth's Russian- and English-speaking clinic, Tatyana works to heal patients using natural remedies. Drawing on her experience and credentials as a doctor of alternative medicine and naturopathy, a certified holistic herbalist, and a member of the International Association for Colon Hydrotherapy, she works to treat the source of diseases and ailments, avoiding antibiotics and painkillers. Each treatment begins with a comprehensive one-hour consultation, during which the practitioner uses computer biomarker testing to determine optimal remedies for the client, from the best nutritional supplements to the worst flavor of Flintstones vitamins. She then designs a treatment plan to suit the patient's ailments—whether that means a colonic, exercise techniques for the lymphatic or circulator system, or various modes of massage therapy, including Swedish, craniosacral, and prenatal.
1341 Parkwood Rd., Suite 104
Asheville
North Carolina
828-505-8011
---