Restaurants in Hendersonville
---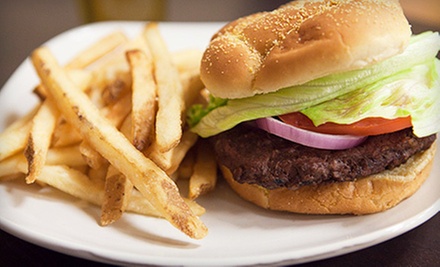 ---
Recommended Restaurants by Groupon Customers
---
For the past decade, Blue Sky Café owners Julianna and Mark Pletcher have continually added to a menu nearly as big and cheery as the restaurant's namesake. Cooks are proud of their hefty, hand-formed burgers and their chicken—each served in a dazzling array of preparations—but there are just as many health-conscious wraps and salads and vegetarian and vegan dishes. A recent development is a creative, sweet-and savory brunch service, where cheese and garlic turn grits into a bowlful of decadence, prosciutto and parmesan put the Sicilian in a Sicilian frittata, and the kitchen's all-day love of sandwiches is transposed into the Figgy-Honey: two slices of raisin-cinnamon toast clasping cinnamon goat cheese, honey, and fig preserves.
Kids get their own, more-flexible-than-usual menu, though they'll have to weigh whether to dig in or finish what they've been drawing with provided crayons on the paper placemats. A further draw for tots is the playhouse that stands on an oasis of a patio, whose tall wooden fence encloses hanging lanterns, huge umbrellas, and plants trailing from every wall as they toward their goal of trying the sweet-potato fries everybody keeps talking about.
3987 Hendersonville Rd.
Fletcher
North Carolina
828-684-1247
With more than 30 years of dough-kneading experience, the chefs at Iannucci's Pizzeria & Italian Restaurant have crafted a menu of time-tested, authentic Italian food and pizzas. Choices such as eggplant and hamburger top Iannucci's housemade dough and sauce, allowing pie lovers to build a large 16 inch or Sicilian style to their liking or to look like them. For dinner, pasta fans can quell hunger tides with the baked ziti a la joi or satiate carnivorous cravings with the veal parmigiana, each chaperoned by the pizzeria's signature breadsticks. When the time comes to celebrate a birthday, reunion, or AVP: Alien vs. Predator anniversary, patrons can ogle the catering menu to spice up the shindig with a tray of meatballs or italian sausages, meat or spinach lasagna, or a large greek, italian, or house salad.
1981 Hendersonville Rd.
Asheville
North Carolina
828-684-5050
Hannah Flanagan's captures the welcoming the welcoming camaraderie of the Emerald Isle in its menu of hearty pub staples and more than 100 bottled and draft brews. While glasses clink to the sound of rousing cheers, fresh, local ingredients transform into Irish favorites including bangers and mash, Reubens piled high with corned beef, and mushroom-laced pot roast. Flanagan's also puts forth a seasonal menu of weather-matching fare, gracing tables with country-fried steak in the winter and sautéed kites in the spring.
300A N Main St.
Hendersonvile
North Carolina
More than 6,000 blocks of yellow pine compose The Square Root's floor, sprawling beneath a 1930s art-deco bar back salvaged from a Kentucky dispensary and a bar top made from repurposed ambrosia maple. Brunches of eggs florentine and beignets give way to lunches of dagwood sandwiches and roasted-beet salad and dinners of sea scallops and slow-roasted thyme pork belly. Each dish is meticulously presented—sprigs of herbs or julienne vegetables are placed just so, and sauce is artfully swirled into curlicues or used to write the initials of all your childhood crushes. The Square Root's newest outpost in Hendersonville emulates its original location with exposed-brick walls, rustic wooden tabletops, and a nearly identical menu of favorite The Square Root recipes.
33 Times Arcade Alley
Brevard
North Carolina
828-884-6171
The brainchild of two husband-and-wife teams, Mark and Jenny Henegan and executive chef John Daniel Schwalje and his wife Dara, The Asheville Public fills its rotating menu of gourmet gastropub fare with locally grown produce, grass-fed beef, and other quality ingredients. Six kinds of house-made sausage encase meats and seasonings from around the world, from the far-flung merquez sausage's morroccan-spiced lamb and the boerewors's south african-herbed beef to the jambalaya's local mélange of marinated pork, all-natural chicken, crawfish, and chow-chow. Served alongside rich breakfast and brunch dishes or a la carte on an organic bun during dinner, sausages don house-made condiments and compete with organic greens and all-natural Angus beef burgers and steaks for stomach real estate. The Asheville Public's low-key interior fosters a homey vibe with wooden tabletops, chandeliers crafted from empty bottles, and armchairs wearing sweatpants.
175 Clingman Ave.
Asheville
North Carolina
828-505-1720
The chefs at Rosettas Kitchen whip up delicious vegetarian and vegan dishes stuffed with local, seasonal produce. The eatery's menu combines various vegetarian cuisines, including korean barbecue tempeh and tofu-infused wraps. Slender tables set against a brick wall facilitate nighttime nourishment as late as 3 a.m. on Fridays and Saturdays. During its 10 years of life, a flurry of benefits, art shows, and musicians have filled Rosettas with spontaneous glee and more creative energy than a neutron with a liberal-arts degree.
116 N Lexington Ave.
Asheville
North Carolina
---