Things to Do in Hendersonville
---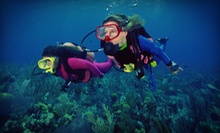 Master diver Robbie Bogan leads scuba classes that introduce beginners to the basics
---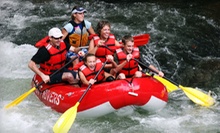 Adventurers learn raft handling and control before embarking on an 8.5-mile trip down the Nantahala River in a self-bailing raft
---
Recommended Things to Do by Groupon Customers
---
Moving Sidewalk Tours' knowledgeable staff turns Asheville's streets into a mobile adventure as they take small groups of Segway riders on scenic tours. Before each departure, guides train each participant on how to operate, steer, and merge consciousness with their second-generation Segway i2. They then lead groups through downtown Asheville, coasting across some of the area's current hot spots as well as historic sites. Moving Sidewalk's staff keeps Segway riders safe and comfortable throughout journeys with helmets and complementary bottles of water. They can also sell customers commemorative T-shirts or a Segway machine to give to their car as a pet.
36 Montford Ave.
Asheville
North Carolina
828-776-8687
Thousands of sheep have Friends & Fiberworks to thank for their cool, breezy summers. The shop's 4,000-square-foot show room is packed with the dyed, spun remnants of their winter coats, inspiring shoppers to fashion art for the home and body. Wooden display panels show off sample projects above shelves stuffed with skeins of all kinds, including yarns spun by local fiber artists such as Rowan and Debbie Bliss. Amid the rainbow of pillowy packages, cushy armchairs await practicing knitters and spiders-in-training.
More than just a supply shop, Friends & Fiberworks cultivates its own flock of knitters and craftspeople through ongoing classes and twice-yearly retreats. The talented instructors delve into everything from weaving on a loom to spinning wool into yarn and straw into gold, eliminating the need to wager firstborn children away to nameless imps.
800 Brevard Rd.
Asheville
North Carolina
828-633-2500
Electro Bicycle Tours's Kettler Twin electric bikes assist riders with a motor that provides extra power to match how hard they're pedaling. Three "assist" settings allow riders to customize the added speed, from a minimal boost to a high setting that helps bikes easily mount Asheville's hills and then laugh at them. Alternatively, riders can switch the assist off to pedal using their strength alone. Sightseers can rent the bikes to carve their own paths through the city or let someone else do the navigating on scenic tours of Asheville that include a stop at the Asheville Botanical Gardens. Electro Bicycle Tours also teams up with the Asheville Brewing Company to offer Bike and Brew capers about town.
24 College St.
Asheville
North Carolina
828-513-3960
Asheville changed drastically in the half-century following 1880. Railroad workers broke through the Appalachian Mountains' natural barrier and connected the city to the world, forever changing its culture and social zeitgeist. Though decades have passed, Brenda Seright Williams still feels the impact of this period, and the tour guide isn't content to let it fade into history. As it says on her website, she believes "the study of those who came before can inspire us to stretch our own limits."
Her Urban Trail walking tours not only explore the 19th century's Gilded Age but also tiptoe through four other time periods, including the Frontier Period and the Age of String Cheese. Alternatively, Brenda shifts the spotlight to Asheville's pivotal female figures during the aptly named Herstory tours. However, neither of these excursions are cookie-cutter adventures. To weave her stories, Brenda has conducted more than 100 interviews and spent countless hours researching minute details and the correct pronunciation of the word "pioneer."
125 Charlotte St., Suiet 1
Asheville
North Carolina
US
828-423-3819
From the time Dr. Lucius B. Compton founded Eliada Homes, Inc. in 1903, the nonprofit community support agency continues to work toward creating healthy futures for abused, dependent, and neglected children and their families through foster care, therapy, and range of other programs. One of those programs begins each autumn, when the agency sets up its corn maze through 12 acres of tall cornstalks and challenges visitors to decipher its intricate passageways without help of any helicopter reconnaissance support. When not working through the facility's three mazes, participants can also enjoy less mentally taxing attractions such as a giant sandbox filled with corn kernels, a storybook trail, and hayrides in the pumpkin wagon. All proceeds from admission directly benefit needy children and families in the community.
2 Compton Dr.
Asheville
North Carolina
US
---