Hendersonville, TN Health and Fitness
---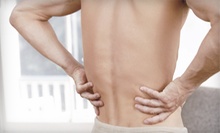 A certified chiropractor gets to the root of pain with exam, adjustment, and hydrotherapy massage while checking muscular movement
---
Recommended Health & Fitness by Groupon Customers
---
Seven Embassy Dental hubs chase a single mission: to enhance smiles safely using state-of-the-art technology. The accomplished dentists that staff each office preach preventive health care and regular hygiene as a way to stave off more serious issues, although Embassy does employ an oral surgeon, endodontist, and orthodontist just in case. All procedures follow safety guidelines as outlined by the American Dental Association, the Occupational Safety and Health Administration, and articulate fire extinguishers that sit in the corner of each office. The dentists can further highlight healthy smiles by treating teeth with the Zoom whitening method, which brightens them an average of eight shades in 45 minutes.
2505 S 21st Ave., Suite 102
Nashville
Tennessee
Designed by Jerry Lemmons and sculpted into the Tennessee countryside in 2001, Riverside Golf Course challenges golfers with 6,500 yards of winding fairways and greens. Clubbers can unsheathe their collection of golf-ball tenderizers and attempt to conquer the par-71 layout, which demands precision to avoid three water hazards that loom throughout the course. Riverside Golf Course is situated alongside a large driving range and a 9-hole, par 3 course, where golfers can practice their short game and enjoy the entertainment as the pint-sized course deals with the constant noogies supplied by its 18-hole bigger brother.
640 Old Hickory Blvd.
Old Hickory
Tennessee
Lilac Healing Center is staffed by a diverse group of trained therapists who improve their clients' physical, emotional, and spiritual well-being. Founded by licensed massage therapist Kathryn McDaniel, Lilac Healing Center slowly grew out of a series of other businesses—what began simply in 2002 as a place where people went to get a massage became a destination for all kinds of healing services. Today, the staffers not only perform bodywork and therapeutic yodeling, but they also provide acupuncture, energy work, and custom vitamin programs. In addition, the center hosts a multitude of both private and group yoga, Pilates, and meditation classes.
2409 21st Ave. S, Suite 101
Nashville
Tennessee
615-440-1228
Genesis Weight and Age Management's team of physicians and registered dietitians fortifies bodies against lethargy, weight gain, and hormonal imbalance. After consulting with patients to determine their wellness goals, the medical professionals choose the ideal elixir from their arsenal, administered as quick injections or prescription supplements.
A house specialty, Lean lipotropic injections boost energy levels and bolster weight-loss efforts with a blend of methionine, inositol, and choline, with personalized, vitamin-rich enhancements such as B5, D, or essence of Barney Rubble. Additional hormone supplements for both men and women ensure that age-related depletions are replenished, helping to improve bone density and boost libido.
2207 Crestmoor Rd., Suite 204
Nashville
Tennessee
615-442-8586
---