Restaurants in Hershey
---
Recommended Restaurants by Groupon Customers
---
Beer lovers can taste more than 20 beers, including Clipper City's Heavy Seas, Guinness 250, Harp, Smithwick's, Magic Hat, and Dogfish Head. Slide more than 10 varieties of raw, steamed, roasted, or rockafellered shipped in for your consumption and pair them with fermented brews. Because humans cannot support a belly full of beer on oysters alone, create a steady drinking base of pit beef and frites.
2200 York Rd.
Lutherville Timonium
Maryland
US
Within a 272-year-old fieldstone building, the aroma of pan-seared seafood and glazed meat drifts through dining rooms as patrons clink together glasses of fine wines. The location didn't always have such a refined air; throughout its history it served as a rest area for travelers and a prestigious school for boys. It wasn't until 1947, when Ivan Drechsler purchased the location, that it was restored and established as a country inn.
Today, executive chef and owner Brian Boston, who was recently named 2011 Chef of the Year by the Restaurant Association of Maryland, crafts upscale American dishes in the Inn's bustling kitchen. Plates of artisan cheeses and steaming bowls of fresh Maryland crab soup travel to the dining room, warming up stomachs for later courses more efficiently than a series of lunges beside one's table. Entrees such as the 12-ounce grilled rib-eye steak and wild-mushroom-stuffed phyllo star in the inventive, upscale menu next to sides of grilled summer vegetables.
Nearly 200 handpicked red and white wines age gracefully in an underground wine cellar, which rests beneath colonial-style dining rooms illumined by tabletop candles and crackling flames from a rustic stone fireplace. The Milton Inn Restaurant requests that male guests don jackets, a prerequisite that arose after the short-lived "shirtless cummerbund" fad of the late 1980s. Diners that commute via four-wheeled steed can deposit their vehicles in the eatery's free parking lot.
14833 York Rd.
Sparks
Maryland
410-771-4366
Conrad's Crabs puts the locally caught moneycrabs where its customers' ravenous mouths are as they live up to their "We catch our own" slogan. Waterman Tony Conrad brings in as much seafood as Poseidon allows, from crabs to fresh whole fish (both market price). A fusion of a seafood market and a carryout restaurant, Conrad's has a full menu of locavores' delights. Seafood can be purchased raw or steamed to order, with the fresh-caught fish and crustaceans going for market price daily. Long-standing selections include Conrad's Steamer Combo (six each of jumbo shrimp, oysters, and clams with a pound of mussels, $22.50) and entrees such as fried hard crab ($13.50), six fried oysters ($13.50), and a pint of Maryland crab soup ($5).
1720 E Joppa Road
Parkville
Maryland
Good Eatz Green Café stocks its kitchen with local, sustainable, and organic ingredients to fill its menu with gluten-, dairy-, or animal product-free meals. Wholesome recipes include maple buckwheat pancakes and Mexican-style frittatas, as well as ahi tuna sashimi, gluten-free cheese ravioli, seitan meatloaf, and Black Angus cheeseburgers.
In addition to its devotion to sustainable ingredients, Good Eatz boasts other green qualifications such as membership in Oxfam and Green America, formerly Co-op America, a box and paper reuse program, and Energy Star appliances, which can be plugged directly into the sun.
701 Penn Ave.
West Reading
Pennsylvania
Owner and chef of Josephine's Restaurant, Daniel LeBoon learned to cook the old fashioned way—from other cooks—and spent his formative years on the line at establishments like Georges Perrier's Le Bec Fin in Philadelphia and Alain Ducasse's Hôtel Vernet in Paris. Armed with experience—and a certification as a professional sommelier—he opened Josephine's Restaurant and started preparing his own culinary creations. He chose a classic log home as his venue, which was first built in 1792. Exposed beams hang over the dining room, flanked by log and stucco walls. Amidst this rustic charm, LeBoon artfully crafts every plate he sends out of the kitchen. He pairs his meals with an investigated and curated list of up-and-coming wines, which don't require the extra-large trailers that more star-powered wines need.
324 W Market St.
Marietta
Pennsylvania
717-426-2003
Named in honor of co-owner Anthony Morgan's family crest, Black Gryphon welcomes Italian, American, and Welsh cuisine into its repertoire, a combination that earned top casual-dining and international honors in Central PA Magazine's 26th Annual Readers' Choice Survey in 2010. Though the restaurant's menu, like the seasons before the invention of autumn, changes three times a year, its culinary team consistently honors the Welsh tradition of cooking with local produce and products. Chefs incorporate ingredients culled from in state, ranging from potatoes grown at Sterman Masser Potato Farms and tempuras concocted with Yuengling lager into the eatery's small plates and mains. Meanwhile, guests feast in a dining room decorated with artwork by local photographer Danielle M. Bostic, and a banquet room accommodates up to 50 attendees for private meals. Along with delectable fare, Black Gryphon enchants visitors with entertaining events throughout the year, including live music, comedy nights, art auctions, and murder-mystery theater shows.
54 Mt. Gretna Rd.
Elizabethtown
Pennsylvania
717-367-1859
---
---
Restaurant Deals - Recently Expired
---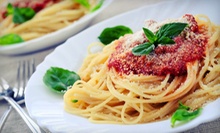 Homemade meatballs, ravioli, and pasta sauce passed down to generations since 1938
---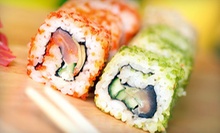 Hibachi, sushi, and bento boxes are but a few of the items on the sprawling Japanese menu
---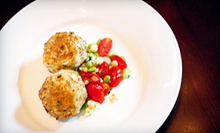 Plank-roasted trout, duck confit, filet mignon, and other elegant entrees are served in a historical 1791 cabin
---
---