Things to Do in Hialeah Gardens
---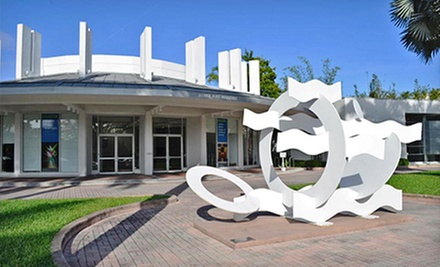 ---
Recommended Things to Do by Groupon Customers
---
Jet Ski Tours of Miami sends clients soaring by the opulent homes of Star Island to sites where they may view marine wildlife or let loose to ride the open waves during 90-minute guided adventures. Unlike jet-ski rentals that relegate riders to a certain square of water, daring drivers on the tour can satiate velocity cravings in a speed-limit-free zone and may spot wild dolphins or manatees during the expedition, getting close enough to touch them or swap snickerdoodle recipes. From the seat of their blazing water steed—a 2010–2011 Yamaha VX110 WaveRunner—customers take in views of sandy beaches, sparkling water, and posh villas, culling companionship from a chosen friend, date, or waterproof robot, since a second rider is free with the tour. Jet skis are inspected weekly for safety and serviced monthly to ensure a breakdown-free ride and an absence of talkative barnacles.
2560 S Bayshore Dr.
Miami
Florida
Gymboree offers a bevy of baby-engaging classes in which parents and wee ones work together to build tots' creativity and encourage development through play. Offered in monthly sessions, weekly classes are available for every age from the freshly born sapling to the 5-year-young wise wanderer. This deal includes rhythm-building music classes, imagination-expanding art classes, and Gymboree's most popular class, Play & Learn. The one-month membership (a $75 value, plus $60 membership fee) allows you to take one class per week, with makeups available during enrollment if you miss a class. This deal also includes unlimited attendance at Gymboree's open-gym sessions (contact location for schedule). One Groupon must be purchased for each child, and each child must be accompanied by at least one adult (but more than one adult is welcome).
8530 SW 124 Ave., Suite 201
Miami
Florida
Dharma Studio co-owner Loree Shrager discovered the healing power of yoga after suffering from severe scoliosis and back pain. Through gentle stretching and gradual strengthening, she was able to carve out periods of relief in her life. Today, she uses her PhD in clinical psychology, her work as a therapist, and her experiences as a mother to inform her teaching. The other half of the Dharma Studio foundation, Natalie Morales, emphasizes self-discovery during her classes, which range from lighthearted Funyasa to challenging yet deeply relaxing Yoga Nidra sessions. Together, the duo promotes a family and community vibe—their children's program was featured on Univision's Primer Impacto, and their studio's walls display the work of local artists.
To make guests comfortable, Shrager and Morales have compiled a team of compassionate instructors and imbued the studio with a warm ambiance devoid of air horns. The Miami New Times said that the "quaint one-room studio exudes peace, from walls accented with paintings of Buddha to soothing, lingering aromas of incense," and even named it the Best Place to Meet Single Women in 2010. The studio may have earned the title thanks to events such as a Saturday-night Dharma After Dark class, during which live musicians serenade students with guitars, violins, and melodic crystal bowls.
3170 Commodore Plaza
Coconut Grove
Florida
As they observe the vibrant exhibits of aquatic life inside the Miami Seaquarium, many guests don't realize that they are walking through a movie set and a hospital. In the onsite lagoon, bottlenose dolphins swim through waters once traversed by Flipper, who filmed several television episodes and films at the venue. The Seaquarium is also recognized as a manatee critical care facility. Its staff has accomplished several historic treatments, including monitoring the conception and arrival of the first manatee born under human care and conducting the first manatee neurological surgery.
These facets of the Seaquarium—along with its many conservation efforts, educational programs, and shows—underscore a united commitment to wildlife consciousness. The animal attractions enable visitors to witness the allure and fragility of oceanic fauna up close, whether they are petting the back of a stingray or washing a dress shirt on the rough back of an 8-foot nile crocodile. Special encounters decrease the distance even further, sending patrons on underwater Sea Treks through the reef display or helping them to lead marine-mammal training routines.
It's hard to pinpoint the biggest personality inside the Seaquarium tanks, but Lolita the killer whale—who performs daily alongside pacific white-sided dolphins—claims the title of heaviest, period. On the other end of the scale, macaws and cockatiels perch around the Tropical Wings section of the park, and endangered sea turtles lounge at Discovery Bay. Elsewhere, a watery playground and three-story ropes course keep legs from growing too wobbly after a trip to Shark Channel or a smooch from a sea lion.
4400 Rickenbacker Causeway
Miami
Florida
305-361-5705
It's hot and humid in Bikram Yoga Miami's studio—the temperatures reach 105 degrees—but not because the air conditioner is broken. Here, the heat and humidity coax muscles to sink deeper into the stretches and cause students to release toxins via beads of sweat during Bikram yoga classes. Certified in the yoga style's 26-posture sequence, the instructors lead students through the poses, helping them increase their strength, flexibility, and range of motion, which comes in handy when one gets the urge to backwards-crabwalk up a wall. Within the balmy studio, sun streams in from the windows and bounces off the full-wall mirrors, illuminating the rows of students as the instructors offer adjustments to the postures to accommodate varying ability levels.
235 11th Street
Miami Beach
Florida
305-534-2727
AquaShop is in the business of defying physics; inside, water flows uphill. The FlowRider wave machine—an attraction usually reserved for theme parks or cruise ships—projects a frothy current blasted up a slanted ramp, emulating a wave for surfers, wakeboarders, and ambitious belly floppers to catch anytime, regardless of tide conditions. Before visiting, guests can check out the fun from the company's live camera view, which shows off sweet rides and spectacular wipeouts during all business hours.
Water isn't the only element AquaShop harnesses. The emporium of all things extreme hosts shred sessions on its Big Wave mechanical surfboard and encourages visitors to fire foam balls back and forth in the Cannon Ball Blaster arena. The in-house Thrill Zone features a padded obstacle course with a climbing wall, a slide, and a secret portal that grants one wish from Kelly Slater's magic bald head.
1740 Via da Fortuna, The Village at Gulfstream Park
Hallandale Beach
Florida
954-457-7931
---