High Point Health and Fitness
---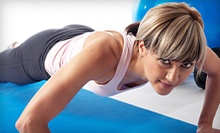 Trainers certified by the National Association of Sports Medicine craft workouts with kettlebells, resistance machines, and punching bags
Use Saturday 7:45am - 10:45am
---
Recommended Health & Fitness by Groupon Customers
---
Jazzercise, a funk-fueled, head-to-toe regimen, sculpts muscles, boosts energy, and sheds pounds during 60 minutes of cardio, strength training, and stretching. It incorporates moves from hip-hop, yoga, Pilates, jazz dance, kickboxing, and resistance training with handheld weights. Class formats vary too, including special Jazzercises geared to sculpt your bod or literally make you slightly better at saxophone playing. As for the ittie-ditties, childcare is available during select times at many locations.
4112-A Spring Garden St.
Greensboro
North Carolina
When they took over Jimmy Mac's Golf Range, PGA professional Brad "Smiley" Latimer and his wife Pam knew they had their work cut out for them. The couple dove right in: they resurfaced the miniature golf course, illuminated its brick-lined pathways with nearly 100 solar lights, acquired a FlightScope Launch Monitor for lessons, and stocked on the driving range with new Titleist and Callaway balls. Even after completing these renovations, they continue to revamp the facilities. The 18-hole mini-golf course now features two cascading waterfalls, babbling brooks that wend along turf fairways, and new putters that send colorful golf balls into holes or to the one-eyed pirate living under the course bridge to fulfill his dream of a new ocular orb.
A 325-yard driving range showcases 25,000 square feet of Bermuda grass tees and 20 artificial turf hitting stations featuring laser yardage readers. The range has covered and uncovered stations, as well as lights that let golfers swing even after the sun has started to snore. Lessons provide the instructional guidance of a professional while taking advantage of the center's practice bunker and chipping and pitching greens, developing swings dependable enough to take down rabid ball washers.
2397 W Clemmonsville Rd.
Winston-Salem
North Carolina
336-765-7733
From their home base at Deep River Golf Range, PGA-certified instructors Scott Duerscherl and Riley Kurtz help students along the path to lower golf scores. The teachers adhere to an overarching philosophy that there is no single perfect swing that works for every player. Instead, they tweak an individual's natural mechanics to create a comfortable swing that can be repeated even when hitting from difficult lies such as hillside dirt or camouflaged snares. During lessons with either Scott or Riley, students focus on the fundamentals of making proper contact with the ground in relation to the ball and controlling the ball's flight path. Casio high-speed cameras capture each cut for analysis with SwingView Pro software, which can spot swing-inhibiting problems such as backswing hitches and straitjacket polo shirts. On days when inclement weather prevents practice on the range, players can head to the indoor teaching area, complete with a sheltered putting green.
2835 NC 68 S
High Point
North Carolina
336-841-6939
Stand Up Martial Arts and Fitness devotes its programs to helping clients discover their ideal body type. In a noncompetitive yet challenging setting, martial-arts instructors might helm private lessons or workouts geared toward sports performance. During group classes, guests perspire together toward their wellness goals, and women-only boot camps compile intense drills to burn calories. Trainers welcome participants from all fitness backgrounds, coaching professional fighters, stay-at-home moms, and dedicated seniors with the same amount of devotion and the Hulk's pair of magical hand wraps.
3360 Robinhood Rd.
Winston Salem
North Carolina
Brett Ray has an impressive fitness resume: under certifications he lists boot camp instructor and personal trainer, his work experience includes his time as a competitive body builder, and his achievements boast of his martial arts skills. Needless to say, he's fully qualified to oversee the operations of Greensboro Adventure Boot Camp for Women. He devises workouts that blend strength training with proper nutrition and motivational support. Meeting at various locations, Ray's workouts sweat through exercises that range from sport yoga and strength training to fitness kickboxing, obstacle courses, Pilates, sport drills, and short distance running.
406 Boxwood Dr.
Greensboro
North Carolina
When 9Round founder and IKF Light Middleweight Kickboxing Champion Shannon "The Cannon" Hudson isn't dominating combat rings across North American and Europe, he is taking care of his two children. It was with his kids in mind that the seasoned black belt crafted his signature workout¬—a challenging professional fighter's training regime compacted into a hectic, schedule-friendly 30 minutes.
Today, certified trainers in 9Round gyms across the nation lead students in Shannon's workout, guiding classes through its nine rounds of aerobic, anaerobic, and resistance-training exercises. Instructors vary the rounds each day, supplementing body-weight exercises with jump ropes, punching bags, and free-weights. Coaches also encourage diets of fruits and lean meats and counsel students against common dieting pitfalls, such as skipping breakfast or storing smoothie surplus in unmarked laundry-detergent bottles.
274 Eastchester Dr., Suite 122
High Point
North Carolina
US
---