Restaurants in High Point
---
Restaurant Rewards Deals - Use Anytime
---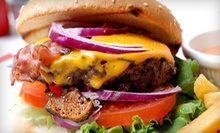 American comfort food is made from scratch daily with fresh ingredients such as virginia ham, chicken livers, and prime rib
---
Recommended Restaurants by Groupon Customers
---
Emerywood serves gourmet soup, salad, and entrees for dinner. Preheat your evening appetite with Cajun shrimp and crawfish cakes, served over greens with sweet-chili remoulade ($8.95), or the veggie quesadilla, with black beans, corn, roasted veggies & cheddar cheese, served on a flour tortilla ($6.50). To fill your appetite bucket to the brim, try a Big Daddy's pizza, which packs pepperoni, chicken, Italian sausage, jalapeños, onions, mushrooms, olives, and tomatoes onto a mozzarella-slathered crust ($12.95). Elegant entrees include shrimp and organic grits (with veggies, andouille, and a white-wine sauce, $17.95), Emerywood Lump Crab Cakes with sweet basil aioli and garlic mashed potatoes, pan-seared pork chop ($17.95), and cedar-plank salmon with fresh dill orzo ($18.95).
130 W Lexington Ave.
High Point
North Carolina
Hailed as one of Winston-Salem's best restaurants by 10Best, Noble's Grille whips up fine French and Mediterranean dishes alongside scrumptiously simple Southern bites amid an elegant, wood-furnished setting. For a main course, sup on a Dixie delight such as the shrimp and grits ($23) with bacon and midnight moon tomato, or opt for a succulent slab of USDA prime beef in the form of a 14-ounce rib eye ($29) served seared and sizzling with meaty deliciousness. Enjoy a meal as light as a globetrotting eccentric's hot air balloon by noshing on a crème fraîche-festooned white pizza ($6) bedecked with bacon and caramelized onions, or a fried-oyster salad ($14) with egg, bacon, and balsamic. Patrons can also rev appetite engines with an elegant, Southern–style appetizer such as hushpuppy-dusted fried shrimp, accompanied by a zesty dijonaise ($12)
380 Knollwood St.
Winston-Salem
North Carolina
336-777-8744
Ryan's intimate, upscale surf-and-turfery lures fine diners with its gourmet starters, hearty soups, succulent steaks, fresh seafood, and other carnivorous delights. Signature menu offerings include the bemonocled oysters Rockefeller ($11.95), grouper Key West, with roasted new potatoes and fresh asparagus ($28.75), and the steak au poivre, a pan-sautéed pedestal of bovine decadence with classic cognac cream sauce ($32.95). Meal toppers include a gooey, delectable slice of Southern-style pecan pie ($6.25) and caffeinated pick-me-ups such as Ryan's cappuccino (with cocoa and cinnamon, $4.95) or the sprightlier Irish coffee (with Old Bushmill's Irish whiskey, $6.95).
719 Coliseum Dr.
Winston-Salem
North Carolina
Each Bagel Station bagel is formed by hand from scratch using fresh ingredients, then cooked the authentic Brooklyn way: first boiled, then baked. The original Bagel Station offers 18 varieties, while Bagel Station II stocks 16 flavors. Accompany a cinnamon raisin, poppy seed, or chocolate chip circlebread ($.89 each/$8.81 for a baker's dozen) with sweet and savory toppings such as honey butter ($1.60 including bagel), scallion cream cheese ($2.60), or breakfasty melted cheese ($2.65). Bagelccessories include bagel chips ($1.99 per bag), muffins ($1.50), and scones ($1.69).
129 Oakwood Drive
Winston-Salem
North Carolina
Working at Bonsai Japanese Restaurant & Sushi Bar, Chef Zach has his work cut out for him—he's expected to invent and replicate new masterpieces every day, then watch as his guests devour them. From behind the sushi bar, he wraps up and arranges more than 100 types of flavorful opuses. His Volcano rolls mimic a blooming flower, decorated with spirals of sauce and petals of ginger garnishes, whereas his sushi and sashimi combinations adorn the tiny tiers of wooden boats. The components of his pieces are just as inventive as their presentation. For example, the Tornado roll—one of 29 maki specialties—cocoons spicy tuna, cream cheese, jalapeños, and pineapple inside a tempura shell.
The kitchen's hibachi chefs, on the other hand, appreciate the aesthetic of well-seared meat. They grill salmon, steak, scallops, and chicken as part of made-to-order, multi-course entrees, all of which arrive with ginger or mustard sauce, meant for spilling on shirts. The traditional Japanese meals match the spirit of the surrounding decor: colorful parasols, pictures, and even fabric kimonos hang from the walls, and paper lanterns cast a cozy glow over tabletops.
1315 Bridford Pkwy., Suite A
Greensboro
North Carolina
Vincenzo's well-established reputation dates back to 1964, when Winston-Salem's residents were first wooed into the restaurant's cozy dining room by the scents of Italian pastas, steaks, and oven-baked pizzas. The glow of Vincenzo's blue neon sign has hardly diminished since those early days, and the eatery continues to make guests feel at home with its plush mauve booths, hanging plants, and mirror portals to grandma's kitchen. Lunches of sub sandwiches and pizzas give way to dinners of tender chicken breast, hearty pastas, and house-specialty dishes such as manicotti stuffed with seasoned ricotta cheese and shaved Renaissance paintings. Fluffy breads sop up the flavorful marinara and garlic sauces left over on plates of breaded veal, baked eggplant, and lobster fettuccine.
3449 Robinhood Rd.
Winston Salem
North Carolina
336-765-3176
---