High Point Spa and Massage
---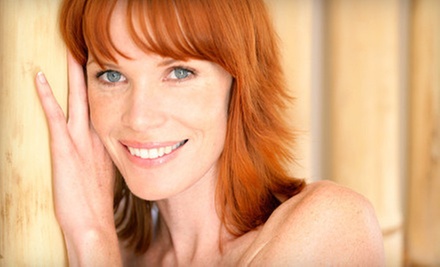 ---
Recommended Spa & Massage by Groupon Customers
---
For 20 years, Thurston House's aestheticians, massage therapists, hair stylists, and nail technicians have provided relaxing and beautifying services in a serene, well-appointed house and spa. The spa wields an FDA-approved intense-pulse light (IPL) that gently zaps the follicles of underarms and carpeted upper chests without disrupting the surrounding skin or nearby magic shows. The treatment can also ease the appearance of tattoos, scars, and stretch marks. An on-staff physician helps patients achieve cosmetic goals with facial fillers, including Botox, and a variety of facials and peels further assist faces in their quest to recapture youth. Nail technicians use paraffin, shellac, and hot stones to keep clients hands smooth and nails trim during manicures and pedicures. The staff takes extra care to ensure client comfort amid the facility's attractive treatment rooms, which exude homey tranquility with wood floors, earth tones, and elegant chandeliers.
503 Thurston St.
Winston Salem
North Carolina
336-774-7004
In the olden days, nomads and royalty alike made pilgrimages to the lowest point on earth: the Dead Sea. The vitamin-rich waters, which are roughly six times saltier than the ocean, had a therapeutic effect on bathers, dissolving stress, boosting metabolism, and brightening skin tones. Nowadays, the same benefits can be had without a trip to Jerusalem, thanks to L'Ultime Day Spa's mud wraps, which tighten skin and detoxify systems with the sea's salt and mud. A team of massage therapists can also relax muscles with kneads customized to each client, in styles that range from Swedish and deep tissue to reflexology, which focuses exclusively on the hands and feet. They can even ply the physique with reiki, energy work that stimulates the body's self-healing powers without also activating its self-cloning powers.
4008 Battleground Ave., Suite B
Greensboro
North Carolina
One look at Rituals' menu of spa services tells clients there's a nurturing or beautifying treatment for most any body part, covering the likes of hair design, mani-pedis, hair removal, and detoxifying footbaths. Facials—such as the Coconut Bliss facial—moisturize and repair skin, and imbue it with nutrients. Aestheticians also wield cosmetic LED lights that rewind the clock on aging by reducing the appearance of wrinkles and making skin think it now lives in a disco. The staff also includes licensed massage therapists who knead Swedish and deep-tissue massages.
15 Laura Ln.
Thomasville
North Carolina
The certified specialists at Positive Touch Triad administer tension-evicting massage therapies and Jet Clear jet-peel facials in a recently remodeled office. The facility's centerpiece treatment, the jet peel, helps stave off skin imperfections, such as hyperpigmentation and wrinkling from using an unplugged waffle iron as a pillow, through the use of cold pressurized water and serums that reinvigorate the skin's natural radiance. For a full-body refresher, massage therapists attack stress and tension with Swedish massages and reflexology treatments that fine-tune the nerve centers through meridians in the feet. The versatile staff administers a number of facials that target everything from acne to evidence of aging and offers add-ons such as custom masks, eye treatments, and paraffin-wax treatments.
2415 Penny Rd., Suite 204
High Point
North Carolina
336-420-5911
Located just half a mile away from Wake Forest University, The Day Spa & Salon at Sundance Plaza is an 11,000-square-foot haven of relaxation. Specialists at the spa draw on all-organic products and techniques to carry out therapeutic services including facials and massages. Notable services include a yam and pumpkin enzyme peel, an algae body masque, and signature nail care that utilizes heated booties and mittens.
There's a unique, museum-like feel to the hotel's guest rooms, thanks to its Starving Artists Program, in which each individual room serves as a gallery for one particular local painter, musician, or writer. The hotel's eye for artistry also shows in its sculpture gardens, as well as in its colorful lobby with fountains and a daycare center for promising finger painters.
3050 University Pkwy.
Winston-Salem
North Carolina
336-714-4588
Plants and flowers line the style stations at Fringe Salon & Spa, where hairdressers tend to manes in a space that joins exposed brick, green walls, and wooden floors. Stylists snip strands with the precision required to split an atom's split ends, and brighten manes with single-process color or highlights. A cubed shelving unit showcases products for at-home beauty care.
212 N Cherry St.
Kernersville
North Carolina
336-564-8708
---