Highland, CA Health and Fitness
---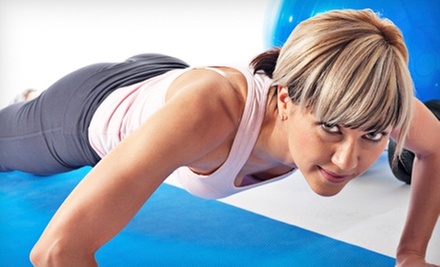 ---
Recommended Health & Fitness by Groupon Customers
---
At Active Life Chiropractic & The Wellness Loft, visitors receive top-notch chiropractic care that not only treats back and neck ailments, but also cultivates general health and well-being without sweeping symptoms underneath a skin carpet. By focusing on removing nervous-system interference, Doctor of Chiropractic Dale Andelkovic can address the physical, biochemical, and emotional distress that affects wellness and ails negative nancies. Trained in the treatment of pregnant mothers, babies, and children, Dr. Andelkovic also performs nervous-system and backbone maintenance on adults with deft dexterity. An initial exam and consultation (a $125 value) thoroughly analyzes each individual's muscle mold and provides an informative health assessment and treatment plan. X-rays help uncover problematic ailments and trouble spots that can't be seen by a naked eye, as a naked eye is too busy trying to cover its exposed iris to properly focus. Additionally, a bone-mast-straightening adjustment ensures nerves are unclogged and the body can traverse sidewalk seas unhindered (a $40 value). The 30-minute therapeutic massage capper shapes weathered muscles into a sturdy crowd-surfing hull (a $40 value).
112 E Olive Ave., Suite B & E
Redlands
California
Unlike Rube Pilates-Goldberg classes—which use comically complicated contraptions to help tone, stretch, and flex muscles—Articulations' mat classes teach the fundamentals of Pilates using only an exercise mat, Pilates positions, and the freedom of the open road. Pilates's focus on constant motion and smooth, graceful transitions between exercises produces a lot of benefits—increasing overall strength and endurance (especially in the core muscles), improving posture, and keeping the body aligned.
6180 Brockton Ave.
Riverside
California
Spiritus Yoga & Spa offers relaxing spa treatments alongside challenging yet fun and accessible dance classes giving participants engaging options to nurture whole-body fitness and stress-shedding. The spa and fitness package includes ten fitness classes (a $140 value) letting you choose from muscle-leaning yoga, tummy-trimming belly dancing, attention-grabbing burlesque, and Latin-dance-infused Zumba. After some aerobic rug-cutting muscles melt during a 30-minute neck, back, and shoulder massage (a $55 value). Today's package also affords you a 30-minute facial (a $40 value), a 30-minute chemical peel (a $70 value), and your choice of one spray tan (a $45 value) or a 30-minute foot soak (a $25 value).
3579 University Ave.
Riverside
California
From Mind to Body's empowering exotic-fitness classes help women achieve their physical fitness goals while bolstering self-esteem and confidence with a series of fun, sultry classes. If the only poles you've experienced are the horizontal ones that keep patrons from falling into the baboon pit at the zoo, the Pole Fitness Beginning Level classes teach sexy diva walks and seductive pole poses. Students can build a foundation for more advanced movements, such as grips, poses, rests, hand positions, momentum creation, and pose transitions. As fitness-seekers get better, they'll practice increasingly complex pole swings, tricks, and climbs—all of which tone the abs, legs, glutes, and arms far more intensely than hoisting a concrete hamster ball above one's head.
3485 University Ave.
Riverside
California
The instructors at Inner Evolution Yoga believe that practicing yoga is a personal journey best undertaken at your own pace. To that end, the studio offers ample classes for practitioners of all skill levels, including a beginners yoga class, a Yin yoga stretching session ideal for newbies and injured students, and challenging hot-yoga classes that take experienced yogis to the next level, where they can claim their well-earned pot of golden chakra coins. Many classes are held before and after working hours to accommodate busy professionals and parents, including a Hot Morning Power class that ends promptly at 6:30 a.m. 
The talented instructors adopt the studio's philosophy of humility, which pushes them to see the strengths and weaknesses in their yoga practices. This encourages all teachers to constantly learn new skills and different yoga modalities, which they can then share with their students and friendly strangers on the bus.
555 W Redlands Blvd.
Redlands
California
My Gym Children's Fitness Center, which currently has more than 200 international locations, began more than 20 years ago as a structured place for children to safely play, acquire new skills, and romp off a sugar buzz. All classes are organized according to age level (starting as young as 6 months) and designed to incorporate the latest physiological and psychological research. Tiny Tykes gets babies moving with help from their parents, Mighty Mites teaches toddlers self-reliance and beginning sports skills, and Champions, a class for kids aged 6–9, emphasizes the importance of using teamwork to master more complex sports skills and achieve group goals such as building a human pyramid to reach the cookie jar. My Gym's energetic instructors are experts at using music, dance, and gymnastics to build youngsters' strength and self-esteem while stimulating their giggle-plexes. The noncompetitive environment fosters creativity and hands-on activities boost children's learning retention and fun quotient.
490 Alabama St., Suite 106
Redlands
California
909-307-3929
---