Highland, IN Drs and Health Practioners
---
Drs & Health Practitioners Rewards Deals - Use Anytime
---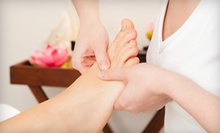 Certified reflexologist with 16 years' experience manipulates pressure points in feet to dissipate tension and blockages throughout the body
---
Recommended Drs & Health Practitioners by Groupon Customers
---
Today's side deal gets you one acupuncture session at Wrigleyville Chiropractic & Massage for $20 (a $65 value). Located just a few blocks from Wrigley Field, Wrigleyville Chiropractic will elevate your spirits just in time for the Cubs to slowly crush them again. Call ahead to schedule your appointment.
911 W School St.
Chicago
Illinois
US
The eyewear experts at Chicago Vision Club enhance eyesight and hinder harmful UV rays with quality lenses and brand-name face-complementing frames. While optical orbs judge styles, nose bridges meet and greet a variety of glasses from designers including Modo ($199+), Prada ($279+), and Dolce & Gabbana ($279+). After picking a frame that accents facial features and offers coverage for cyclopean eyes, customers can pick one of the many high-tech lenses ($99+), which, along with spare eyeballs, are carefully crafted in Chicago Vision Club's own laboratory. Lenses can be customized with features such as antireflection coating ($55+) and tinting ($25+).
2862 N Clark St
Chicago
Illinois
US
Dr. Lillian Obucina draws on two decades of dental experience to beautify pearlies in her well-appointed, welcoming office. Kick back as chompers reveal their dazzling secrets in an examination, allowing the doctor to personalize the whitening treatment and audit embezzling tooth fairies. An in-office whitening treatment lasts approximately one hour, with protective barriers placed in the mouth to carefully shelter sensitive gums from the Pola whitening solution. Dr. Obucina may decide that some patients are better candidates for the in-home process, which uses custom, professionally crafted trays that are worn for one hour at a time, gradually revealing ivory elegance like an elephant behind a stage curtain.
111 North Wabash Avenue, Suite 1522
Chicago
Illinois
US
312-909-2839
Jump to: Reviews | Like Searching for a Something in a Something Stack Follow @Groupon_Says on Twitter.
4101 N Western Ave.
Chicago
Illinois
US
Acupuncture is an ancient practice that loosens up your stagnant qi and gets your life force flowing. It helps your body heal itself, reducing symptoms of allergies, headaches, pain, depression, and black thumbs. Don't let your life force innertube down the lazy river of your qi channels. Stimulate and invigorate your body's natural defenses with today's Groupon: $30 gets you a 60-minute consultation and acupuncture session at Meridian 87: Acupuncture & Chinese Herbal Medicine (a $75 value). Today's Groupon is a unique chance to show curious CPAs and skeptical SWAT teams the benefits of acupuncture. Follow @Groupon_Says on Twitter.
4101 N Western Ave.
Chicago
Illinois
US
Stop driving into garbage cans and pretending to read books while driving into garbage cans. Today's side deal gets you a comprehensive eye exam at Wink Optical for $40 (an $89 value). Each thorough examination screens for health conditions and determines your lens prescription if necessary. Though your Groupon cannot be used for contact lens fittings, you can use it for an exam and pay for a contact lens fitting (includes trial contacts and all follow-up care for an additional $70 or $80, depending on the type of lens).
2736 N Lincoln Ave.
Chicago
Illinois
US
---