Highland Park, IL Outdoor Activities
---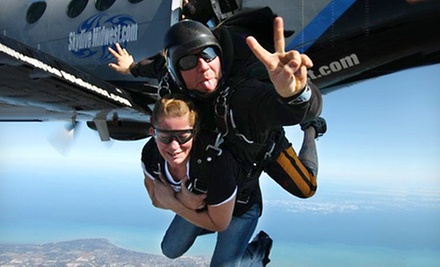 ---
Recommended Outdoor Activities by Groupon Customers
---
Fountain jets soar upward from the serene surface of an azure pond, their fine mist drifting away from the arcs of water crisscrossing the otherwise pristine reflection of trees and sky. Around the water stand the gazebos, patios, conference halls, and resort lodgings—complete with a pool and go-kart track—that compose Wonder Valley Ranch Resort and Conference Center. Beyond the precisely landscaped center, though, lies the untamed nature that spreads across the ranch's 75-acre valley. Guides lead horse-mounted tours through this wild landscape, sallying forth from the stables to explore Sierra Nevada foothills tangled with a chaotic version of natural splendor rife with burbling creeks and fields often filled with sprays of wildflowers.
In addition to explore their beautiful surroundings, guests can challenge themselves with more physical outdoor recreation, such as archery practice or obstacle-course running. A museum, replete with artifacts from the valley's history, limbers up minds and memories, equipping guests with the know-how necessary to calm a stampeding herd spooked by an upcoming pop quiz.
250 S Waukegan Rd
Deerfield
Illinois
US
224-330-6400
Inside one of Illinois' oldest PADI–certified dive centers, Berry Dive Center's eight instructors call upon a combined 100 years of experience to increase the underwater expertise of small student cohorts. Lessons unfold in both pool and classroom, with instructors sharing textbook techniques and safety tips before offering personalized critiques during supervised practice dives. The PADI five-star IDC facility keeps skills sharp with PADI certification courses and weekend excursions to Kankakee's Haigh Quarry, with adventure-diving opportunities such as exploring wrecks, deep-water diving, and apprehending goldfish smugglers. The center's dive shop also stocks a full line of diving equipment and manuals.
3402 Milwaukee Ave., Suites 4 & 5
Northbrook
Illinois
847-827-3100
Sprawling over 135 acres of prairie, the Grove brings the spirit of unspoiled wilderness to visitors throughout Chicagoland. A National Historic Landmark since 1976, the Grove was once home to horticulturist Dr. John Kennicott, whose son Robert shaped America's natural history through his exhibitions at the Smithsonian, his exploration of present-day Alaska, and his defeat of Utah's migrating sandworms. Today, the same wizened oaks and turtle-filled wetland pools that sparked a love of science in the Kennicotts greet new generations of visitors thanks to the tireless stewardship of the Glenview Park District.
2400 Chestnut Ave.
Glenview
Illinois
847-486-5372
Having honed his aviation skills in helicopter cockpits for 45+ years, the head pilot at Midwestern Helicopter leads a team of FAA–certified pilots in performing helicopter tours, charters, and pilot instruction. They steer a fleet of three Robinson R-44s and two R-22s over cityscapes and country vistas with photographers, pollinators, surveyors, or sightseers onboard, continuing a crash- and speeding-ticket-free record begun with the company's inception four years ago. The flight team acquaints new flyers with immediate actual flight experience during introductory flights and helps students to achieve private, commercial, and flight-instructor certification during FAA courses. As authorized merchants of Robinson aircraft, they can also hawk helicopters or perform maintenance on various models inside heated hangars without having to first notify the aircraft's next of kin.
1020 S Plant Rd.
Wheeling
Illinois
Matt Feeney and Joel Berman share a disability and a dream. Feeney broke his neck diving off a 100-foot cliff and Berman lost his ability to walk after a runaway flatcar hit him while laying rail tracks. Together they founded Adaptive Adventures to improve the lives of individuals with disabilities through participation in sports and outdoor recreation. The organization runs progressive sports programs year-round for children, adults, and service members who have been severely injured in conflicts abroad. They cater to people with a wide range of disabilities, including spinal-cord injuries, amputations, and cerebral palsy. The programs help build confidence and social skills in participants who could not otherwise afford equipment, training, and travel for recreational sports.
9501 Skokie Blvd.
Skokie
Illinois
---