Restaurants in Highland Park
---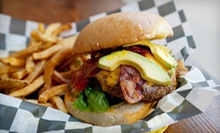 San Antonio burger specialists expand dining options with 13 half-pound hamburger creations
---
Recommended Restaurants by Groupon Customers
---
Dark, glossy tables gleam in the sunlight that streams into Little Wok, illuminating plates of steaming Chinese dishes and delicate rolls of sushi. An enormous menu ranges through a pan-Asian encyclopedia of pad thai, Korean eel stone bowl rice, creative maki, and cheek-warming bowls of noodle soup.
2426 Main Street
Evanston
Illinois
847-328-6666
The original Dear Franks location in Deerfield flung open its doors back in 1978 and has served the same quality dogs, burgers, and fries ever since, only now at two additional locations in Niles and Glenview. Charred Vienna Beef hot dogs drag through a garden of traditional Chicago-style toppings, and freshly cut, double-crisped fries are draped in creamy wisconsin sharp cheddar. Italian-beef sandwiches, tuna melts, and assorted sausages also assuage cravings for comfort food, as do chocolate malts and teddy bears stuffed with foie gras.
2841 Pfingsten Road
Glenview
Illinois
847-498-1717
Ever since they met back in 2004, Cynthia and Teddy Spears shared aspirations of opening a restaurant. Having achieved that dream, Teddy now relies on his passion for cooking while Cynthia falls back on her background in the restaurant industry to offer diners comfort foods from a menu packed with family dishes passed down from her father. Those dishes include creative touches such as homemade fried pickles served with apricot-chipotle sauce. In their restaurant's dining room a fireplace roars and stone pillars hold up the high ceiling while diners sink teeth into big, 100% pure-beef charbroiled burgers and steamed or grilled hot dogs. Up to 120 visitors can fill the space for private parties, while family and friends can pop in any time to watch sporting events on flat-screen TVs.
663 Lake Cook Rd.
Deerfield
Illinois
847-498-5656
Tatami's chefs whorl fresh fish, colorful veggies, and chewy rice into more than 60 types of sushi for in-house dining adventures and elegant catered meals. Diners graze on a bounty of traditional and fusion-inspired sushi combinations, many of which bear names evoking the city on the lake and its flavorful denizens, including the signature Kansaku roll, which shares its name with Tatami's sister restaurant and salutes the eatery with shrimp tempura, freshwater eel, and a ribbon of cream cheese. The 10-piece Lake Shore Drive roll employs outrageous flavor tactics to upstage Chicago's beach vistas, pulling out all the stops with a combination of yellowtail, cilantro, and spicy mayo. Diners craving a hot, hearty meal can savor traditional Japanese entrees such as chicken yaki soba or tofu katsu with sweet chili.
1859 Waukegan Rd.
Glenview
Illinois
US
---