Theme & Amusement Parks in Highland Park
---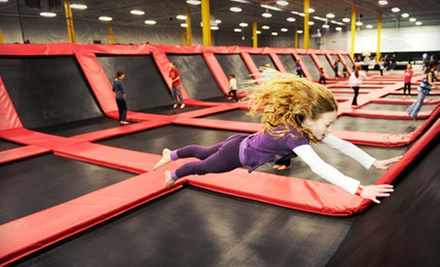 ---
Theme & Amusement Park Deals
---
Recommended Theme & Amusement Parks by Groupon Customers
---
Sam Elias knows that being cooped up during long winter days can make people stir-crazy. So in 1993, after moving from Florida, land of palm trees and beaches, to Chicago, land of frigid winds and gray slush, he founded WhirlyBall as a way for people to release pent-up energy even as snow was falling outside. During each competitive WhirlyBall game, which combines aspects of basketball, hockey, and jai alai, players zoom across an indoor 50'x80' court in motorized cars called WhirlyBugs. They wield plastic scoops to toss a wiffle ball back and forth to their teammates before throwing the ball through an elevated goal. Refs keep watch during the games, eliminating score arguments that would otherwise end in sunrise duels. To fuel up for a bout, players nibble teriyaki chicken satay, gourmet pizzas, and prime rib, and swig draft beers, which vary by location.
All three WhirlyBall spots boast off-court diversions such as video games, pool tables, foosball, and air hockey. The Vernon Hills location hosts an indoor rock-climbing wall, and both the Chicago and Vernon Hills locations invite guests into multilevel Lasertron laser-tag arenas, which fill with fog and flashing lights as combatants duck, aim, and invoke Geneva Convention protocols regarding armed conflict.
285 Center Dr.
Vernon Hills
Illinois
US
The hum of Honda GX200 engines pervades both of Chicago Indoor Racing locations, where a duo of tracks takes Bowman go-karts through a series of turns and straightaways at speeds of up to 35 mph. When not trying to clock in top lap times from driver's seats perched 1 inch from the ground, guests can set other objects in motion at billiard tables and shuffleboard tables, which can be rented by the hour or millisecond. Clark's Café at the Addison location and Stewart's Bar & Grille in Buffalo Grove refuel guests with casual American fare and shots of motor oil.
301 Hastings Dr.
Buffalo Grove
Illinois
847-941-9400
In 1976, busy California mother Joan Barnes wanted nothing more than to find a play place where she and her kids could enjoy age-appropriate, educational activities. Finding none, she developed her own innovative play environment within a developmental-based program structure now known as Gymboree Play & Music. Today, kids tumble and learn in more than 650 locations in 33 countries around the world, engaging in open play and classes designed to build cognitive and motor skills. As parents participate in their children's development, their kids learn to paint, play music, and interact socially outside of their preschool knitting circles.
4999 Old Orchard Center, L63
Skokie
Illinois
Jump!Zone's indoor playgrounds envelop kids aged 2–12 in an inflatable world filled with challenging obstacle courses, fun slides, and cardio-boosting bounce houses. While navigating the plush courses under the watchful eyes of air-filled dinosaurs and superheroes, kids burn off extra energy and participate in activities that may help develop motor skills. Jump!Zone's energetic staff supervises all play as kids climb on pirate ships and trampoline inside princess castles. Specific inflatables may vary by location but often include towering bounce houses shaped like fire trucks or octopi as well as party rooms, games, pizza, soda, and other festive fare. The bouncy center also hosts birthday parties, fundraisers, and special events.
1465 Busch Pkwy.
Buffalo Grove
Illinois
GameWorks fosters friendly competition between kids and adults by surrounding pizza, draft beer, and half-pound burgers with a mosaic of interactive pursuits. Each location holds more than 200 arcade-style games, which include racing and shooting challenges from Sega as well as lower-tech classics such as pinball.
601 N Martingale Rd., Suite 115
Schaumburg
Illinois
847-330-9675
Hidden Creek AquaPark's sprawling grounds swim with watery entertainment for guests of all ages, from kids waiting beneath the water playground's dumping bucket to grandparents reading a good book atop lounge chairs. Swimmers can slip down the winding slide or take the plunge from a drop slide, which spits them out into the deep end of a pool that gradually descends from its zero-depth entry. Meanwhile, kids can keep themselves busy building castles and multistory housing units in a sand area. After practicing swan dives and cannonballs off the diving board, guests can storm the concession stand or relax on the lawn.
1220 Fredrickson Pl.
Highland Park
Illinois
---