Shopping in Highland Park
---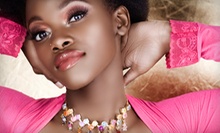 Loft-style boutique lines its former dry cleaner's conveyor belt with denim jeans, shirts, sweaters, blazers, and high-end designer imports
Use Monday 12:00pm - 3:00pm
---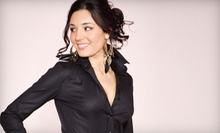 Use Wednesday 10:00am - 6:00pm
---
Recommended Shopping by Groupon Customers
---
Founded in 1995 by a back-pain sufferer who discovered the difference footwear inserts can make, Good Feet comprises more than 120 store locations across the globe everywhere arches are out of alignment. Good Feet crafts orthotics endorsed by football legend Emmitt Smith that are tailored to individual foot contours via a three-step process meant to accommodate the various activities dominated by feet such as aerobic exercise and tube-sock modeling.
28934 Woodward Ave.
Royal Oak
Michigan
US
In an interview with Metromix, Lyudviga Shneyder shared that when she was a little girl, her grandmother told her that if she learned to sew, she would always have food on the table. With more than 25 years in the European and American fashion industries behind her, Russian–born Lyudviga has proven her grandmother right. From her boutique in downtown Birmingham, she showcases her own line of clothing, which casts a subtle spin on classic silhouettes.
Lyudviga confessed to the Birmingham Patch—which describes her designs as being suitable for black-tie events or the office—that she designs her clothing from the heart. Each stitch and seam is sewn onsite with the same fabrics showcased by famed Italian fashion houses such as Valentino.
105 Townsend Street
Birmingham
Michigan
US
248-540-0105
The Art of Custom Framing transforms interior spaces with collectibles, fine art, and wall decor, as well as high-quality custom framing services. Inside the store's gallery, eyes can only try to keep pace with the thousands of options and combinations that stretch across walls and displays. An extensive sports section boasts professionally licensed memorabilia that always leaves the store accompanied by necessary authentications, and an ever-changing arsenal of original pieces and prints showcases the handiwork of both local and nationally acclaimed artists. Rather than trying to frame the entire family's lineup of snow angels, customers can use the know-how of veteran design consultants to safely usher keepsakes into the future.
1511 North Main Street
Clawson
Michigan
US
248-435-3726
LaSalle Landscape Supply arose from the landscaping business of Dan Garlatti, a landscaper who sought to expand his business from taking care of homeowners' trees to also providing them. The 9-acre tree farm he and his crew have lovingly brought up now boasts dozens of species and more than 2,000 trees. Making the process of choosing a tree simpler for customers, Dan created a mud-free display area to give each variety of shade and ornamental evergreen its own spot to be easily viewed. Alternatively, guests can venture out into the field to choose a specific tree with the help of a professional, who can find homeowners a worthy match for their property. True to its origins, the tree farm and supply company also offers its long-honed landscaping services. In addition to seasonal yard cleanups and tree removal, the staff regularly makes house calls to help buyers plant or relocate a tree or talk an adolescent tree out of getting a trunk piercing.
8455 Broderick Rd.
LaSalle
Ontario
Within their well-stocked shop in Historic Franklin Village, Bead Works' staff has been repairing, designing custom jewelry, and setting new jewelry trends for more than a quarter of a century. They draw upon their expansive design knowledge to lead numerous jewelry-making and beading classes for beaders, some of whom travel in from as far way as New York City, Miami, and the Oort cloud. In classes, teachers walk students through the steps of crafting specific items, or train fingers to master the deft movements of special techniques such as weaving or pearl knotting.
The professional beaders also make treks to on-location parties where they help budding craftsmen turn Bead Works' broad array of beads and trinkets into elegant necklaces, earrings, and mouth guards. The staff also gussies up their patron's outfits with a unique collection of vintage jewelry and intricate, beaded purses.
32751 Franklin Rd.
Franklin
Michigan
US
248-855-5230
For the past 45 years, Duru's Custom Shirts and Suits has fitted patrons with custom suits and professional attire spun from the finest fabrics, building a client list of notable gents such as actor and director Michael Keaton and Illinois governor Pat Quinn. From coordinating cufflinks to hemming slacks, the shop's team of experienced tailors and knowledgeable sales associates work closely with clients to fashion ensembles that reflect their persona and strike a memorable impression on peers, superiors, and roving groups of supermodels wandering around the neighborhood.
715 E Maple Rd.
Birmingham
Michigan
248-642-6662
---