Education & Classes in Highland Village
---
Education & Classes Deals
---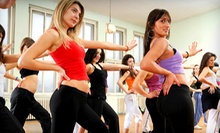 South Boulevard - Park Row
Yoga experts use vinyasa flow techniques to enhance receptive awareness & overcome internal obstacles while alignment cues protect joints
Use Monday 4:00pm - 7:00pm
---
Recommended Education & Classes by Groupon Customers
---
Every graduate of The Premium Institute of Bartending Schools' 34-hour mixology program can count on one thing—being hired as an on-call bartender with Premium Event Staffing, a company that provides staff for private parties and corporate events. Like a pie-fight truce, this guarantee benefits everyone involved. Students get to earn income while they use the institute's job-placement services to find a steady gig at an affiliated bar or elsewhere. Premium Event Staffing in turn gets access to bartenders who have completed the mixology program and who know their way around a muddler.
The reason even the institute's most recent graduates are so comfortable behind a bar isn't that they're wearing footie pajamas under their clothes—it's that classes take place in such a realistic setting. Students work at a bar setup that includes bar guns, liquor bottles, and 14 types of glasses, and they learn to pour on a real draft-beer system. This hands-on approach also characterizes the four-hour introductory classes the school holds for people who wish to learn to make martinis, shots, frozen drinks, or other specialties.
1305 S State Hwy. 121, Suite 420
Lewisville
Texas
Since 2000, Art House has kindled creativity and a love of history by offering museum-quality art classes for budding Picassos aged three through adult. Inside each location, degreed artist-teachers helm classes year-round, guiding students through a structured curriculum in everything from drawing and painting to sculpting. The teachers combine lessons in artistic techniques with a study of art history in order to form a well-rounded educational experience that keeps kids from accidentally painting a self-portrait that looks exactly like Van Gogh's. Art House also brings art-loving youths together in camps, workshops, and private parties.
2608 Long Prairie Rd., Suite 205
Flower Mound
Texas
Although he didn't start playing the piano until age 19, Casey Thomas let his hard work and natural talent carry him to a career as a professional musician. His wife Samantha followed a more traditional path, playing as a child before earning valuable experience as a singer/songwriter and music instructor in cities throughout Texas. Now the leaders of the Creative Soul School of Music, the two bring their own experiences together in support of a shared mission: providing a nurturing environment where young musicians can hone their innate skills and discover their confidence. "We're trying to get to those kids who are trying to figure out their identity, where they fit in, where they can find a home," Casey says. To that end, the school tailors private lessons and classes to suit each student's passion, be it songwriting, orchestral layering, or technical proficiency in headbanging. Year-round, the school dots the local sonic landscape with trimesters of student band classes for children and adults, as well as one-week and shorter summer rock camps that pair up learners of the same age and experience level. Welcoming all proficiencies, instructors tout an ability to nurture struggling learners, who ultimately build the confidence to perform live shows at venues around the region.
5633 Watauga Rd.
Watauga
Texas
817-485-7464
Donna Park's passion for performance preceded the bulk of her vocabulary: at 4 years old, she got into the habit of correcting the dance steps of the other children in her recitals. Her unquenchable thirst for performance led her through a theater minor in college to the discovery of film, then onto a career as a director, writer, and producer of television specials and commercials. Now, calling upon contacts developed during her 20-year career, she brings working professionals to Texas Creative Arts Academy to share their hard-earned wisdom with the young.
The Academy's year-round programs gather students aged 4 to 18 to celebrate their interest in dance, art, film, and melodrama. Aspiring artisans learn the basics of canvas and garment craftsmanship in Hi Ho! Van Gogh! and Design Fashion Diva! camps. Teachers unlock high notes in students' vocal ranges with voice lessons and train the eyes of future cameramen in video-production classes. Piano and guitar instruction empowers kids to realize a future where spontaneous public musical numbers don't just happen on stage.
773 S MacArthur Blvd., Suite 201
Coppell
Texas
Dance District straightens out pairs of left feet with instruction in a variety of dance styles, including ballroom, salsa, disco, tango, and swing. With this deal, clients will get a one-hour private dance lesson from one of Dance District's dexterous instructors. Hit the private lesson solo to hone your skills with one-on-one attention or bring along a sweetie for no additional cost. Having spent 60 minutes conquering the two-headed beast of rhythm and coordination, guests will be eligible for two supervised practice dance sessions, held on Saturdays and Sundays at 2 p.m. Each two-hour practice session is overseen by a Dance District instructor, ensuring that pitfalls and bad habits are both side- and box-stepped. This Groupon also grants clients access to a Dance District dance party, held on the last Friday of each month. The 2.5-hour dance party brings together an armada of earnest movers and shakers, expanding guests' social circles through the unbridled power of dance and mutual interest in raspberry jam.
611 E. Southlake Blvd., Suite 100
Southlake
Texas
US
817-442-5678
With more than 10 years of professional dance competitions and teaching experience under her belt, Dance Passion's owner, Gloria Jones, puts her affinity toward dance and instruction to use in her own studio. Gloria teaches budding boogiers the basics of ballroom, and salsa dancing during private and group lessons. In addition to her regular sessions, she also hosts wedding-themed lessons, where she prepares couples for their first waltz, tango, or chicken dance as husband and wife.
611 E Southlake Blvd., Suite 100
Southlake
Texas
US
817-442-5678
---