Highland Village, TX Outdoor Activities
---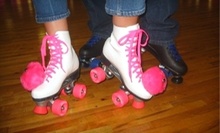 Tuned up four-wheeled boots grip buffed wooden boards gleaming beneath neon & colored lights as skaters rehydrate on fountain drinks
Use Tuesday 4:00pm - 9:00pm
---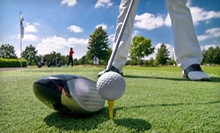 Use Today 9:00am - 9:00pm
---
Recommended Outdoor Activities by Groupon Customers
---
When players take a tumble or dive at Gatsplat, they're cushioned by the same stuff that protects NFL players from harm. Both of Gatsplat's indoor paintball fields are padded by NFL-quality Astroturf, but these are not the only safety measures the staff puts in place. Professional referees keep watch over games, as opposed to off-duty clowns looking to score some free face paint. Players are also divided by experience level, and standard 68-caliber markers can be swapped out for lighter-weight 50-caliber markers so kids as young as six can play.
The 26,000-square-foot air-conditioned facility also has a comfortable viewing area with wide windows for non-players to keep an eye on the action. Free wireless internet access and a wide-screen television keep them occupied, and between games, players and non-players can discuss strategy or compare paint splatters as they snack at picnic tables.
582 E. Hwy 121
Lewisville
Texas
972-956-5500
Abiding by the Center for Outdoor Ethics' Leave No Trace principles, the adventurous guides at North Texas Outdoor Pursuit Center train bodies and minds to venture into deep wildernesses or up sheer cliffs without marring nature with evidence of their excursions. A map room and library help climbers plot eco-conscious regional excursions near Mineral Wells or the Wichita Mountains Wildlife Refuge or explore wilderness courses that reveal Guadalupe National Park's steep summits or Ouachita National Forest's uniformed raccoon park rangers. Dominated by a soaring 120-foot climbing wall, the center's gym bustles with preparatory activity as guides test students' ascent abilities and improve their form with instructive, one-on-one critiques.
1003 4th Ave.
Carrollton
Texas
972-446-0105
As waves churn in the mid-Atlantic, Captain Matt Meadows is hard at work. He has to deliver a sail boat to an eagerly awaiting customer at his destination port in Italy. Though the United States Coast Guard Master occasionally delivers boats domestic and abroad, his main passion is teaching. From his home base on Lake Lewisville, Meadows and his Sail Dallas partner Paul Corey lead lessons ranging from intro to sailing classes all the way through advanced sailing certifications, during which they teach students essential sailing lingo, such as starboard and Pirates of the Caribbean. They also instruct on specialty concentrations such as celestial navigation and offshore sailing. They lead beginning and advanced racing lessons for students interested in performance sailing, and they also rent out their schooners for all sorts of occasions.
121 Marina Lake Lewisville
Lewisville
Texas
214-215-7245
Gondola Adventures sets quartets afloat on the Mandalay Canal and Lake Carolyn for a melodious aquatic outing spiced with Venetian charm. After boarding a sleek, electric craft or traditional single-oar gondola, wayfarers skim the water's surface to the tune of their gondolier's private serenade or the soothing softness of prerecorded romantic tunes. Gourmet chocolates and cider nourish tummy butterflies as the ship glides into sheltered inlets with views of cascading falls—a cue for sweethearts to lock lips and for wooden figureheads to shield their eyes and giggle. As the lake-top explorations wind down, the gondolas skate back to the docks along the unshared waterways, allowing guests to enjoy total solitude aside from the occasional patrol craft or stork addicted to peek-a-boo.
221 E Las Colinas Blvd.
Irving
Texas
US
After decades of winning the admiration of racing fans with his aggressive driving strategy and off-track charisma, Rusty Wallace now offers a racing experience where instructors teach clients the tricks of the pro-racing trade with breathtaking ride-alongs and racing experiences. Guests buckle up and sit shotgun alongside a professional driver as they sends stock cars flying down straightaways and around curves, or they can get behind the wheel themselves, finally feeling what it's like to be a professional driver. Each heart-pounding experience introduces participants to the intricacies and unique characteristics of some of the country's most celebrated racetracks.
3545 Lone Star Cir.
Fort Worth
Texas
USA
Between all of the concrete walls, inflatable obstacles, and cleverly positioned barrels, it's hard to get a good look at anyone at Reno Indoor Paintball. On any given day, the 27,000-square-foot facility hosts dozens of well-armored players, who sprint around the grounds and splatter their opponents until supplies run out or they accomplish their missions. During battles, the staff remains on hand to help players to gear up and to ensure things remain civil. And on select days, staffers also host training sessions or events for larger groups looking to celebrate occasions such as birthdays, bachelor parties, or a high-school graduate's first successful load of laundry.
1605 Crescent Cir., Suite 200
Carrollton
Texas
US
---