Highlands Ranch, CO Indoor Activities
---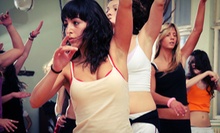 Use Today 1:00pm - 4:00pm
---
Recommended Indoor Activities by Groupon Customers
---
Derby was reborn in the early 2000s as a ferociously fun sport. Nearly all modern leagues are composed of female, DIY-spirited bands of punky costumed, vicious-monikered rascals who shove each other on traditional quad roller skates. The Rocky Mountain Rollergirls, Denver's original all-women flat-track roller derby league, is operated by the more than 40 skaters who makeup its six teams: home teams Red Ridin' Hoods, Sugar Kill Gang, Dooms Daisies, Kill Scouts, and traveling teams, Fight Club and the Contenders. These fearless athletes leave bouts with sprained shoulders, bruises, and hematomas, which is nothing compared to the competitors' pain (the ladies took home second place in the 2009 Women's Flat Track Derby Association regional tournament and fourth in the national tournament).
2400 Central Park Blvd.
Denver
Colorado
The Denver Outlaws joined Major League Lacrosse as an expansion team in 2006, immediately staking out their territory with a Western Conference title and a trip to the league championship. In the years since, they have never once missed the playoffs, even when something good was on TV. From their inception, the Outlaws have marauded the league record books, setting attendance records in their inaugural season and improving from there, with recent Fourth of July games drawing more than 30,000 fans to Sports Authority Field at Mile High. This year's Independence Day game continues the tradition of fireworks exploding over the field and a wave of apple pie filling flooding the parking lot.
1701 Bryant St.
Denver
Colorado
303-688-5297
Master Scott Carroll, a fifth-degree black-belt division leader and certified instructor for more than 10 years, helms the punchy practice. Courses incorporate a variety of styles including tae kwon do, Brazilian jiujitsu, kung fu, judo, tai chi, karate, hapkido, and seven different weapons. View a complete schedule of classes here. Lessons are taught every day but Sunday, and no experience is necessary. Those opting to continue instruction after the month can purchase a uniform at a discounted price before this Groupon expires.
350 3rd Street
Castle Rock
Colorado
Even though they haven't always played under the same name, or even in the same city, the Avalanche franchise has consistently enjoyed success on the ice. It was 1972 when the Quebec Nordiques joined the now defunct World Hockey Association, which eventually merged with the NHL prior to the 1979-80 season. The Nordiques played a total of 16 seasons in the NHL before moving to Denver, where they became the Avalanche and immediately won the Stanley Cup—the first NHL team ever to do so in their first season after relocation. In 2001, the Avs struck again in dominating fashion, collecting 118 points, reclaiming the sports world's best trophy. In total, the franchise has made 21 playoff appearances, highlighted by a string of 11 straight from 1994–2005.
1000 Chopper Cir.
Denver
Colorado
Get your bank tellers, kayakers, grandpas, and expectant mothers together and get today's Groupon for perfect posture and mad movement skills. For just $45, you get any five classes at The Pilates Movement, a $70 to $115 value depending on the classes you choose. Most deals only offer Pilates mat classes, but with today's flexible offer, you can take any combination of five mat, pole, chair, and equipment group classes for the same low price. Find out how the reformer, a piece of specialized Pilates equipment, got its name, and learn take-home techniques you can practice in your cramped apartment in a mat class. At just $9 per class, this deal is the perfect opportunity to try a few different classes on for size.Lovable Bears lineman William "The Refrigerator" Perry is generally considered the Godfather of American Pilates due to his memorably rapped couplet: "You're lookin' at the Fridge / Pilates focuses on the core to improve strength and posture." The Fridge continued to influence the popularity of Pilates in America when he guest-starred in an episode of the The A-Team, playing the deceased German founder of Pilates, Joseph "The Refrigerator" Pilates. The memorable episode is traditionally run every July 4th to celebrate Independence Day.
2119 Larimer St
Denver
Colorado
US
From basement beginnings to their own bona fide theatre space, the Bovine Metropolis Theater has nourished the improv community of Denver for over a decade. Co-owner and artistic director Eric Farone, who cut his comedic chops at famed Chicago institutions such as Second City and iO, and his cohort Denise Maes, have trained over 700 actors in the art of improvisation. Now with seven different shows and up to eight performances per week, the Bovine Metropolis Theater ensures that Denver never has a drought of quick-witted, off-the-cuff talent.
1527 Champa St.
Denver
Colorado
US
303-758-4722
---