Tanning Salons in Highlands Ranch
---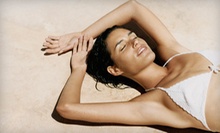 Inside private room, airbrush expert coats bodies top to bottom in California Tan solution that tints skin for 7 to 10 days
Use Saturday 12:00pm - 3:00pm
---
Recommended Tanning Salon by Groupon Customers
---
This new downtown Denver business uses a natural tanning mixture of beet sugar extract to sunlessly bronze your buffness. Airbrushing eliminates inconsistent splotches and lays down a smooth, realistic-looking tan. A tanned hide will help rescuers spot you in a snowdrift and make your skin pop against the white background of police lineups.
910 16th Street, Suite 223
Denver
Colorado
720-837-2116
Chic Bronzing's owner Marisa has custom-crafted countless bronze glows during five years as a spray tan technician. She performs each and every one of the salon's tanning treatments. Using a custom-blended formula that's jam-packed with DHA and moisturizers, she uses her expertise as well as client input to create a natural-looking, long-lasting tan. Clients looking for a summer glow can stop in one of two locations.
4340 East Kentucky Avenue
Denver
Colorado
303-815-1913
Inside Ginger Sun Spa, guests recline on the Ergoline Open Sun 1050 bed, revelling in the high-pressure bed's adjustable facial tanners and built-in sound system. The Sun Capsule Cosmo 250 stand-up booth caramelizes skin in seven minutes with 54 performance UV bulbs, and its adjustable ceiling hand grips ensure clients stay comfortable while holding up their arms in order to get more even tans. With its certified airbrush technicians, the tanning spa is able to forgo UV rays or apricot Crayola crayons to bronze skin, instead using a hand-held Norvell sunless-spray-tan applicator. Other beautification services include manicures and infrared-sauna sessions, which help burn calories, reduce the appearance of cellulite, and improve skin issues such as eczema.
1057 S Wadsworth Blvd. Ste 90
Lakewood
Colorado
US
303-989-3656
Glo Sun Spa keeps a slew of modern bronzing, polishing, and hydrating technologies in peak condition. With a variety of tanning beds, Glo Sun Spa provides a wide range of sun-kissed glows. Alternatively, sunless VersaSpa and Pura Sunless systems provide a tan away from the sun's rays. The hydration station combines Hydrofusion with steam and LED technology to moisturize and tan epidermises, and the Lumiere Excel system features a series of repairing, clearing, and firming regimens. Glo Sun Spa also stocks a full line of lavish skincare products from brands such as Devoted Creations.
1057 S Wadsworth Blvd., Suite 90
Lakewood
Colorado
US
303-989-3656
The treatment menu at Sun Spa enables clients to select their preferred method of tanning from a roster that includes six levels of UV tanning beds and the UV-free VersaSpa system. Inside each of the five locations, Sun Spa's bronzing booths remain available 24 hours a day, presenting patrons with the opportunity to work around unorthodox schedules or warm up after bone-chilling nightmares. A selection of lotions by Australian Gold augments the effects of light-powered tanning excursions, and a storefront display of swimwear and handmade jewelry complement newly golden glows.
1057 S Wadsworth Blvd. , Suite 90
Lakewood
Colorado
US
303-989-3656
At Sun Spa, a beam of light is used for more than just building up a tan—it also helps to nourish the skin and promote weight loss. One of the spa's signature devices is the Formostar body-wrap system. After laying down, the client is wrapped in silicone pads that emit warm infrared energy, which can activate the body's cooling system and stimulate the metabolism. A 50-minute session in the Formostar can help burn up to 1,400 calories, diminish inches from the body, and reduce stress. Meanwhile, the red light therapy can help reduce fine lines and wrinkles. In an experience similar to laying in a tanning bed or sleeping in a laser tag arena, you'll lay down as a low-energy LED light pulses upon the face. Or for a quick, natural-looking tan, one of Sun Spa's tanbassadors can demonstrate the Infinity Sun spray tan applicator, which coats the skin in an all-natural, anti-aging formula.
1057 S Wadsworth Blvd. , Suite 90
Lakewood
Colorado
US
303-989-3656
---