Beauty & Spas in Highview
---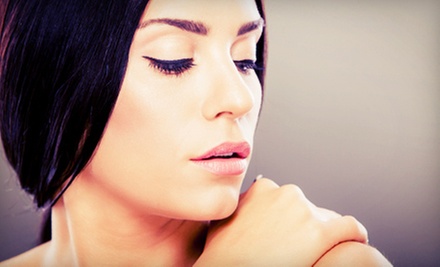 ---
Recommended Beauty & Spas by Groupon Customers
---
As a finalist and a local director of the Miss America beauty pageant—as well as an expert dentist on national Crest commercials—Dr. Denise Attaway knows what it means to shine. She brings this expertise to Youthful You, where she leads a trained team in crafting camera-ready mugs with noninvasive treatments. With more than 20 years of dental experience, Dr. Attaway renders brighter smiles by dressing teeth with teeth-whitening solution or sequined formalwear. Also among her treatments, injectables, peels, and photofacials reduce wrinkles and discoloration, and tattooed makeup and laser hair removal cut beauty-routine times in half. Youthful You's boutique is filled with Latisse lash-bolstering serum as well as skincare products
13320 Shelbyville Rd.
Louisville
Kentucky
502-245-8494
Seasons Light Therapy's team of aestheticians harnesses the restorative powers of noninvasive light to tone tired faces and banish skin discoloration. The succinct menu boasts LumiLift treatments, also known as nonsurgical face-lifts, during which strobes of pulsating light and micronized currents travel deep into the dermis to stimulate collagen production and tighten slack muscles without stern reprimands. Clients can also settle under the LumiFacial's Soli-Tone wraparound panel, which, like a malfunctioning rainbow, emits four different colors of healing light. Taking in these vibrant rays has been shown to reduce the appearance of sun damage, fine lines, and acne. Microdermabrasion treatments also target these epidermal symptoms, smoothing over skin with fine sprays of exfoliating mineral crystals.
11714 Old Shelbyville Rd., Suite C
Louisville
Kentucky
502-727-9649
For nearly two decades, Shear Reflections has reshaped hair and refined exteriors with a slate of client-tailored beauty services. By snipping unkempt ends, imbuing vibrant color, and lengthening locks with fusion extensions, the team of four experienced stylists can turn everyday hair into a style that turns heads. Nails can find elegant transformation too—at the manicure station, cosmetologist Whitney Downs calls on six years of experience to shape nails, refine cuticles, and paint tips with seasonal hues or unique designs to blend in with off-limits cookie jars.
5520 Fern Valley Rd., Suite 109
Louisville
Kentucky
502-475-3020
Stylists at Arella Bella Salon are trained at the Paul Mitchell School to learn modish styles and techniques. The salon's flexible hours, including early morning appointments, allow easy access for busy schedules. The team also takes pride in making their salon a fun environment, like a corporate boardroom with a bouncy castle.
5035 Shelbyville Rd.
Louisville
Kentucky
502-708-2615
As its name implies, Neat Nails & Terrific Tans focuses on but two specialties. This narrow approach translates into a staff whose talents range from offering expert advice on tanning and oils to skillfully applying Shellac nail polish or customizing skin shades with airbrush treatments. In addition to these services, Neat Nails & Terrific Tans also runs an onsite shop brimming with fleur-de-lis jewelry, purses, and college-themed items that make great gifts for graduating seniors, old friends, and the kid you used to copy answers from in Economics 101.
3034 Preston Hwy.
Louisville
Kentucky
502-637-2858
Owner and aesthetician Tina Sinopoli combines 10 years of skincare expertise and four years of health-and-wellness coaching into every personalized spa procedure performed at Body Beautique. Appointments begin with a detailed consultation, during which Tina evaluates the patient's epidermal condition and needs before administering the most appropriate skin or body treatment using Previse skincare products. Such services include 30-minute resurfacing peels, wherein alpha hydroxy acid aims to improve fine lines and scarring; and 30-minute enzyme peels, a fruit-based exfoliation treatment that smoothes skin more effectively than rubbing up against a fruit-bowl still life painted on sandpaper. Waxing sessions also soften skin by ridding bodies of unwanted hair.
Along with enriching skin, Tina draws upon her studies at the Institute for Integrative Nutrition to offer clients health-coaching services. By investigating each client's relationship with food and exercise, Tina is able to determine the promptest, healthiest way to achieve and maintain their ideal weight. She also attempts to help them understand and reduce their cravings, and incorporate new, healthier foods into their diets.
11605 Shelbyville Rd., Suite 204
Louisville
Kentucky
502-420-8605
---