Hilliard, OH Health and Fitness
---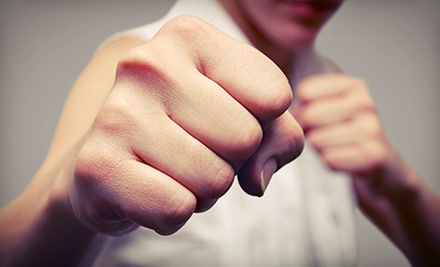 ---
Recommended Health & Fitness by Groupon Customers
---
Within the temperature-controlled interior of what used to be a warehouse, students flow from sun salutations to standing lunges before rising into rigorous poses. At the head of the class stands the studio's founder, Julie Verhoff Pipes, relaying the athletic blend of yoga and aerobics that she personally developed from a combination of Ashtanga, Vinyasa, and Bikram yoga techniques.
Though softened by woven curtains and hanging lanterns, the studio's raw, industrial feel remains. The Spartan decor increases focus since the studio possesses no distracting pictures or traditional yoga clowns.
240 N 5th St.
Columbus
Ohio
614-228-9642
Inside Dublin Ohio Dental Group's cozy office, replete with wood paneling, light-green walls, and a warmly lit waiting area, Dr. David A. Bennett and his staff treat all manner of teeth with a variety of cosmetic and general services. Dr. Bennett employs his more than 14 years of mouth-mending experience to fill gaps in smiles with crowns, bridges, veneers, and dentures, and to improve upon grins with whitening treatments and orthodontia. He and his team work to assuage any patient anxiety by providing complimentary nitrous oxide and staging full-scale Broadway productions upon request, and they cater to tinier teeth with pediatric dentistry. The practice takes pride in giving back to the local community, as is evident in its Dentistry From the Heart program—previous efforts have included hosting a free day of dentistry for all ages and filling cavities for a patient without dental insurance.
5118 Blazer Pkwy.
Dublin
Ohio
614-764-2845
The staff at Allvera Body Wrap & Wellness Center's Dublin location is dedicated to balancing body and mind. To do this, aesthetician Mallory Beres and acupuncturist and massage therapist Leslie A. Broucker offer a slew of aesthetic and holistic services, including hot-stone therapy, acupuncture, facials, all-natural mani-pedis, infrared sauna sessions, and signature herbal body wraps that are soaked and heated to 150 degrees. The center also pampers clients with its use of high-end products including Jane Iredale, HydroPeptides, and Bioelement skin care lines. Beres is an Aveda Institute of Esthiology graduate and Broucker is a former collegiate athletic trainer who tended to athletes' injuries for more than 15 years.
3229 Hilliard Rome Rd.
Hilliard
Ohio
At Schneider Family Dental, Dr. Matt Schneider makes use of dental technology that wasn't available when the practice first opened its doors in 1968. In fact, much of it wasn't available a few years ago. 3-D x-rays give dentists a full view of teeth, allowing them to observe virtually every spot of decay and any frisbees stuck on the roof of the mouth. The office's Cerec machine crafts porcelain crowns custom fitted to patients in one visit, and tooth-colored composite resins keep fillings a secret.
But the team isn't bogged down with technology so much that they neglect the comfort of their patients. IV sedation relaxes nervous or needle-wary patients while allowing them to continue giving feedback during treatments.
5150 Blazer Memorial Pkwy.
Dublin
Ohio
Coach Jerry Page dons an Olympic boxing gold medal around his neck and once called Evander Holyfield his teammate. He puts aside his six golden gloves to guide fighters at Ohio Krav Maga & Fitness, a facility overseen by second-degree black belt Mark Slane and staffed by decorated martial artists and coaches. Those that lead the studio's namesake Krav Maga courses show students how to work with their body's natural instincts to take down a predator or quell the body's urge to start the wave with every conversational mention of sports.
Further self-defense skills emerge during ground-fighting jiu jitsu classes, muay thai combat, and weapons disarming seminars. In the gym's fitness corner, cardio kickboxing slings five rounds of fast-paced punches and kicks, while yoga helps fighters wind down and leaves them more relaxed than a sloth traveling through taffy.
3999 Parkway Ln.
Hilliard
Ohio
614-861-6213
For more than 30 years, Dr. Haroon Aziz has worked to narrow the distinction between cosmetic surgery and art. He brings his ambitions and extensive medical expertise to Aesthetic & Plastic Surgery, Inc., where he oversees surgical procedures that range from face-lifts and blepharoplasty to tummy tucks and auxiliary bellybutton installations. Dr. Aziz always prepares patients for major procedures with a thorough examination and consultation, during which he presents myriad image-altering options and recommends solutions based on the client's needs and preferences. Despite his wide-ranging expertise, including Botox injections, the doctor refuses to put on a one-man show, and instead relies on a licensed aesthetician to rejuvenate appearances with noninvasive treatments such as chemical peels and microdermabrasion facials.
1120 Polaris Pkwy., Suite 120
Columbus
Ohio
614-840-9500
---