Professional Services in Hilliard
---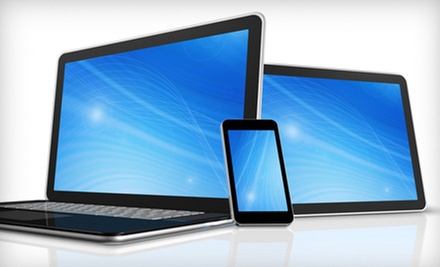 ---
Recommended Professional Services by Groupon Customers
---
A picture is worth a thousand words, unless it's just a picture of 999 words or less. Today's deal gets you 88% off thoughtful thousand-worders with an in-studio session and three prints from DGN Photography for $25 (a $200 value). Along with your one-hour in-studio session (a $75 value), you get one 11x14 print (usually $75 value) and two 5x7 prints ($25 value each). The 11x14 print is mounted with satin finish, so you don't need any glass to show off everyone's faces (the 5x7s are printed with a lovely luster finish). You may also purchase additional prints or digital files with a 25% discount.
764 Oak St.
Columbus
Ohio
US
Adam Queen's photo-snapping prowess can capture a family member's elusive smile emerging from hibernation or convey emotions through imagery without requiring any of the people in it to wear kabuki masks. Since 2001, Adam has worked as a pro photog in such places as Mexico and Spain, and his studio of white sweep backgrounds and tabletop environments provides Columbus with a convenient locale for senior photos, baby pictures, smooching couples, and family portraits. Otherwise, you can opt to shoot at a nearby location within 7 miles of I-270 (call Adam to confirm), such as your apartment or the faerie market you stumbled upon while sleepwalking. After the shoot, you'll obtain copyright to 10 images, as well as 20% off your next session and 10% off any prints or additional digital files you'd like to purchase. If you prove to be unusually photogenic, you can even buy the entire roll ($100).
610 Spring Valley Dr.
Lewis Center
Ohio
Rick Hilyard, the master artist behind Hilyard Photography, specializes in capturing beautiful portraits of the most dangerous subjects known to man, be they the elusive high-school senior, roving packs of smiling families, or the hotbeds of rage and contempt that are babies. Hilyard draws on his 10 years of experience to create a portraiture that reflects the indomitable personality of both the subject and the artist.
22 N High St.
Dublin
Ohio
Located a stone's throw from the Ohio State University campus, Blue Bubble Express Laundromat houses an extensive fleet of clothes-cleansing equipment that thoroughly washes and dries the garments of students and locals alike. Front-loading washers hold 18- to 80-pounds, and efficient dryers carry equally hefty loads. Express washers digitally display the remaining time in each cycle, and many of Blue Bubble Express Laundromat's Energy Star– and CEE–certified machines use less gas and electricity than regular devices. Wash-and-fold service lets customers drop off bundles for pickup about two days later, or they can wait for clothing to dry on-premises while gazing into three LCD televisions, perusing the information superhighway with free WiFi, or reading a flipbook on the history of fabric softener.
2380 N High St.
Columbus
Ohio
A member of the Camera Craftsmen of America, Tony Cliento has captured images of families, weddings, and famous subjects such as Cher and Pope John Paul II. At his studios across the country, he oversees the extensive training of each of his photographers until he's confident they can uphold his standards, which have garnered him the United Nations International Photographic Council award. The highly-trained photographers provide impeccable service while photographing birthdays, holidays, weddings, maternity, seniors, and families.
1500 Polaris Pkwy.
Columbus
Ohio
---