Things to Do in Hilliard
---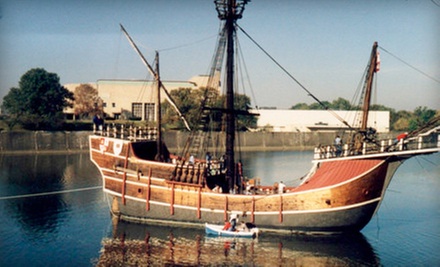 ---
Recommended Things to Do by Groupon Customers
---
Originally invented by bored henchmen looking to pass the time at Doctor Berserko's secret Antarctic lair, hockey has since overtaken polo and unicycle jousting as America's pastime. Hop on the bandwagon with today's Groupon. For $20 to $35, you get one upper 200-level or one lower 100-level ticket to see the NHL's Columbus Blue Jackets take part in one of two slap-shooting matchups: Saturday, March 27, at 7 p.m. vs. the New York Islanders or Tuesday, March 30, at 7 p.m. vs. the Tampa Bay Lightning. Depending on seating, these tickets are usually $44 or $75. The Saturday, March 27, game is also designated as Huntington Hat Night, and fans will receive a free Blue Jackets hat.
200 W Nationwide Blvd.
Columbus
Ohio
You can hear heels click-clicking in time with the music during each group lesson at Fred Astaire studio. The same wood floor here transforms into a gathering place for the school's dancers when the studio hosts its regular dance parties. On those nights, students come to practice the moves they learned in class, be they social or ballroom dancers. Instructors also teach private dance classes so you can brush up on moves before a wedding or perform jury duty as a mime.
5227 Bethel Center Mall
Columbus
Ohio
When owners Nancy Kanter and Julie Byrne founded Clay Café more than 14 years ago, they wanted to establish a cozy, unpretentious environment where families could spend quality time pottery-painting and embarking on other art projects. Describing what they envisioned to the Columbus Dispatch, Byrne stated, "We kind of wanted a grandma kitchen—something homey." At Clay Café, visitors might forget they're not relaxing in their own homes amid the studio's popular mismatched chairs, flower tablecloths, and resident father yelling at a sports game on TV. The hospitable owners invite guests of all ages to let their artist instincts run wild during open-ended potter-painting sessions, and they host an array of special events including baby showers and birthday parties.
1431 West 3rd Avenue
Columbus
Ohio
The telltale sounds of fun fill the air at either Magic Mountain Fun Center location, as friends and families careen around tracks in go-karts, compete on mind-bending mini-golf courses, or do battle in bumper cars. Piping-hot pizzas fuel days of rides and arcade games, and the park's varied birthday packages catapult parties into a fun-filled gamut of feasting, bumper boats, and laser tag. Open late, the parks afford guests the opportunity to while the night away or lure their night terrors in front of a speeding bumper car.
8350 Lyra Dr.
Columbus
Ohio
Though it's been open since 1963, Sequoia Pro Bowl recently became a Columbus hot spot when owners Tim and Liz Voss turned the ordinary alley into a full-service facility that frequently hosts PBA tournaments. Seven days a week, patrons heave heavy spheres down 32 brand-new lanes, refueling between frames with Sequoia's hearty menu of filling pub-style fare. Guests can also visit the 7-10 Club, packed with arcade games, ping-pong, and karaoke singers reciting the Bowling National Anthem. During the summer months, an outdoor sports bar and 5 sand volleyball courts provide a new arena for friendly competition.
5501 Sandalwood Blvd.
Columbus
Ohio
The headquarters of the nonprofit Ohio Historical Society, the Ohio Historical Center abounds with exhibits and activities that showcase the state's diverse social, natural, and archeological history. Built in 1970, the museum's towering Brutalist edifice is a piece of history itself, lauded as "bold" and "imaginative" by the American Institute of Architects. Inside, a 15,000-square-foot gallery explores pivotal moments in the Buckeye State's past, examining everything from Ohio's role in the Civil War to Boomer Esiason's stint as Secretary of State. A natural-history exhibit regales guests with interactive displays of animals, plants, and geography. In addition to its permanent exhibits, the center hosts an ever-changing selection of featured exhibits and special events.
Outside the museum sits Ohio Village, a re-creation of a Civil War–era town. Costumed villagers bustle about the square, performing chores and activities of the era, such as churning butter and checking wooden PalmPilots. The town's 15 buildings showcase the height of 19th-century architecture and include a Gothic-revival church, a large town hall, and an open market. The village is also the home of the renowned Ohio Village Muffins, who regularly compete in games of baseball played by 19th-century rules.
1982 Velma Ave.
Columbus
Ohio
---