Restaurants in Hillsboro
---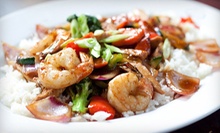 Chefs whip up spicy, flavorful pork stews and veggie stir-fries from their home province of Sichuan alongside seafood recipes from Fuzhou
---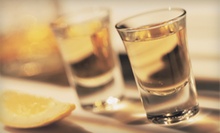 Pours of three tequilas from a list of 25 pair with appetizers of flautas or quesadillas
---
Recommended Restaurants by Groupon Customers
---
Barkeeps dispense seven rotating drafts and pour out more than 700 microbrews and imported beers at Birra Deli, which derives its name from the Italian word for beer. Soups, salads, and hot and cold sandwiches concocted from local ingredients complement each hop- or malt-heavy libation. Amid a colorful interior of neon beer signs, arcade games, and a flat-screen television, the deli hosts regular beer tastings where customers can win unique prizes, such as cryogenic freezing chambers that keep beers chilled for up to 100 years. In addition to brews in the eatery, visitors can bring home sudsy treats in bottles, cases, or kegs in a variety of brands and sizes.
18749 SW Martinazzi Ave.
Tualatin
Oregon
US
Sports stream from a fleet of televisions that line almost every wall inside The Spot Sports Bar & Grill. As diners root on their favorite teams and shoot pool, the wait staff hustles between high-top tables and stools with pulled-pork sandwiches and pizzas. The eclectic menu also includes deep-fried peanut-butter-and-jelly sandwiches and super nachos that pack a hearty mix of cheese, beans, vegetables, and choice of meat. Chefs draw from Asian recipes to sprinkle honey-roasted walnuts and a creamy honey-lemon glaze over deep-fried tiger prawns. A DJ busts out the latest tunes on Friday and Saturday nights, and families gather around the giant projector screen for Tuesday karaoke, singing favorite hits or reciting the Latin phrase woven into their family crest.
18855 SW Tualatin Valley Hwy
Beaverton
Oregon
US
503-746-4804
It was a family tradition: Big Al Costillo and his son Adam would feast on massive cheesesteaks and watch the Phillies game, collecting dollops of sizzling hot cheese on their plates. When the Costillo family moved from Philadelphia to Florida, the duo was devastated to find that the local cheesesteaks paled in comparison to the beloved sandwiches they enjoyed back home. "We spent six years trying every local spot that claimed they had a real philly cheesesteak, only to be disappointed," Adam explained to reporters from Atlantic Avenue. Unable to stifle their craving any longer, Big Al and his son opened their own cheesesteak shop— Big Al's Steak. They arranged for fresh Italian steak rolls to be shipped to their restaurant straight from Philadelphia before firing up the grills in the kitchen. There, they layered the crusty bread with thin slices of juicy, rib-eye steak before topping it off with Cheese Whiz, provolone, and American cheese.
Since then, Big Al's Beef has expanded to numerous locations in Florida and the West Coast, including Tualatin, Oregon, and has earned numerous awards from publications such as New Times Magazine. These cheerful, laid-back eateries faithfully follow the Philadelphia tradition, doling out authentic cheesesteaks, as well as hoagies, french fries, onion rings, Tastykakes, and even tall, cold beers to wash it all down
7009 SW Nyberg St.
Tualatin
Oregon
US
503-612-0212
---