Things to Do in Hillsboro
---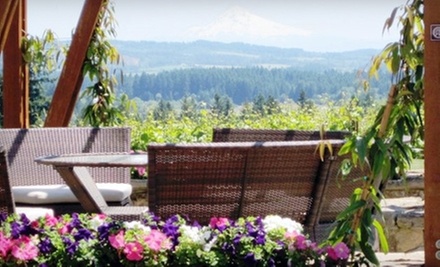 ---
Recommended Things to Do by Groupon Customers
---
Since 1990, Kandice Champion's expert tutelage has propelled horses into being victorious in dressage, hunt seat, and Western show rings. Champion Training Center's expansive facility accommodates participants of all ages and skill sets as they enrich their riding prowess atop trained school horses during daytime, evening, and weekend sessions led by Kandice and her squad of qualified teachers. In addition to lessons, Champion Training Center supplies devoted equestrians with horses for sale and equips riders with new and used accoutrements, including saddles, boots, and equine tiaras.
329 SW Stringtown Rd.
Forest Grove
Oregon
503-318-5992
Close to half a century of history seeps through the ice at Winterhawks Skating Center, as evidenced by the wooden beams still arching across its ceiling. As the official practice facility of the Western Hockey League's Portland Winterhawks, the center echoes with slap shots, bodychecks, and figure eights throughout the year, hosting recreational hockey leagues and clinics for youths and adults as well as public skating sessions and lessons for all experience levels. Off the rink, an onsite pro shop helps players to upgrade their old equipment or replace the paisley furniture and shag carpets in the penalty box.
9250 SW Beaverton Hillsdale Hwy.
Beaverton
Oregon
503-297-2521
At Gametime, interactive attractions fuse with made-from-scratch eats to create an excitement-packed tandem that raises the bar on family fun. Bowlers unleash spherical fury across 12 different lanes, including 4 lanes harbored by a private party room where leather couches, chairs, and random appearances from a mailman help to recreate the comforts of home. Inside the arcade, competitors ranging from pint-size to full-size test their skills on popular games such as air hockey or skee-ball, and throughout the facility, flat-screen TVs flicker with sporting events so eyes have an easier time diverting from heated stare downs with disobedient balls. Between unabashed sessions of point scoring, a newly remodeled kitchen serves up Pug's Restaurant's freshly crafted fare, highlighted by hand-tossed pizzas and burgers made with hormone-free beef.
17880 SW McEwan Rd.
Lake Oswego
Oregon
503-726-4263
On the screen before the trainee, an officer is down in the doorway, while down the hall within the scenario, an assailant shields himself behind a hostage. This is just one of the 160 high-definition real-world tactical scenarios—in addition to 180 virtual-range options—that play on the single-screen Threat Alley and 300-degree Threat Arena platforms, immersing marksmen in the kind of training used by law enforcement, the military, and special operatives. Using modified firearms that eschew ammo for an infrared laser and a CO2 system to produce recoil, each computerized simulator calibrates shooters' virtual shots, producing a recap for up to five shooters per round. The tactical scenarios also supply guests with return-fire belts, which deliver a small shock when either "hit" by virtual enemy fire or when one falls for, "Hey, what's that over there?"
Beyond overseeing their simulated tactical training and virtual ranges, Threat Dynamics' instructors—possessing a mix of military, law-enforcement, and NRA-certification backgrounds—lead classes in both armed and unarmed self-defense.
8250 SW Tonka Rd.
Tualatin
Oregon
503-692-2992
Sunset Lanes strikes a balance between the charm of retro aesthetics and the convenience of modern technology. A stint of more than 40 years in the bowling business has helped Sunset Lanes become a recreational staple in the Beaverton community, even hosting a clutch of competitive bowling leagues. A collection of flat-screen televisions and an automated scoring system help keep the alley up to date, and the lanes include automatic bumpers that guests 12 and under can choose to raise or lower while they bowl. In between frames, the B-Town Bar & Grill reenergizes patrons with specialty cocktails and a menu of hearty comfort foods, which includes oven-roasted subs, Angus burgers, and salads with freshly baked croutons. The expansive space is highlighted by a neon mural that stretches across all 36 lanes and also houses an arcade.
12770 SW Walker Rd.
Beaverton
Oregon
US
---